Peers who are jailed or who don't show up will be expelled from Lords
Liberal Democrat ministers also want to give life peers, who are eligible to sit in the Lords until they die, the opportunity to retire
Oliver Wright
Friday 02 August 2013 22:51 Comments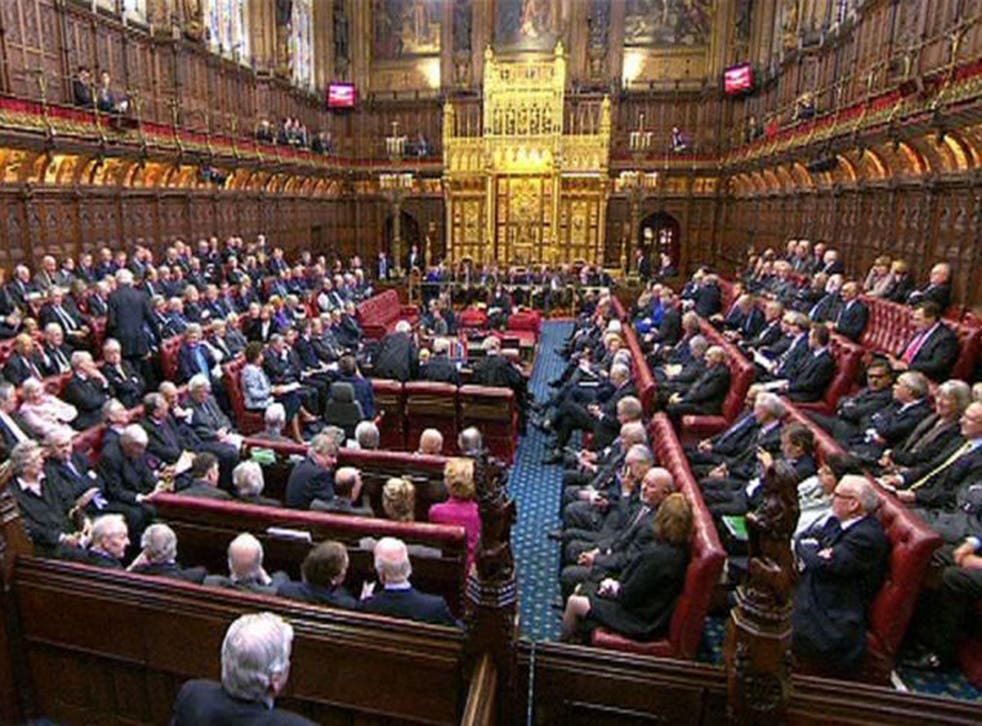 Peers who have been jailed or who fail to attend Parliament for long periods will be expelled from the House of Lords under watered-down plans to reform Britain's second chamber.
In what has been dubbed "House of Lords reform lite", Coalition ministers have agreed to support legislation that would also allow peers to voluntarily retire if they feel they can no longer contribute effectively.
However there will be no move to get rid of 92 hereditary peers who still sit in the Lords as such a move was considered "too difficult" to get through Parliament.
The changes, to be unveiled in the autumn, will be seen as a tacit admission by the Liberal Democrats that more fundamental Lords reform is unlikely to happen even if they play a part in the next Government.
In principle Labour still favours a mainly elected second chamber, but there are splits on the issue within the party – especially in the Lords itself.
The appointment of 30 new peers on Thursday has swelled the Lords to 836 members, putting it on course to rival the Chinese National People's Congress as the largest legislature in the world.
Under the proposals, peers who do not attend the House or who have quit the country will be told to retire. And those who have been given custodial sentences of a year or more will be stripped of their peerages.
At present MPs lose their seats automatically if they are sentenced to more than a year in prison, but peers are simply banned from the Lords for the duration of their sentence or for the period when they are bankrupt.
If the changes are applied retrospectively they could affect the Tory peer and bestselling novelist Lord Archer, who was jailed for four years for perjury and perverting the course of justice in 1987.
Liberal Democrat ministers, with the support of the Tory Cabinet Office Minister, Oliver Letwin, also want to give life peers, who are eligible to sit in the Lords until they die, the opportunity to retire. They would keep their titles but lose the right to claim allowances and vote on legislation.
Ministers also want to tackle the huge levels of absenteeism. Around 50 peers are understood to have moved abroad and they are expected to lose their places in the Lords.
Hundreds more peers seldom or never speak in the upper chamber but are able to claim allowances of £300 a day simply for attending.
A senior Liberal Democrat source made clear that the party would rather have an elected chamber, but that the coalition plans to tackle the worst elements of the existing rules.
"The current system is archaic, as we've seen this week," the source said. "Any other reforms must not be seen as a substitute for meaningful democratic reform of the Lords.
"But we are looking at those areas… which are crying out for reform: some sort of retirement plan, dealing with those who have been convicted of criminal offences and those who never turn up or live abroad."
Senior sources say the Bill will not be standalone but that clauses to clean up the Lords will be added to another piece of relevant legislation.
Lords reform
What they wanted…
* A 450 member hybrid house, of which 80 per cent of members would be elected. A further 20 per cent would be appointed, and reserve space would be included for some Church of England Bishops.
* Members would serve single non-renewable terms of 15 years.
* Former MPs would be allowed to stand for election to the Upper House, but members of the Upper House would not be immediately allowed to become MPs.
And what they'll get…
* An appointed House of Lords
* Peers who are jailed for more than a year can be expelled.
* Peers who fail to attend over a period of time could be removed while member of the House of Lords would also be able to retire.
Register for free to continue reading
Registration is a free and easy way to support our truly independent journalism
By registering, you will also enjoy limited access to Premium articles, exclusive newsletters, commenting, and virtual events with our leading journalists
Already have an account? sign in
Join our new commenting forum
Join thought-provoking conversations, follow other Independent readers and see their replies