Government urged to end 'period poverty' in schools amid concern girls forced to use socks as sanitary products
Education Secretary Justine Greening accused of being harsh for saying schools and parents should tackle period poverty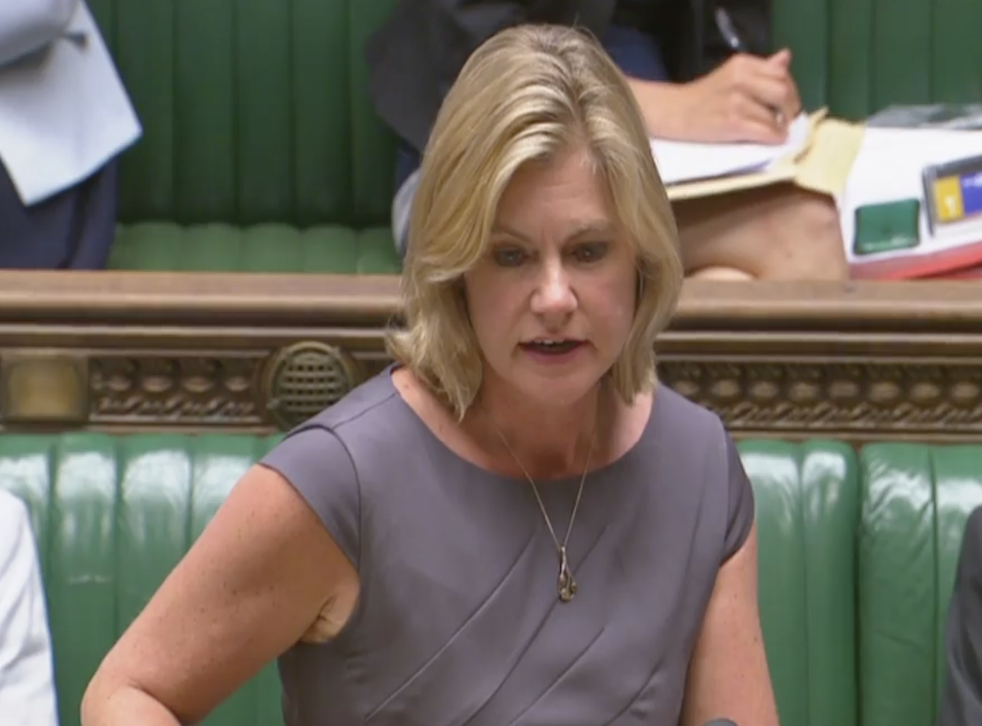 The Government has been urged to end period poverty in schools, amid concerns that young girls are being forced to use socks and toilet paper instead of sanitary products.
Education Secretary Justine Greening was accused of being "harsh" for suggesting schools and parents should to take responsibility for paying for basic hygiene products for poor pupils, during an exchange in parliament.
She was also pressed to match Labour's commitment to set aside £10m to end period poverty in England as reports suggest nearly half of girls have skipped school because of menstruation.
Shadow equalities minister Paula Sherriff said: "Schoolgirls in Yorkshire and elsewhere have had to use toilet paper and even socks stuffed into their underwear because families can't afford sanitary protection, due to poverty, pay and welfare cuts.
"Will the Secretary of State consider matching our commitment to set aside funding to tackle period poverty, and ensure girls never miss out on their education just because they are having periods?"
Ms Greening told MPs that schools had "discretion" over using their funding, but parents needed to accept responsibility for ensuring their children were in school.
She said: "If they (schools) want to make sanitary products available to disadvantaged students then they are free to do so.
"I think the whole House will recognise that this is a situation and an issue that goes far wider than the roles of schools.
"It's also about making sure that parents understand two things – one, the need to play their role in educating their own children, but also separately the very clear-cut duty parents have to make sure their children are attending school and complying with the law to do so."
Her comments prompted criticism from opposition benches, while Labour MP Catherine West said it was unfair to blame parents and force schools to pay for sanitary products.
She said: "I find her attitude a little harsh around the period question, and wonder whether she will review it in the light of today's debate, because I think it does need a second look.
"I think her approach is a little harsh, in terms of schools having to stump up money for sanitary pads firstly, and secondly blaming parents because periods are just one of those things – you can't blame parents for periods."
Ms Greening responded: "I have to say I don't agree with her actually – I do think parents have a responsibility to play their role in making sure children understand how they will approach adult life and I think parents do have a responsibility."
UK news in pictures

Show all 50
Some 49 per cent of girls have missed a full day of school because of their period, while 68 per cent said they felt less able to pay attention in class at school or college, according to new figures by the charity Plan International.
The survey of more than 1,000 girls also found nearly half were embarrassed by their period and many were afraid to ask for help because of the stigma.
It comes as Scotland could become the first country in the world to offer universal access to tampons and sanitary towels, under new plans being consider by Holyrood.
Register for free to continue reading
Registration is a free and easy way to support our truly independent journalism
By registering, you will also enjoy limited access to Premium articles, exclusive newsletters, commenting, and virtual events with our leading journalists
Already have an account? sign in
Register for free to continue reading
Registration is a free and easy way to support our truly independent journalism
By registering, you will also enjoy limited access to Premium articles, exclusive newsletters, commenting, and virtual events with our leading journalists
Already have an account? sign in
Join our new commenting forum
Join thought-provoking conversations, follow other Independent readers and see their replies