Philip Hammond 'co-operating' with business to undermine Brexit, says Jacob-Rees Mogg
Leading Brexiteer claims recent warnings by business leaders were orchestrated by pro-EU cabinet ministers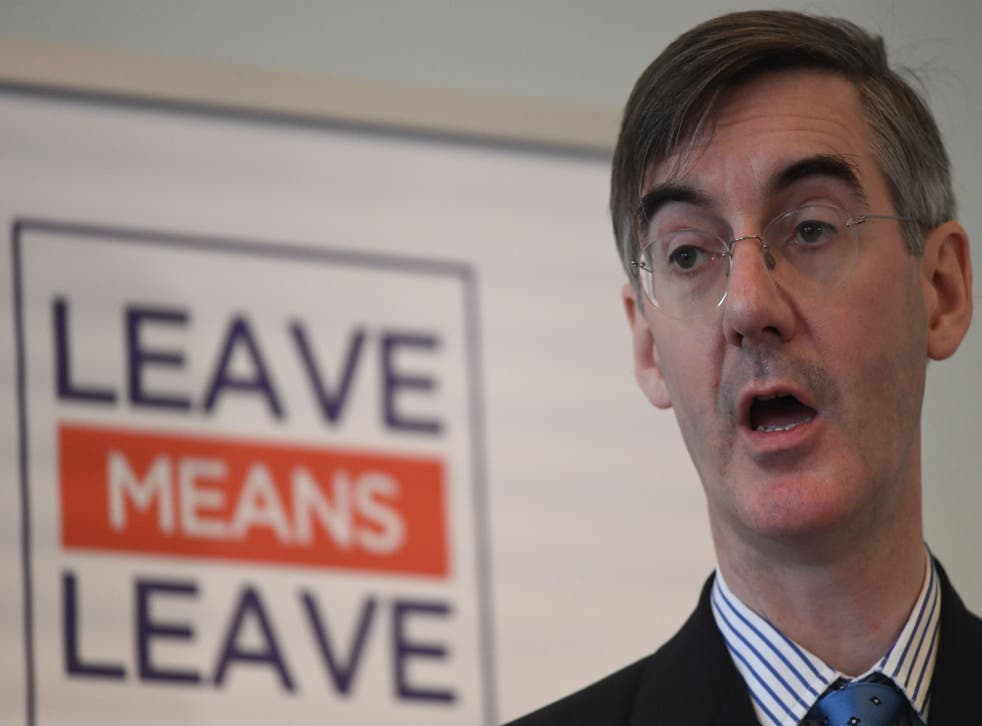 Jacob Rees-Mogg has accused Philip Hammond, the chancellor, of working with "politicised" businesses to undermine Brexit.
The arch Brexiteer, who chairs the European Research Group (ERG) of Eurosceptic Tories, called the Treasury "the beating heart of Remain".
Mr Rees-Mogg suggested a series of recent warnings by business leaders about Brexit were the result of "co-operation" with pro-EU cabinet ministers.
He told Sky News: "I think there is co-operation between the Remainers in the cabinet and some businesses, some of the more politicised businesses.
Asked who he was referring to, he replied: "Oh, the chancellor. Boris Johnson was quite right when he said the Treasury is the beating heart of Remain, that's obvious."
Mr Johnson, the foreign secretary, had previously said the Treasury was "basically the heart of Remain".
Speaking at a private Westminster dinner, a recording of which was leaked, he said: "What they don't want is friction at the borders. They don't want any disruption of the economy. So they're sacrificing all the medium- and long-term gains out of fear of short-term disruption. Do you see what I'm saying? The fear of short-term disruption has become so huge in people's minds that they've turned into a quivering wreck."
"They're terrified of this nonsense. It's mumbo jumbo."
The latest clash between senior Tories comes ahead of a key meeting of the cabinet at Chequers next week. Theresa May hopes the "away day" will help ministers reach an agreement on a number of outstanding Brexit issues. With the government having promised to publish a "detailed and precise" Brexit plan on 9 July, there is growing pressure on the prime minister to resolve differences within her cabinet.
People's Vote march – demanding vote on final Brexit deal

Show all 30
The showdown talks at Chequers will take place after days of public bickering between cabinet ministers over the economic impact of Brexit.
Several ministers, including Mr Johnson, Jeremy Hunt, the health secretary, and Liam Fox, the international trade secretary, criticised businesses such as Airbus and BMW for warning that jobs could be lost if there is a hard Brexit.
Mr Johnson reportedly responded to a question about business concerns by saying "f*** business", while Mr Hunt said industry leaders' warnings were "completely inappropriate".
Others ministers, such as business secretary Greg Clark and Ms May herself, hit back by insisting business leaders must be listened to.
Mr Clark said it was important to pay attention to people with "actual experience" of trading with the EU, rather than a "theoretical view of what the world might look like".
He added: "The business voice is absolutely foundational to a successful and effective negotiation."
A Treasury source said: "This is nonsense. The Treasury is the champion of prosperity for the British people.
"All of us, government and industry alike must make the case for an EU exit that protects that prosperity, protects jobs and allows business to go on trading, investing and creating the growth that supports our economy."
Join our new commenting forum
Join thought-provoking conversations, follow other Independent readers and see their replies