Philip Hammond challenges Cabinet colleagues to delay completing Brexit because of 'risks to financial stability'
The Chancellor says 'thoughtful politicians' on both sides of the Channel are pushing for an interim trade deal to cushion the impact - in a direct challenge to Cabinet hardliners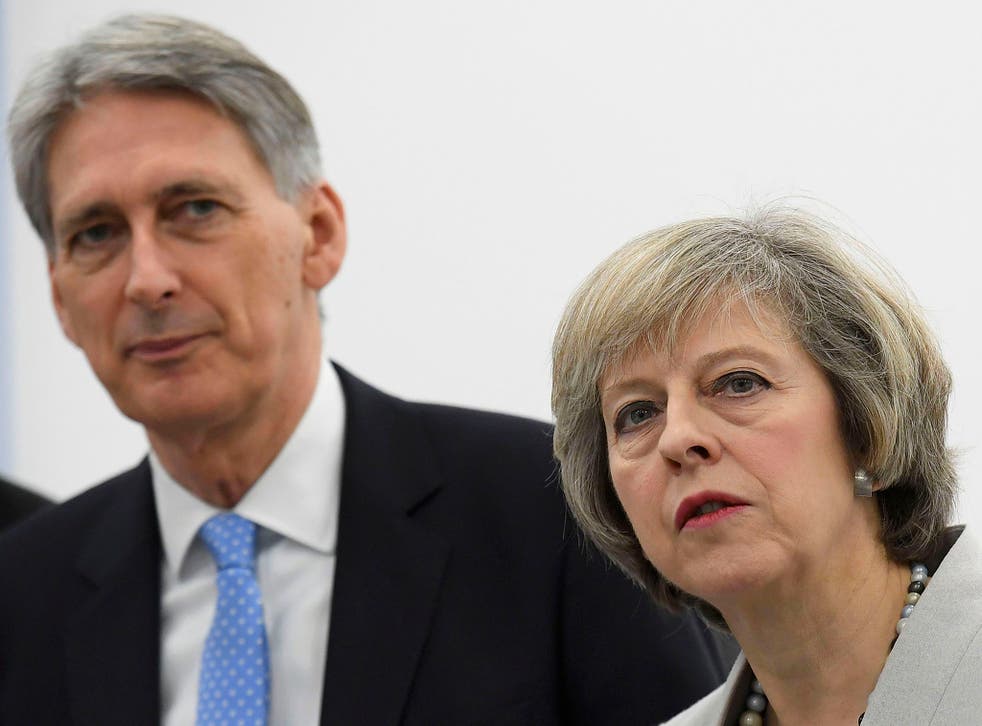 Chancellor Philip Hammond has publicly challenged Cabinet colleagues to delay completing Brexit, warning of the "risks to financial stability".
Mr Hammond called for a "smoother transition" to withdrawal – saying "thoughtful politicians" are now swinging behind an interim trade deal to cushion the harsh impact.
The comments go much further than Theresa May's public statements, after her spokesman denied she was exploring a transitional deal.
The reference to "thoughtful politicians" was seen as a coded attack on supporters of a 'hard Brexit' – in particular Trade Secretary Liam Fox – who are itching to make a clean break, in 2019.
It came just hours before an influential Lords committee also said Theresa May must secure a "transitional deal" that will see the UK remain a part of the EU's customs union after 2019.
Giving evidence to MPs, the Chancellor also laid bare the huge bureaucratic costs of leaving the EU's customs union, which Labour opposes.
He warned of a five-fold increase in customs inspections if goods had to be checked in the same way as imports from non-EU countries.
Will you be able to remain an EU citizen after Brexit?
That would require "quite significant physical infrastructure", with many more staff, better training and new IT systems.
Mr Hammond told the Treasury select committee: "It could certainly add hundreds of millions of pounds to the operation of the customs service".
Meanwhile, transitional payments to retain access to the single market could cost around £4bn a year, it has been suggested in Brussels – half Britain's current contribution.
Such outcomes would be embarrassing for Leave supporters, who have insisted Brexit will save billions which can be diverted to the NHS and other priorities.
The appearance confirmed Mr Hammond's role as the leading Cabinet big-hitter urging caution on the big decisions on the single market and the customs union.
He said there was "an emerging view among businesses, among regulators and among thoughtful politicians" that a transitional deal would be needed.
It would "run less risks of disruption including, crucially, risks to financial stability which must be a fairly real concern".
Mr Hammond denied the Government was pushing for such a deal because it would require "a genuine meeting of minds on both sides of this negotiation".
But he added: "The further we go into this discussion, the more likely it is that we will mutually conclude that we need a longer period to deliver."
Asked if he personally favoured such a transition, Mr Hammond eventually replied yes – suggesting it would need to last longer than two years.
Later, he backed an interim deal even if Britain signed it not knowing the "end state", with the final post-Brexit trade arrangements still up for grabs.
That puts him at odds with David Davis, the Brexit Secretary, who is known to fear that Whitehall will allow withdrawal to drag on and on, if no permanent eventual deal is agreed at the outset.
Mr Hammond's intervention was welcomed by senior Labour MP Stephen Kinnock, who said the alternative was sending the economy "over a cliff edge".
He said: "Not signing a transitional arrangement would mean punishing tariffs which would hit British businesses and raise prices in the shops."
But Tim Farron, the Liberal Democrat leader, said: "These mixed messages are a sign of the confusion and division at the heart of this Conservative Brexit government.
"The Prime Minister must take back control of her own Cabinet and make it clear whether Hammond was speaking on behalf of the government or not."
Mr Hammond also said cross-departmental studies are being carried out on the "impacts of different tariff scenarios on different sectors".
If Britain leaves the EU without a transitional deal, it is expected to fall back on World Trade Organisation (WTO) tariffs, which vary for different goods.
The group of peers which also called for a transitional deal, said sorting out future arrangements with the EU will take longer than the two years allowed by the Article 50 process and require more civil servants.
As a result they backed a temporary post-Brexit extension of the UK's membership of the EU customs union, which removes the need for British traders to pay tariffs when exporting goods to the bloc.
Doing so however would impede the Government's ability to strike new trade deals with other countries, something Ms May has called for.
Chairman of the EU External Affairs Sub-Committee Baroness Verma said: "It is unlikely that a bespoke EU trade agreement can be agreed within Article 50's two-year period, so a transitional deal is vital for protecting UK trade, and jobs that rely on trade."
Supreme Court Brexit Challenge

Show all 13
The peer went on to say the Government should focus on trade with the EU and its WTO schedules, rather than trying to prepare deals with non-EU countries.
She added: "The complexity of the issues and the tight timetable require a significant scale-up in capacity in government departments and clear leadership across Whitehall."
Join our new commenting forum
Join thought-provoking conversations, follow other Independent readers and see their replies