Pick up some of the £1bn litter bill, MPs to tell businesses
McDonald's, Wrigley, and cigarette manufacturers should pay for disposal of the rubbish they help create, say critics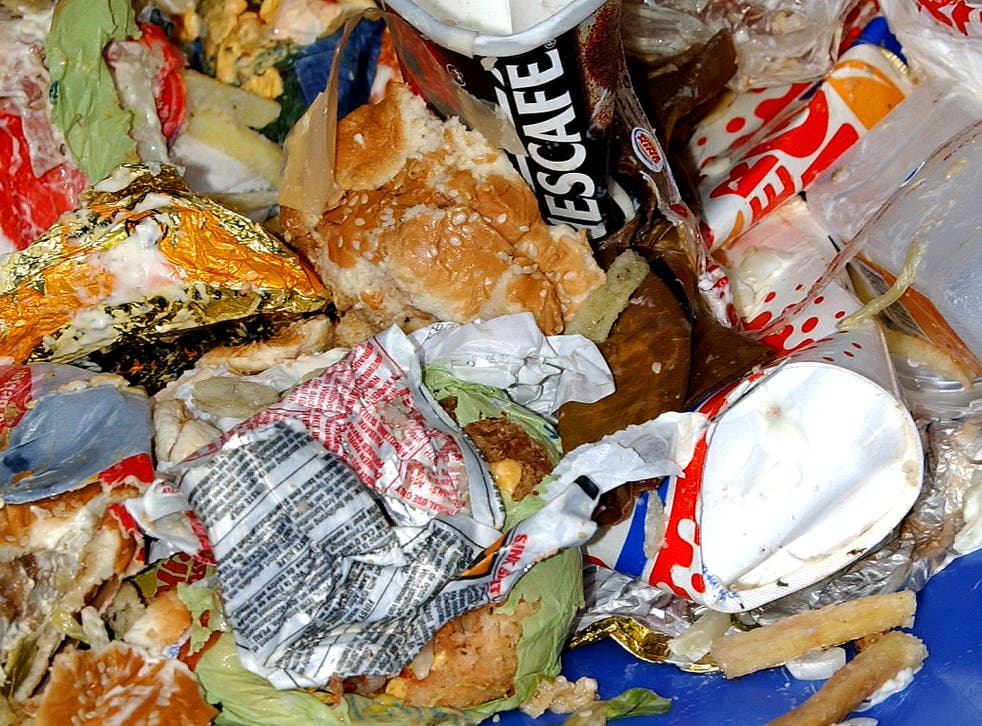 MPs want tobacco companies, takeaway restaurants and chewing-gum manufacturers to spend hundreds of millions of pounds cleaning up the mess their products create.
They are furious that managing litter in England alone costs the state £1bn a year, much of it in council tax, at a time when the Government is trying to balance the country's precarious finances.
The most frequently discarded items are cigarette butts – six billion are found every year in London's Square Mile financial district – and chewing gum, which is particularly costly to remove and accounts for around a quarter of all litter. Nearly 3 per cent is fast-food related.
Leading figures from the Wrigley Company, the Tobacco Manufacturers' Association, and McDonald's will face the House of Commons' Communities and Local Government Committee this week.
MPs are considering whether litter taxes on firms that produce products which are frequently strewn over Britain's streets would be effective. Some would like to see fast-food chains forced to keep a designated area around their shops litter-free, perhaps paying for public bins, as part of any planning application.
Committee chairman Clive Betts said the taxpayer should not be expected to bear the full cost. He said it was too soon to judge what financial burden could be transferred to the private sector, but a committee source said these businesses could "absolutely" end up footing a significant part of the current £1bn clean-up costs.
Keep Britain Tidy has estimated that indirect costs, such as the impact on health, property values, and encouraging crime, cost the economy an additional £3bn.
"It's about taking responsibility," said Mr Betts.
One MP was keen to look at whether "hypothecated taxes" could be imposed on such products – meaning any financial levy imposed would be ring-fenced for spending on clearing litter.
The Local Government Association singled out the chewing-gum industry as needing to contribute more money to litter reduction awareness campaigns, and to clearances. Two years ago, the Welsh Assembly considered introducing a 5p tax on chewing gum: cleaning it up costs the typical town centre £60,000 a year. The plan was narrowly rejected, but the proposal so alarmed US gum manufacturer Wrigley that a senior executive from the company flew from its Chicago headquarters to argue the move would unfairly tax people who disposed of gum responsibly. Wrigley has worked with Keep Britain Tidy on an anti-litter campaign, which it also partly funded.
Simon Danczuk, MP for Rochdale and an ex-smoker, who sits on the committee, suggested cigarette packets could contain leaflets reminding people to dispose of them responsibly. "Whoever creates litter should take some responsibility for it finding its way into the bin," he said. "There's no doubt they [companies] could do more, they have to take some responsibility." However, big business is likely to argue that many of the most punitive ideas would be counterproductive, unfair, or made redundant by measures already undertaken voluntarily.
Martin Kersh, of the Foodservice Packaging Association, who will also face the committee next week, said no fast-food shop likes littering as it deters potential customers. Litter is often found away from the shops, after customers have consumed it on the move or found a spot elsewhere to sit and eat.
He insisted he was not "giving up on changing consumer behaviour", which would be more effective than placing "any more red tape or financial burden on business". Dog owners now clean up their pet's waste as a matter of course, whereas a generation ago it was just left abandoned, he said. Mr Kersh added that forcing fast-food outlets to clear up litter "almost adds credence" to those who throw their burger wrappers and chip papers on the ground, as they think there are others around to pick it up, thus absolving themselves of any responsibility.
In its written evidence to MPs, the Tobacco Manufacturers' Association blamed the banning of smoking in public places for increased litter. Japan Tobacco International, which has its UK headquarters in Surrey and produces brands such as Silk Cut and Benson & Hedges, said the smoking ban on indoor public places had driven smokers outside, where suitable disposal facilities were not always available. In its written evidence, it called for educational campaigns, more bins and ashtrays, and better enforcement of existing penalties for littering.
McDonald's has an excellent reputation over litter, having introduced daily litter patrols at its UK restaurants 32 years ago. Franchisee Cherry Lewis-Taylor is to appear before the committee; she has worked with 14 district councils on the Clean Essex campaign, which helped reduce fast-food litter across the county by 48 per cent.
Register for free to continue reading
Registration is a free and easy way to support our truly independent journalism
By registering, you will also enjoy limited access to Premium articles, exclusive newsletters, commenting, and virtual events with our leading journalists
Already have an account? sign in
Register for free to continue reading
Registration is a free and easy way to support our truly independent journalism
By registering, you will also enjoy limited access to Premium articles, exclusive newsletters, commenting, and virtual events with our leading journalists
Already have an account? sign in
Join our new commenting forum
Join thought-provoking conversations, follow other Independent readers and see their replies