Planes may pay for noise over Heathrow
Tory group proposes compensation to break deadlock over expanding capacity in South-east
Nigel Morris
Wednesday 01 August 2012 23:12 Comments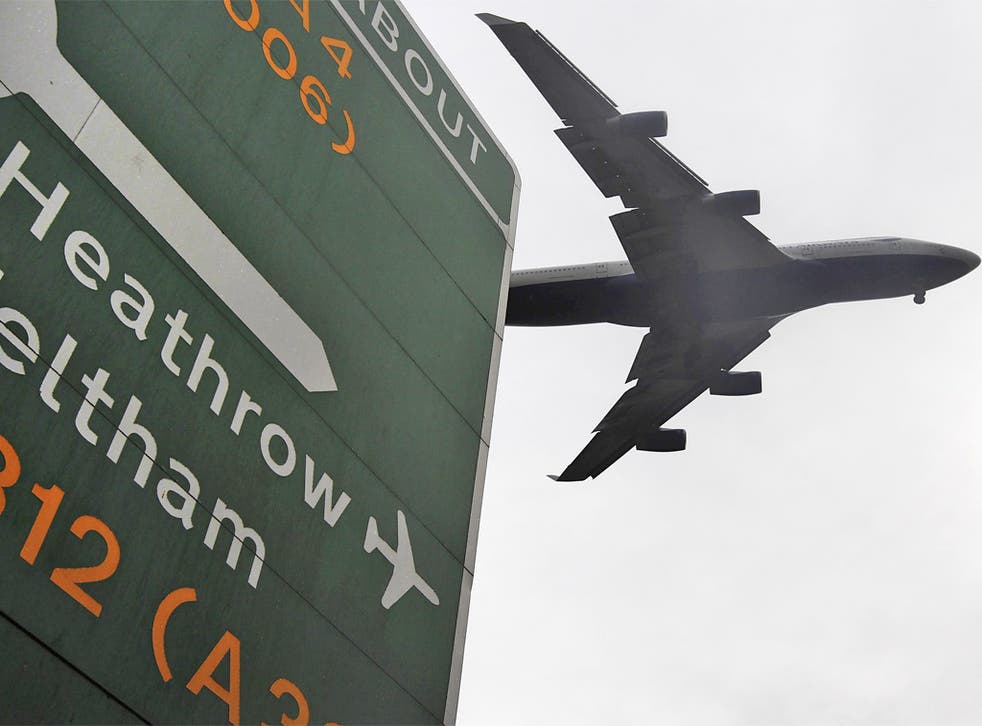 Residents under Heathrow's flightpath could be offered thousands of pounds in compensation if a future government gives the go-ahead for a third runway at Europe's busiest airport.
The payments are being promoted as a possible way of defusing anger in those communities worst affected by noise following any expansion of Heathrow.
The Coalition agreement has ruled out giving approval to a third runway during this parliament and the Conservatives opposed the move at the last election. But some senior party figures, including the Chancellor, George Osborne, are pressing for a change of policy to boost airport capacity in the south-east. The most likely option is that the issue will be left open in the next Tory manifesto.
The Free Enterprise Group of Conservative MPs, which has close links with Mr Osborne, has called for a noise compensation scheme as a way of bringing around families affected by the extra noise.
BAA, which operates Heathrow and other airports, said it was keeping an open mind on the different options available for expanding capacity, stressing that the decision was one for political leaders.
"The big constraint on Heathrow is noise," Colin Matthews, the chief executive of BAA, told the Financial Times.
"People will debate the relative merits of providing people with double-glazing versus providing people with financial compensation."
Supporters of the compensation proposal – which would be funded from BAA's increased profits – believe it would blunt local campaigns against airport expansion. A range of compensation schemes are already available to families affected by excessive airport noise, including cash towards relocation costs and free secondary glazing for windows.
Payments could be particularly generous under the latest proposal: the the Free Enterprise Group has suggested payments of up to £40,000 for the most affected.
Relieving the pressure on airspace in the south-east is one of the trickiest problems facing political leaders.
Justine Greening, the Transport Secretary, is at odds with some of her Cabinet colleagues because of her strong opposition to expanding Heathrow. The Liberal Democrats and several prominent Tory MPs, including Zac Goldsmith, also oppose expansion of Heathrow.
There is also resistance to expansion of Gatwick and Stansted airports.
Building a new airport in the Thames estuary – either the "Boris Island" plan backed by the London Mayor, Boris Johnson, or a £50bn proposal for an airport near the Kent coast – would be hugely expensive and take many years to complete.
Problems over the Coalition's policy were underlined in mid-July when Ms Greening scrapped plans to start consultation on future airport capacity in the south-east.
Consultation has been delayed until the autumn at the earliest – and the expectation is that the Tories will not even make a firm proposal in their next manifesto.
Register for free to continue reading
Registration is a free and easy way to support our truly independent journalism
By registering, you will also enjoy limited access to Premium articles, exclusive newsletters, commenting, and virtual events with our leading journalists
Already have an account? sign in
Join our new commenting forum
Join thought-provoking conversations, follow other Independent readers and see their replies