Third Heathrow runway 'could breach Government's own climate change legislation'
'The Committee on Climate Change has confirmed what we already knew – expanding Heathrow will put a wrecking ball through any hope of meeting climate change targets'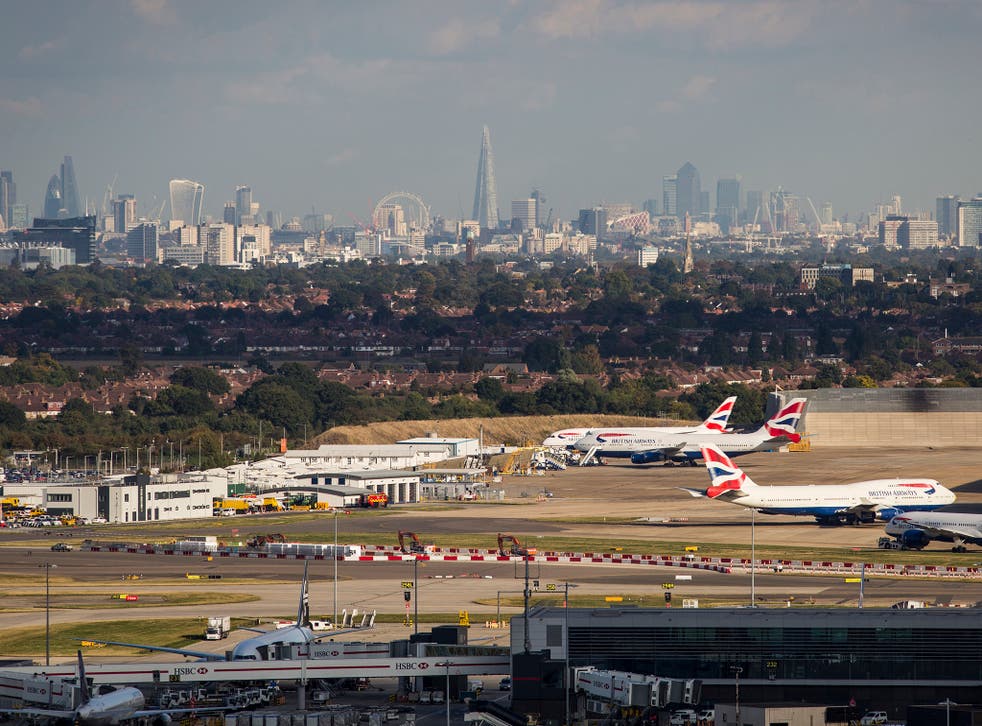 Plans for third runway at Heathrow could breach the Government's own climate change legislation if other sectors fail to make cuts to emissions, an independent advisory board has warned.
The Committee on Climate Change (CCC) said it had concerns over how the Department for Transport (DfT) had presented its case. It warned the business plan for Heathrow projects a 15 per cent increase in aviation emissions by 2050.
The committee members added that if the increase is allowed, ministers will have be prepared to cut emissions from other sectors of Britain's economy.
Heathrow expansion, which led to the resignation of Zac Goldsmith as a Conservative MP and an on-going by-election, was announced by Theresa May's administration last month following a review by the Airports Commission.
In a letter to Business Secretary Greg Clark, the chairman of the CCC, Lord Debden, said: "The Committee has concerns about how it (DfT) presented the implications for greenhouse gas emissions from aviation in that business case."
He added: "The committee is now concerned that there is scope for misunderstanding of the DfT's position based on the business case for a third runway at Heathrow," Lord Debden wrote.
"Using the Government's publications, it is not possible to assess whether the investment makes sense when emissions conform to the planning assumption."
Lord Debden warned that plans to expand Heathrow while keeping current targets meant "all sectors would have to prepare for correspondingly higher emission reductions by 2050". "My committee has limited confidence about the options for other sectors to go beyond these levels by 2050," he added.
But the Department for Business, Energy and Industrial Strategy told said the Government agreed with the Airports Commission's assessment that a new runway at Heathrow will not breach emissions targets.
In pictures: 70 years of Heathrow

Show all 22
A spokesman said: "We are considering how we will continue to reduce our emissions across the economy through the 2020s and will set this out in our emissions reduction plan, which will send an important signal to the markets, businesses and investors.
"Our commitment to meeting our Climate Change Act target of an at least 80 per cent emissions reduction below 1990 levels by 2050 is as strong as ever."
Responding to the warning, the Green party co-leader Jonathan Bartley said: "The Committee on Climate Change has confirmed what we already knew – expanding Heathrow will put a wrecking ball through any hope of meeting climate change targets.
"The Government must stop giving air travel special treatment. The reality is that endless growth in our aviation capacity is incompatible with the UK's climate change commitments. The Government must open its eyes to the only sensible option: no new runways.
"The Government must urgently look into the proposed frequent flier levy as a fair way of reducing the demand for flights from those who fly the most, whilst benefiting the majority of people and protecting us all from the threat of climate change."
Register for free to continue reading
Registration is a free and easy way to support our truly independent journalism
By registering, you will also enjoy limited access to Premium articles, exclusive newsletters, commenting, and virtual events with our leading journalists
Already have an account? sign in
Register for free to continue reading
Registration is a free and easy way to support our truly independent journalism
By registering, you will also enjoy limited access to Premium articles, exclusive newsletters, commenting, and virtual events with our leading journalists
Already have an account? sign in
Join our new commenting forum
Join thought-provoking conversations, follow other Independent readers and see their replies