Plebgate officers stand by account of meeting with Andrew Mitchell
Claim that policemen may face second inquiry is rebuked by forces after Commons appearance
Nigel Morris
Wednesday 23 October 2013 20:34 Comments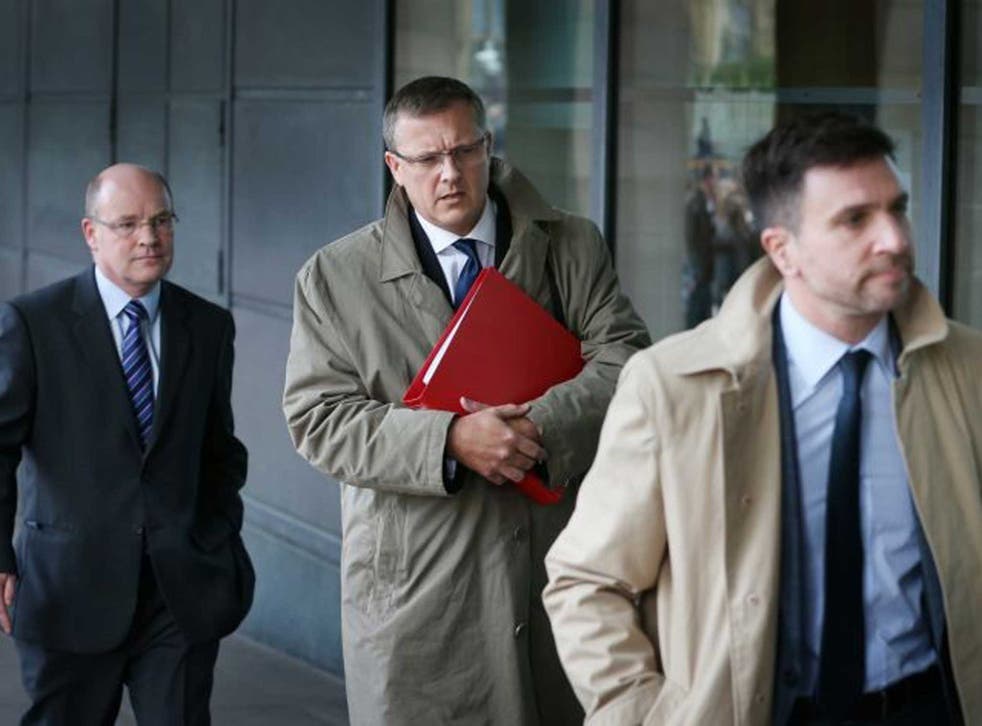 Three police officers locked in a dispute with Andrew Mitchell over the "plebgate" row have refused to bow to demands to apologise over their account of a private meeting they held with the former Tory chief whip.
Insp Ken MacKaill of West Mercia Police, Det Sgt Stuart Hinton of Warwickshire Police and Sgt Chris Jones of West Midlands Police could face a fresh investigation into their conduct, although there was confusion last night over whether it would get off the ground.
Following a bruising joint appearance before the Commons home affairs select committee, its chairman Keith Vaz rebuked the officers: "We have found your evidence most unsatisfactory."
His reprimand came after the trio rebuffed calls to apologise following accusations they lied about the meeting they held with Mr Mitchell shortly before his resignation.
Insp MacKail, Det Hinton and Sgt Jones, who are representatives of the Police Federation, met Mr Mitchell last October as the storm raged over reports he called officers guarding the Downing Street gates "plebs" - a claim has always denied.
They emerged from the session at his constituency office in Sutton Coldfield, West Mids, to tell waiting camera crews that he had failed to explain exactly what he said during the confrontation in Downing Street and called on him to resign.
A recording of the meeting, secretly taped by Mr Mitchell, later disclosed he had denied using the word "pleb", but had admitted swearing under his breath.
David Cameron and other senior politicians have urged them to apologise, but they told MPs they only regretted the haste with which they spoke to journalists.
Mr Hinton said: "We showed poor judgment in speaking to the media immediately following the meeting with Mr Mitchell. I think we are all happy to take the criticism on the chin for that."
He added: "We certainly didn't lie intentionally."
Mr MacKaill said: "I gave what I believed was an accurate account of the meeting to the media, but I subscribe to the apology that I shouldn't have done it in the way I did."
Mr Jones said: "I'm firmly of the opinion we did represent that meeting correctly when we emerged from that meeting."
They fiercely denied they had conspired, as part of a campaign against cuts to police budgets, to force Mr Mitchell to quit his post.
No action was taken against the officers following a review into their actions by their three forces. However, an original version of the investigation had concluded the three officers had charges of misconduct to answer.
David Shaw, the Chief Constable of West Mercia, whose force was in the lead in the inquiry, told the committee that the investigation had been flawed.
In a surprise move, he announced he wanted it to be reopened and said he had asked HM Inspector of Constabulary to ask another force to review it.
But his initiative immediately foundered as Chris Sims, the West Midlands Chief Constable, and Andy Parker, the Warwickshire Chief Constable, said they did not think there was a case for a fresh inquiry into their officers' conduct.
Chf Insp Jerry Reakes-Williams of West Mercia Police, who conducted the internal investigation, told the committee that he continued to believe the officers misled reporters but did not believe they deliberately lied.
He said: "I did find a case to answer for misconduct and that's still my view."
The IPCC's deputy chairwoman Deborah Glass told MPs she was "absolutely astonished" when a final report came back from the three forces recommending that the officers had no case to answer.
She said: "Until that point I had no inkling that this was going to be anything other than at least misconduct, and I expected gross misconduct."
Register for free to continue reading
Registration is a free and easy way to support our truly independent journalism
By registering, you will also enjoy limited access to Premium articles, exclusive newsletters, commenting, and virtual events with our leading journalists
Already have an account? sign in
Join our new commenting forum
Join thought-provoking conversations, follow other Independent readers and see their replies