PM heads for showdown on Leveson Report
Judge consults former inquiry team to make sure press regulation measures are not ignored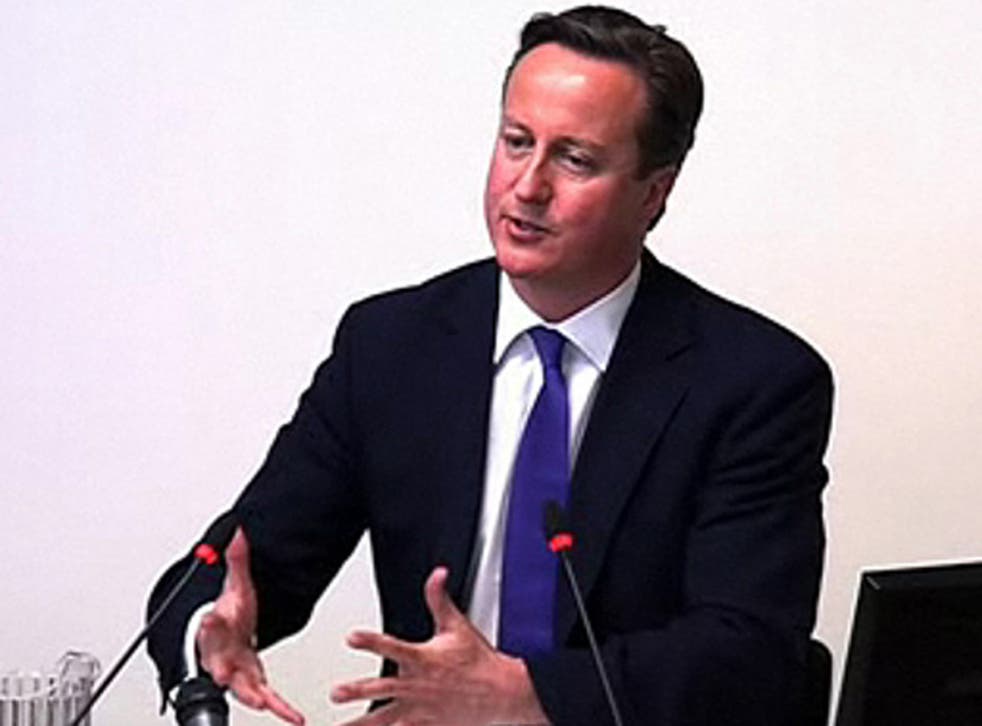 David Cameron is heading for a clash with the most vocal and influential members of his Cabinet over the Leveson Report when it is published this week, as the bitter battle over freedom of the press and privacy of individuals reaches its climax.
The Prime Minister, who is among a tight circle of people in government who will receive Lord Justice Leveson's report 24 hours ahead of publication on Thursday, is expected to back some form of tighter regulation, despite a last-ditch campaign by newspapers and ministers to defend press freedom.
In a sign that the Leveson Report will not fight shy of robust regulation with statutory backing, the judge is understood to have consulted people involved with the previous inquiry into press conduct to ensure "lessons are learnt", said a source. Lord Justice Leveson has held talks with those involved in Sir David Calcutt's 1990 inquiry which gave rise to the Press Complaints Commission, amid concerns that his tough recommendations will be cast aside by government and Parliament.
Mr Cameron is facing entrenched opposition to state regulation from key Tory ministers, including the Education Secretary Michael Gove, the Chancellor George Osborne, Foreign Secretary William Hague, Local Government Secretary Eric Pickles and Work and Pensions Secretary Iain Duncan Smith.
Mr Cameron has ringing in his ears the words of Mr Gove and Boris Johnson, the London Mayor, who both restated their defence of a free press at the Spectator awards last week. But one Conservative MP who will vote in favour of statutory regulation urged the Prime Minister not to fall for Mr Gove's comments through "erotic absorption".
Downing Street insisted last night that Mr Cameron had not come to a decision on what was at present a "non-existent proposal". But ministers are fearful that the Prime Minister, faced with demands from a determined judge and 70 Tory backbenchers, plus Labour and Lib Dem MPs who want state regulation, will "cave in" to Leveson. One source likened the clash inside the Tory party to "Roundheads vs Cavaliers".
Mr Cameron is being urged to back some form of "third way" to reconcile differences. A proposal, accepted in principle by all newspapers, from Lord Hunt, the PCC's current chairman, and Lord Black of Brentwood, the executive director of Telegraph Media Group, for an independent regulator backed by heavy fines, is likely to be rejected by Lord Justice Leveson. However, Mr Cameron could implement the Hunt-Black plans for a period of time, with the threat of statutory regulation down the line.
Another option being suggested to Downing Street is to introduce a statutory regulator but to insert a "sunset clause" into the legislation, so that the measure would have to be renewed by a fresh parliamentary bill and could lapse if deemed unworkable.
As the political and media establishment braced itself for the report, the father of a victim of the 7 July bombings said he believed the Leveson Inquiry had been "hijacked" by celebrities.
Graham Foulkes, whose 22-year-old son David was killed in the London bombings and whose phone was hacked by the News of the World, told BBC2's Newsnight that the "celebrity circus" caused the inquiry to lose its "focus" and "value". He added: "There is no place for ordinary people in this media circle."
When he appeared before the Leveson Inquiry in June, Mr Cameron said it was no longer the case that the press should regulate itself: "I accept we can't say it's the last-chance saloon all over again. We've done that."
A No 10 source said: "People will disagree. You cannot have a discussion about a proposal which doesn't exist. He wants to wait until the full report comes out and consider that very carefully."
The Prime Minister, fresh from winning alliances with Angela Merkel and other EU leaders over the European budget last week, faces a critical fortnight for his premiership. He will give a statement to the Commons following the publication of the Leveson Report on Thursday.
There will be a full debate on the subject in the Commons on 3 December before what is expected to be a difficult Autumn Statement by the Chancellor on 5 December. Mr Cameron also faces opposition to his plans for gay marriage from 118 Tory MPs – although last night Downing Street insisted this was a free vote.
Register for free to continue reading
Registration is a free and easy way to support our truly independent journalism
By registering, you will also enjoy limited access to Premium articles, exclusive newsletters, commenting, and virtual events with our leading journalists
Already have an account? sign in
Register for free to continue reading
Registration is a free and easy way to support our truly independent journalism
By registering, you will also enjoy limited access to Premium articles, exclusive newsletters, commenting, and virtual events with our leading journalists
Already have an account? sign in
Join our new commenting forum
Join thought-provoking conversations, follow other Independent readers and see their replies