PM targets benefits for EU nationals
Restrictions planned for immigrants' medical care, housing and legal aid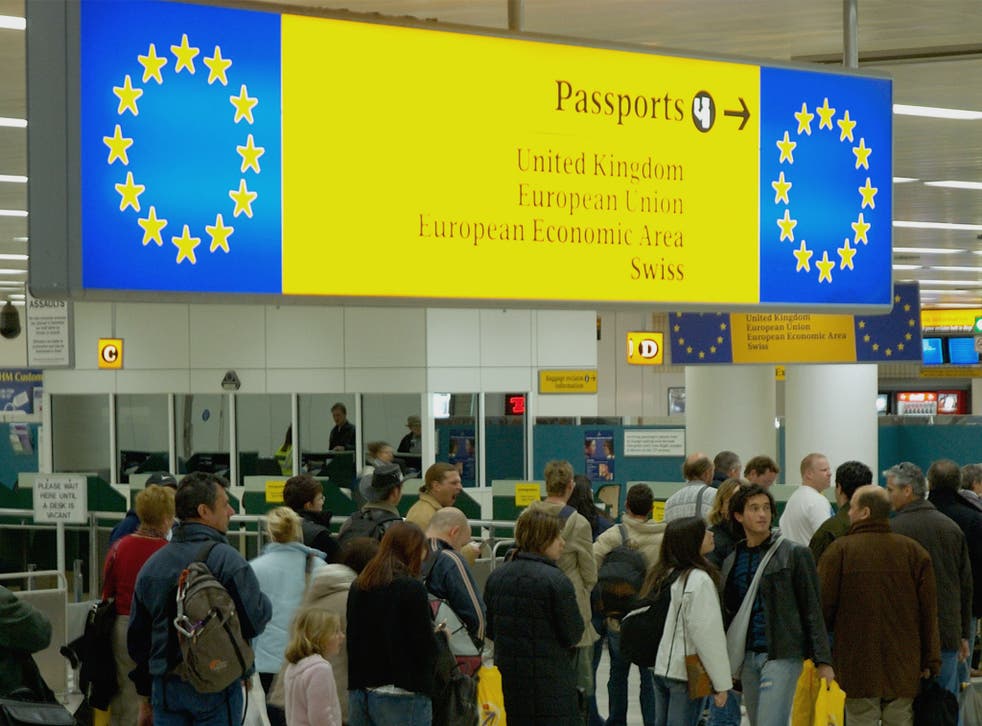 Foreigners face fresh curbs on access to benefits, healthcare, housing and legal aid in an effort to stop Britain being seen as a "soft touch" overseas, amid growing Coalition strains over immigration policy.
With sections of his party expressing fears about an "influx" of migrants from Romania and Bulgaria when controls lapse at the end of the year, David Cameron has ordered ministers to draw up plans to tighten entitlement rules for all migrants from across the EU and beyond.
The crackdown follows the introduction of tough new rules restricting the numbers of visas issued to non-EU nationals. Some ministers fear the tough stance will act as a brake on economic growth by discouraging highly skilled entrepreneurs and the "brightest and best" students from coming to Britain.
Mr Cameron's latest move follows claims that thousands of Romanians and Bulgarians could be drawn to Britain when restrictions on their movement within the EU are lifted in January.
He told MPs that the Government was "going to look at every single one of our systems – housing, health, benefits – and make sure we are not a soft touch for those who want to come here".
Ministers are considering ways of cutting welfare payments to immigrants, including reducing the amount of child benefit sent abroad by foreign nationals. The annual benefits bill for foreign children is currently £36m, with two-thirds of the cash going to Poland.
They will study a recent French decision to slash benefit payments to immigrants by 83 per cent – a move that could potentially encourage migrants to cross the Channel.
The Government also fears that reports of access to the National Health Service are acting as a significant "pull-factor" to newcomers.
Whitehall sources said ministers did not want to stop treatment for "foreigners dying in accident-and-emergency," but to make sure people did not receive routine care in Britain because it was quicker and more efficient than in their home countries.
Other ideas being studied include requiring jobless migrants to have medical insurance to cover the cost of falling ill, and stepping up efforts to recoup money from other EU countries whose nationals are cared for in British hospitals.
Town halls will be urged to draw up policies to favour local people in allocating accommodation – typically by organising strict waiting-list systems that reward people who have been in the locality for years.
In addition, ministers plan to cut back foreigners' entitlement to legal aid when they are facing charges in an English court – a move that could prove controversial as it could restrict their entitlement to justice.
They will also examine ways of cutting off illegal immigrants' ability to use public services.
Government sources admitted the areas involved were complicated, not least because EU rules tend to guarantee all workers equal access to services and benefits. They said the moves were designed to ensure services were allocated fairly and not abused.
Sarah Mulley, associate director for migration at the Institute for Public Policy Research think tank, said: "The Government does not have much room for manoeuvre. Access to most benefits is seen as the most important part of freedom of movement. There is no evidence migration is a significant drain on any of these resources."
The proposed clampdown comes amid rising tensions inside the Cabinet over immigration rules. The Business Secretary, Vince Cable, is worried wealthy investors from emerging economies such as China, India, Brazil and Russia are deterred by the UK's overly-bureaucratic visa rules and system. "Countries like Germany and France roll out the red carpet; we have still got too much red tape," said one Cable ally. Chinese tourists are also being put off, critics say.
Mr Cable has won the backing of the Chancellor, George Osborne, who wants to show that Britain is "open for business". Theresa May, the Home Secretary, who insists she has already changed the rules to help the drive for growth, is digging in against a further relaxation. She does not want to undermine the chances of hitting the Conservative Party's target of cutting net migration to below 100,000 by the 2015 election.
David Cameron, who will lead a trade mission to India with British businessmen next week, admitted that the Government had unwittingly given the impression that bright students were not welcome from overseas. He told Sunrise TV ahead of his visit: "I think we haven't perhaps communicated this properly. The fact is today, as we stand, and this is going to be the case going forward, there is no limit on the number of students who can come from India to study at British universities, no limit at all." Business leaders are lobbying the Government to streamline the system so that foreign investors who want to put money into British companies are not deterred by it.
Gove must explain denial of intimidation
Michael Gove is to be told by MPs he must answer claims that he misled Parliament when he denied knowledge of intimidating behaviour by his advisers.
His denial was followed a few days later by the revelation that a civil servant had received a £25,000 payout after being subjected to behaviour that was "perceived as threatening".
Members of the Commons Select Committee on Education – to whom he made the original denial – are to write to the Education Secretary expressing serious concerns about the allegations. If they are not satisfied with Mr Gove's reply, they intend to recall him to give evidence.
The MPs' concerns stem from an earlier select committee hearing when Mr Gove said he had no knowledge of any such accusations. The civil servant concerned, who still works in the DfE, alleged intimidating behaviour by Michael Gove's special adviser, Dominic Cummings, and the head of communications James Frayne. The investigation cleared them of wrongdoing but acknowledged the civil servant, a woman, could have perceived the conduct as threatening.
Richard Garner
Join our new commenting forum
Join thought-provoking conversations, follow other Independent readers and see their replies