Points-based immigration system: What is it and why has Theresa May opposed it?
Everything you need to know about the controversial policy
Rob Merrick
Deputy Political Editor
Monday 05 September 2016 16:02 Comments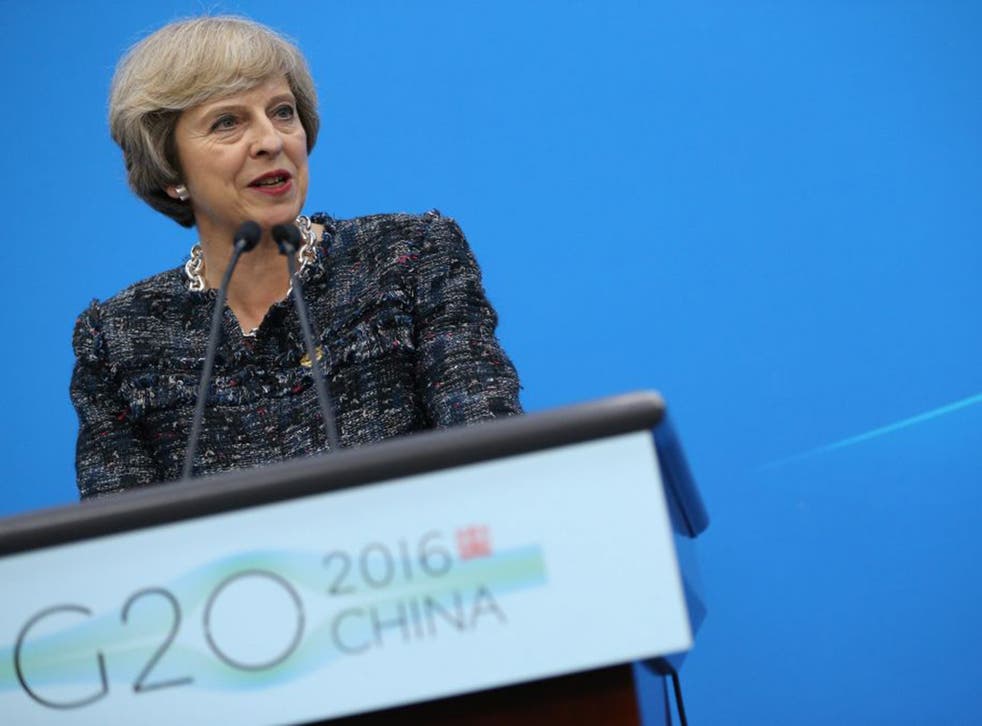 The points-based immigration system used by Australia and championed by a series of prominent politicians for the UK appears to have been dismissed by Theresa May.
Here's everything you need to know about the controversial policy.
What is an Australian-style, points-based immigration system?
Introduced in the late 1980s, it selects migrants allowed into Australia on the basis of their likely contribution to society, allocating visas to skilled workers and those sponsored by employers.
Skilled-workers are required to score at least 60 points, which are awarded for factors including age, recognised qualifications and previous experience working abroad. For example, skilled employment earns up to 20 points and 25 to 32-year-olds automatically get 30.
Doesn't a similar system exist in the UK already?
Yes – but only for people moving to the UK from outside the European Union, because of freedom of movement across the EU for workers. It was introduced by Gordon Brown's Government in February 2008, classing people into four broad 'tiers'.
However, Tier 3 - intended to be a pathway for unskilled immigrants – was never brought in (because it was deemed not to be needed) and was removed by the Coalition, which made other changes widely seen as moving away from an Australian-style system.
How did it feature in the EU referendum debate?
It was the centrepiece of the Vote Leave campaign, supported by Boris Johnson, Michael Gove and other leading Brexit-supporters who hinted it would - finally - allow the Tories to meet their manifesto pledge to cut annual net migration to the tens of thousands.
The former Mayor of London said it would allow the UK to "take back control of a system that is, at the moment, completely out of control" – and that it would "neutralise the extremists" on the toxic issue of immigration.
So is the idea dead, as a replacement for freedom of movement after Brexit?
Yes – we learned from comments made by Theresa May, on the plane to plane to the G20 summit in China. The prime minister said it wasn't a "silver bullet", telling journalists: "You really don't want to ask a former Home Secretary about the intricacies of a points-based system…"
In London, a No.10 spokesman removed any doubt, toughening up that stance by stating: "A points-based system will not work and is not an option."
Why is Theresa May against it?
At her press conference, later, she said it did not give the control over immigration that was required, referring to the "abuses" she became aware of as Home Secretary – in particular, large numbers of students who met the criteria, but did not speak English or have courses to go to.
A points-based system has also been criticised as unsuitable for the UK because it wants to cut migration – while Australia (and Canada and New Zealand) use it to expand their smaller populations. Migration Watch described it as "thoroughly unsuitable for the UK", which needed a low cap, a visa system and proper border checks.
UK news in pictures

Show all 50
What is the reaction of the Brexit supporters?
Muted – so far. Nigel Farage was out of the blocks fast - saying it would be "totally unacceptable" to give EU citizens priority in post-Brexit migration rules – but leading Conservatives held their fire. Iain Duncan Smith said there were other ways to cut immigration.
No.10 stressed that the decision to had full Cabinet support, which would mean that Boris Johnson has dropped the Vote Leave pledge.
What system will be introduced instead?
We don't know. Mrs May said only that there were "various ways" to curb immigration, adding: "We will be coming forward in due course with those proposals". She went on to refer to securing "an element of control" – which would fall far short of those Vote Leave promises.
The most likely alternative is some form of work permits, which could be more restrictive than a points-based system, some argue. Employers would make applications and the Government would decide, presumably on a case-by-case basis. Or an 'emergency brake' could trigger a temporary halt in EU migration in particular jobs or locations where wages are being undercut.
What is Labour's position?
Andy Burnham, the Shadow Home Secretary, criticised "confusion" and a lack of leadership, saying: "A number of members of the Cabinet made this pledge and voters will be surprised to see the Prime Minister rip it up without any consultation."
However, Mr Burnham did not state Labour's view. Some senior Labour figures believe the party has no option but to listen to many if its traditional supports who want an end to freedom of movement – but Jeremy Corbyn supports it.
Register for free to continue reading
Registration is a free and easy way to support our truly independent journalism
By registering, you will also enjoy limited access to Premium articles, exclusive newsletters, commenting, and virtual events with our leading journalists
Already have an account? sign in
Join our new commenting forum
Join thought-provoking conversations, follow other Independent readers and see their replies