Police ask Margaret Thatcher protesters to identify themselves
Jerome Taylor
,
David McKittrick
Wednesday 10 April 2013 21:34 Comments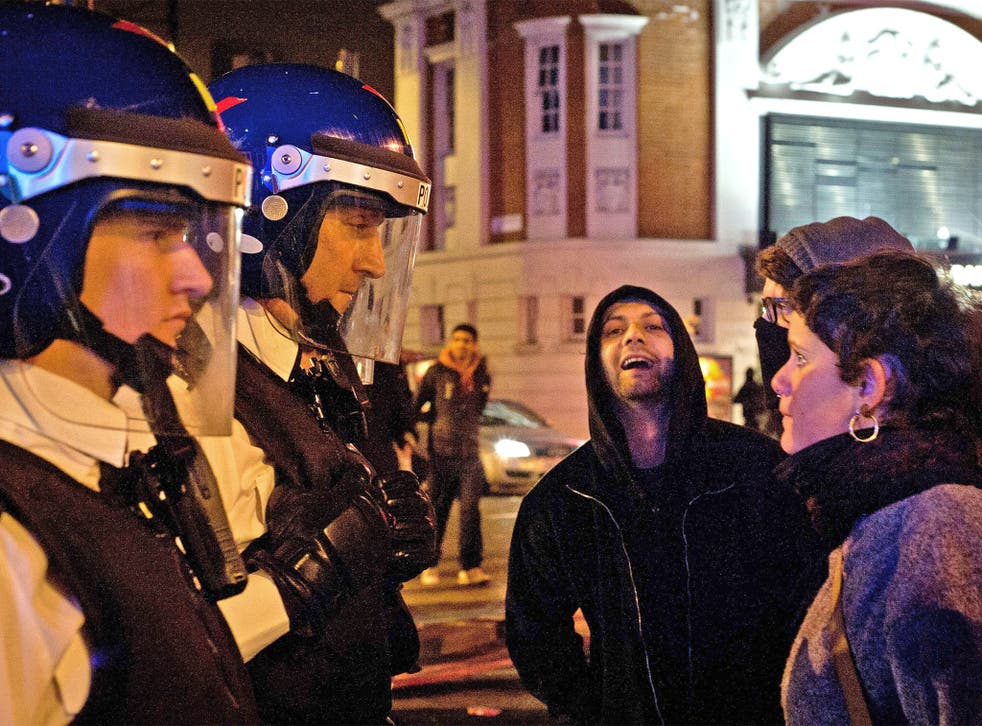 The Metropolitan Police has asked groups planning to demonstrate during or in advance of Margaret Thatcher's funeral to make themselves known to officers so that their "right to protest can be upheld".
The call, which echoes similar ones made in the run-up to the Olympics, is an attempt to avoid any outbreak of violence or public order issues which might threaten to mar the funeral procession. However, the suggestion will anger those who say the right to protest should not need prior authorisation by police.
The plea comes amid criticism that taxpayers will have to foot the majority of the estimated £8m-to-£10m bill for hosting the ceremonial funeral. Lady Thatcher's estate is making a contribution and the rest will come out of the public purse. Mindful of generating further unrest in the run-up to Wednesday, Downing Street said it would only confirm how much the funeral will cost the public once it has taken place.
Groups of various political hues have used websites and social media to encourage some sort of protest or public statement on the funeral day. Suggestions have ranged from anarchist groups promoting violent demonstrations and direct action to more sober offerings such as silent vigils or wearing a single colour in protest at Mrs Thatcher's divisive legacy. A separate call has gone out to hold a mass party and protest in Trafalgar Square this Saturday at 6pm.
In Northern Ireland, security sources have for more than six months been reasonably confident that the array of dissident republican groups have been unable to set up attacks in mainland Britain. But it is understood that the Met has been in touch with the Police Service of Northern Ireland for a threat assessment.
The biggest fear for police is the possibility that those advocating violent action may force them into a "robust" public order response that could then trigger wider clashes and mar the funeral day itself.
One post on the popular protest forum indymedia.org.uk wrote: "I suspect there are thousands of people who think that having a party is not enough. They want to be there at her state funeral. They want to protest at the injustice of Thatcher parading her wealth and status through the streets of London, when so many live and die in poverty as a result of her policies."
Funeral threat: Scotland Yard's crack team
Loners obsessed with public figures will be vetted by a little-known Scotland Yard unit in an attempt to prevent disruption at the funeral of Baroness Thatcher next week.
The Fixated Threat Assessment Centre (FTAC) was set up in 2006 to gauge the risks from stalkers and the mentally ill who harass public figures. It receives 1,000 referrals a year with about half of those needing further action, according to its website.
The small team, comprising 10 Metropolitan police officers and NHS staff, will scrutinise the guest list of foreign dignitaries, which has yet to be released by the family and Downing Street.
Experts said that any likely disruption to the ceremony from a loner is likely to come from the targeting of a high-profile mourner rather than a lingering obsession with the former prime minister.
Scotland Yard said that its intelligence picture was still "under development" for the funeral of one of Britain's most controversial and divisive political figures. The force is monitoring social media sites with political protests rather than lone fanatics seen as the most likely cause of potential disruption.
Hundreds of people have been sectioned since the FTAC was established. Cases are referred to the unit after threatening letters are received by prominent figures or individuals make personal approaches. It has been estimated that some 10,000 bizarre or threatening messages are received every year by royal households.
Most of the cases the FTAC deals with are people suffering serious illnesses including schizophrenia and delusional disorder.
Paul Peachey
Register for free to continue reading
Registration is a free and easy way to support our truly independent journalism
By registering, you will also enjoy limited access to Premium articles, exclusive newsletters, commenting, and virtual events with our leading journalists
Already have an account? sign in
Join our new commenting forum
Join thought-provoking conversations, follow other Independent readers and see their replies