Police braced for fresh Belfast violence after day of protests
Lesley-Anne McKeown
Saturday 08 December 2012 17:09 Comments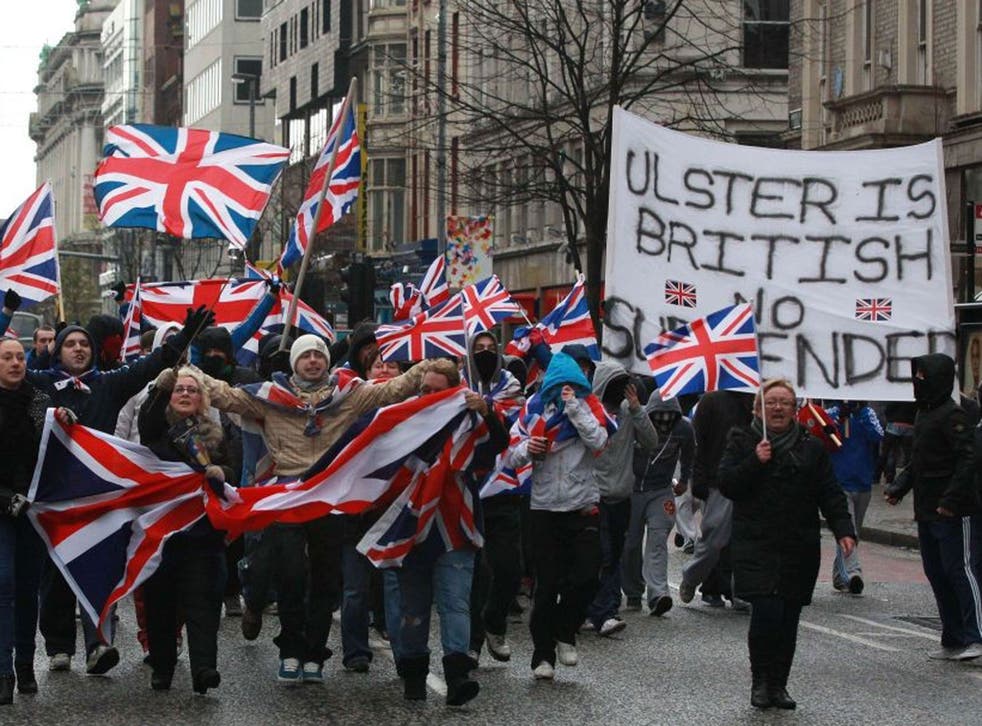 Police were bracing themselves for another night of violence after a protest by loyalists against new restrictions on flying the Union flag passed peacefully.
The picket outside City Hall in Belfast ended after about an hour with a rendition of 'God Save the Queen'.
Two tricolours were burned amid chants and jeers while protesters sang a number of sectarian songs.
The Police Service of Northern Ireland (PSNI) said protesters had dispersed, but there were pockets of disorder in east Belfast and a section of the Newtownards Road was closed.
"A police officer has been injured and taken to hospital," a PSNI spokeswoman added.
Last night, eight police officers were injured and more than a dozen people arrested - including a 13-year-old boy - during clashes between loyalists and riot police.
PSNI Assistant Chief Constable Will Kerr said loyalist paramilitaries had been orchestrating some of the violence seen in the past 24 hours.
"Violence has serious and unwanted consequences for us all and we will robustly investigate all incidents," he said.
"I am urging everyone to be calm, take a step back and think about how this violence is affecting not just their own communities but the whole of Northern Ireland."
About 2,000 people attended the demonstration in Belfast city centre.
As protesters did a lap of the City Hall, some who used scarves to hide their faces banged on the back gates which were reinforced with metal sheets after Monday night's disorder.
Up to 20 PSNI armoured Landrovers were lined up on either side of City Hall while officers in full riot gear with dogs could be seen in the courtyard of the Edwardian building.
PUP leader Billy Hutchinson, UDA boss Jackie McDonald and Jim Dowson, a former member of the National Front, were among the crowd.
Mr Hutchinson said it was unfortunate that tricolours had been burned.
"It is unfortunate that some people feel that they have to do that. This is about Northern Ireland and Northern Ireland republicans.
"They are venting their frustrations against republicans in Northern Ireland."
Armagh victims campaigner Willie Frazer was also at the protest, where the crowd sang the controversial Famine Song which sparked a political row over a parade past a Catholic Church in Belfast city centre earlier this year.
Traders had feared the protest would affect business on what should be one of the busiest shopping days of the year.
The Christmas market closed for a short time and a children's walk, Christmas party and visit by Santa planned by a charity for youngsters with heart disease was cancelled.
But protesters said they felt compelled to take to the streets.
David Ralston, 43, originally from Glasgow but who has lived in Belfast for 27 years, said: "I feel very, very strongly about my British identity. Obviously my own native country of Scotland is struggling but, for me, Ulster is an important part of Ulster.
"I have seen sell out after sell out to Sinn Fein - they are acts of betrayal. We must stand together on this issue.
"That flag is the flag of Britain and it was fought and died for, it represents freedom and democracy.
"If the Union flag can fly from Government buildings in Edinburgh, despite all the Scottish nationalism there, why can't it fly over Belfast City Hall?"
Arnold Sproule, 65, from east Belfast, said he came out to show his support.
"I would describe myself as quite a liberal type of person but I think there has just been one concession after another to Sinn Fein," he said.
"I voted for the DUP all my life but never again - not after they lost the flag."
The violence - which has left 27 police officers injured - overshadowed a visit to Northern Ireland yesterday by US Secretary of State Hillary Clinton.
Mrs Clinton, who was a key figure in the peace process during the 1990s, appealed for calm.
Ulster Unionist Party leader Mike Nesbitt MLA also called on protesters to halt the violence.
"Anyone who attacks a police officer, anyone who riots, anyone who engages in illegal street protest, is disrespecting the values of the Union flag," he said.
Much of the anger has been directed towards the non-sectarian Alliance Party, whose councillors in Belfast voted to limit the number of days the Union flag could be flown over the city hall from 365 to 17.
The home of Ards councillor Linda Cleland was attacked overnight, with several windows broken and her car windows were smashed.
Ms Cleland urged all those who have orchestrated the protests and attacks to call an end to the trouble before someone is killed.
A death threat was also made against the party's only MP, Naomi Long, while a constituency office in Carrickfergus, Co Antrim, was destroyed in an arson attack.
Belfast city councillor Laura McNamee was advised to leave her home, while two others living in Bangor had their homes vandalised.
Register for free to continue reading
Registration is a free and easy way to support our truly independent journalism
By registering, you will also enjoy limited access to Premium articles, exclusive newsletters, commenting, and virtual events with our leading journalists
Already have an account? sign in
Join our new commenting forum
Join thought-provoking conversations, follow other Independent readers and see their replies