Police clash with disabled protesters as they try to storm House of Commons chamber during Prime Minister's Questions
'Where is the Paralympic legacy we were promised?' asks one of the protesters in Parliament. 'Is this it? Being beaten up in the House of Commons?'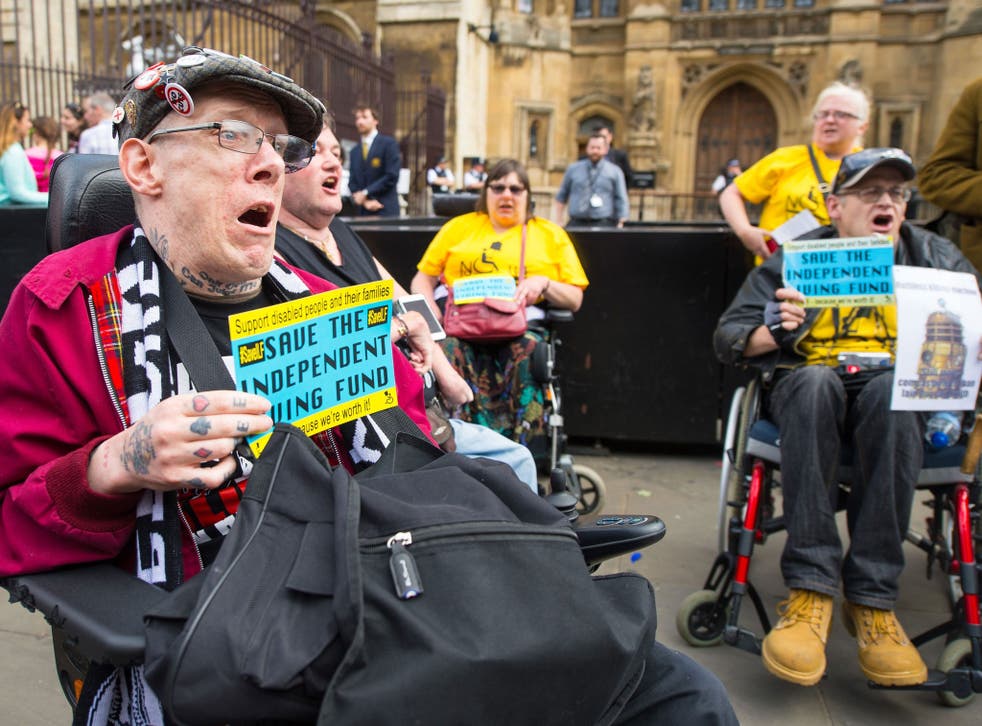 Police have clashed with angry disabled protesters inside the Houses of Parliament after they tried to force their way into Prime Minister's Questions.
Witnesses said one police officer "punched" one of the wheelchair user's personal carers, while another onlooker said an officer restrained a woman by applying pressure to her neck as the group moved from Parliament's Central Lobby towards the House of Commons chamber.
The footage below captures the moment when protesters attempted to enter the Houses of Parliament.
Around 30 police officers formed a human wall as a group of around 10 wheelchair users and their carers pushed their way towards the House of Commons chamber, where MPs were grilling David Cameron over the government's plans to cut £12bn from the welfare budget.
Jamie McCormack, one of the disabled protesters, told The Independent: "The heavy-handed response from the police was out of order.
"They physically man-handled a female PA (personal assistant) by restraining both arms back and elevating her neck back, which for someone with a neck injury, can paralyse you. They were trying to subdue her but she's a slimly built woman being held by two burly cops. Another officer punched a PA."
The footage below shows the police attempting to stop protesters from moving further.
Mr McCormick, who is deaf and physically impaired, added: "Where is the Paralympic legacy we were promised? Is this it? Being beaten up in the House of Commons?"
The protest, organised by the Disabled People against Cuts (DPAC) group, were in Parliament to lobby against the government's decision to end the Independent Living Fund, which was closed for new applicants in 2010 and will officially close next week.
The group said claimants were promised funds to help with independent living would instead be provided through local councils, but they said local authorities could not afford it.
However George Freeman, the government's Life Sciences minister, condemned the violence, saying the protesters did their cause no good by rushing towards the chamber.
But DPAC defended their actions, insisting it had drawn media attention to their cause.
The Metropolitan police said there were no arrests but one person and their carer were ejected from the Palace of Westminster for "disorderly behaviour".
Public access to Central Lobby was restricted for around 30 minutes while officers dealt with the situation. The Met said they were aware of the organised protest today and officers responded when protesters attempted to enter the Commons chamber at around 12.20.
A statement from the Met added: "Orderly protestors were allowed to remain in the Central Lobby to continue their lobbying of MPs. The Parliamentary business in the Commons Chamber was not interrupted."
Register for free to continue reading
Registration is a free and easy way to support our truly independent journalism
By registering, you will also enjoy limited access to Premium articles, exclusive newsletters, commenting, and virtual events with our leading journalists
Already have an account? sign in
Register for free to continue reading
Registration is a free and easy way to support our truly independent journalism
By registering, you will also enjoy limited access to Premium articles, exclusive newsletters, commenting, and virtual events with our leading journalists
Already have an account? sign in
Join our new commenting forum
Join thought-provoking conversations, follow other Independent readers and see their replies