Police and prison officers set for salary increase as Government bows to pressure over public sector pay cap
PM and Chancellor buckle after repeated calls to take action on long-standing issue from Labour, unions and dissenting Tories
Arj Singh
,
Richard Wheeler
Monday 11 September 2017 09:26 Comments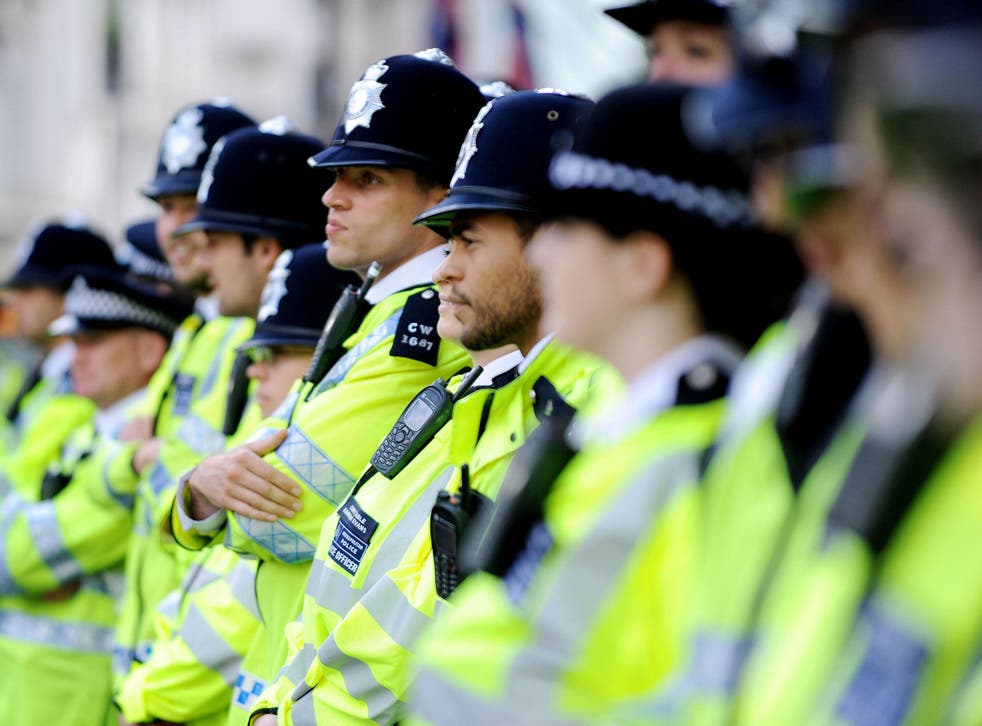 Police and prison officers are reportedly in line for a wage boost with the Government set to lift the 1% cap on public sector pay rises for both sectors.
Ministers are expected to accept recommendations for higher pay rises this week, paving the way for similar increases for other public sector workers, according to reports.
The pay review body recommendations for police and prison officers for 2017/18 are still to be published and are awaiting a Government response, which Theresa May has said will happen "shortly".
A move to lift the cap will come after weeks of pressure on the Prime Minister and Chancellor Philip Hammond to give public sector workers a pay rise from Labour, unions and some Tories.
A Downing Street source has described the reports as "speculation".
But shadow police minister Louise Haigh immediately insisted that new money must be provided for pay rises so pressure is not put on already "overstretched" forces.
It comes after former top Treasury official Lord Macpherson of Earl's Court said tax hikes or spending cuts would be needed to pay for a lifting of the cap or the deficit would be left unacceptably high.
Labour analysis of official data and forecasts showed that rank-and-file police officers are more than £6,000 a year worse off in real terms compared to 2010 when the Conservatives came to power.
The party's research showed that officers across sergeant and constable ranks will have a projected mean annual salary of £40,512 this year, but if wages had risen in line with inflation since 2010 they would be on £46,649, leaving them on average £6,137 worse off.
Ms Haigh said: "It is long past time to stop dithering and take action.
"The Government has spent seven years asking the police to do ever more while slashing their pay year after year, leading to rock bottom morale and skyrocketing resignations.
"Their cuts to police numbers and pay have left the force at its lowest strength on record as it faces soaring crime and record demand.
"We hope that ministers will finally listen to us and agree a fully funded and fair pay settlement for police officers this week but they must not simply put the financial burden on already over stretched forces.
"A Labour government would end the public sector pay cap so that our police get the salary they deserve, and fund the recruitment of another ten thousand officers to restore neighbourhood policing."
The Treasury is due to send out letters within weeks setting out the remit for public sector pay review bodies for next year's pay round and Mr Hammond is under pressure to allow them greater flexibility to recommend more generous rises for other public sector workers.
Labour will seek to capitalise on the Tories' lack of a majority by forcing a House of Commons vote on Wednesday on scrapping the 1% cap for NHS workers in a bid to bounce the Government into taking action.
Shadow health secretary Jon Ashworth called on Tory MPs to join Labour to back moves to end the "unfair" cap for healthcare staff.
He told Sunday with Niall Paterson on Sky News: "We keep getting briefings in newspapers and suggestions that the Government is sympathetic and wants to do something, and 'Oh, it's terrible and we accept that but let's see where we get to'.
"We're bringing a vote to the House of Commons on Wednesday and those Conservative Members of Parliament who have sincerely said they believe the pay cap should go, we're calling on them to vote with us and I'm calling on your viewers to lobby those Conservative Members of Parliament and let me know what they say."
Asked if Labour would support a union-backed general strike over the cap, Mr Ashworth said his party supports those who take industrial action but would not want to see it get to that stage.
He said: "We don't want to see a strike. We don't want to see nurses going on strike and wider public servants going on strike.
UK news in pictures

Show all 50
"The way to avoid that is for the Government to understand the concerns of public sector workers and get rid of this unfair pay cap."
The Institute for Fiscal Studies has said if public sector pay were to rise in line with inflation for the next three or four years it would cost the public purse £6 billion to £7 billion more than continuing with the cap.
PA
Register for free to continue reading
Registration is a free and easy way to support our truly independent journalism
By registering, you will also enjoy limited access to Premium articles, exclusive newsletters, commenting, and virtual events with our leading journalists
Already have an account? sign in
Join our new commenting forum
Join thought-provoking conversations, follow other Independent readers and see their replies