Shock poll shows voters believe Ukip is to the left of the Tories
Labour fears that Nigel Farage is eating into its support are borne out by an intriguing survey asking voters to place parties and leaders on a political spectrum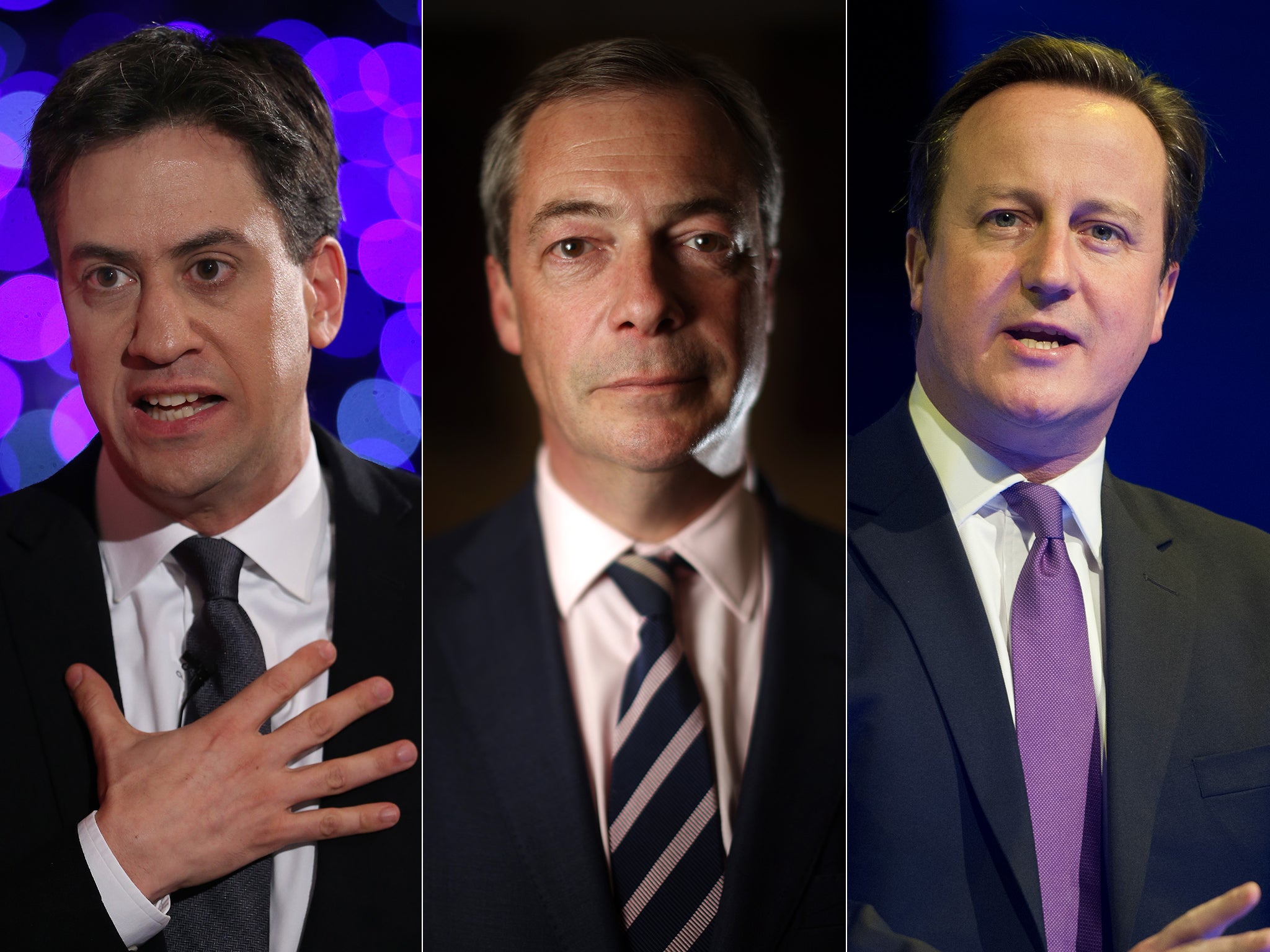 Voters see Ukip as more left wing than the Conservative Party in a shock poll finding that will fuel concerns among Ed Miliband's allies that Nigel Farage is "parking his tanks on Labour's lawn".
A poll for The Independent on Sunday exposes what Labour strategists have been fearing for months – that voters do not regard Ukip as a party of the far right, but as one closer to the centre ground than the Tories. As such it could win Labour votes in the North. It suggests that attempts by Labour to portray Mr Farage's party as "more Thatcherite than Thatcher" have fallen flat.
The findings by ComRes will also be unsettling for the Conservatives, who must seize support from the centre-ground to win a majority at the next general election.
Independent on Sunday poll results
Show all 3
It is the first time that voters have put Ukip to the left of the Conservatives, in a format in which they are asked to place parties on the left-right political spectrum. The move creates greater uncertainty over the outcome of May's election.
On the traditional measure of voting intention, Labour's lead has slipped to only one point compared with four points last month. Ed Miliband's party is on 34 per cent, while the Conservative Party is up three points to 33 per cent – perhaps as a result of the Prime Minister's speech on immigration, or of giveaways on stamp duty in the Autumn Statement. Ukip is down 1 point to 18 per cent, while the Liberal Democrats are unchanged on 8 per cent. The Green Party, which experienced some uplift a few weeks ago, is down to 2 per cent.
Voters were asked to locate themselves, political parties and leaders on a spectrum ranging from 0, very left wing, to 10, very right wing, with 5 at the centre. The average voter puts themselves at 5.26.
Mr Miliband (4.11) and the Labour Party (4.13) are perceived to be closer to the average person than David Cameron (6.81) or the Conservative Party (6.91). Mr Farage, on 6.59, and Ukip, on 6.61, are to the left of the Prime Minister and the Tories.
Nick Clegg is regarded as closer to the centre than any other party leader, with a rating of 5.06, and his party slightly to the left on 4.87 – a finding which will be cheered by the Deputy Prime Minister as he tries to define his party, before the general election, as the real occupants of the centre ground.
The Green Party is regarded as being to the left of Mr Miliband on 4.06, with Russell Brand further still to the left, on 3.86. Prince Charles is seen as slightly to the right of the average voter, on 5.93.
Fascinatingly, the Conservative Party is considered more right-wing by Conservative voters (7.11) than Ukip is by Ukip voters (6.28). Ukip voters see themselves as less right-wing (5.86) than Conservative voters see themselves (6.44).
The poll caps an extraordinary year for Ukip, which was written off by some Westminster observers last May as having peaked at the European elections. The party went on to win two by-elections with Conservative defectors Douglas Carswell and Mark Reckless, but the more surprising development was Mr Farage's party threat to Labour's vote in the Heywood and Middleton by-election – coming second, only 617 votes behind the Labour candidate. On Friday, Richard Desmond, the owner of Express Newspapers, reportedly pledged to donate £300,000 to Ukip.
Ukip's poll position remains strong, despite a week of internal rows and scandal over its candidate Natasha Bolter, who accused general secretary Roger Bird of sexual harassment, a charge that he denies. Mr Bird has been suspended, pending a party inquiry.
There are nevertheless some encouraging findings for the two main party leaders: Mr Cameron is still the most popular choice to run the country – on 31 per cent, ahead of other leaders. Mr Miliband is regarded as stronger on social issues. He is seen as the strongest leader on the issue of improving living standards for working people, with 33 per cent thinking he is best to do this.
Only one in six Conservative voters (17 per cent) would prefer Boris Johnson to run the country, while three-quarters (76 per cent) say they would most like Mr Cameron to.
Stocking fellas
Perhaps he would rig up a zipwire out of tinsel running from the top of your tree. Or maybe you would want him to belt out the full Latin version of "O Come All Ye Faithful" as you wait for the Queen's Christmas Day message. But whatever the reason, Boris Johnson is overwhelmingly the most popular choice for a Christmas house guest among voters, the ComRes poll for The Independent on Sunday reveals.
Asked to choose from the top politicians, 44 per cent would want the Mayor of London round for some winterval wiff-waff. Ed Miliband is the second most popular choice – but is far behind on 16 per cent. Nigel Farage is third on 15 per cent, while David Cameron is fourth on 14 per cent. Nick Clegg is fifth on just 11 per cent.
However, if a rogue sprout goes down the wrong way, voters don't see Mr Johnson as the best politician to administer first aid – he comes second to last on 15 per cent, with Mr Farage last on 11 per cent. The Prime Minister is seen by 29 per cent as being the best for carrying out the kiss of life, with Mr Clegg second on 25 per cent and Mr Miliband third on 21 per cent.
Jane Merrick and John Rentoul
Join our commenting forum
Join thought-provoking conversations, follow other Independent readers and see their replies