Portcullis House: Building housing MPs could need new roof costing taxpayer more than £100m
In the first year alone after its construction, there were 7,500 defects in the building
Mark Leftly
Deputy Political Editor
Saturday 27 February 2016 23:15 Comments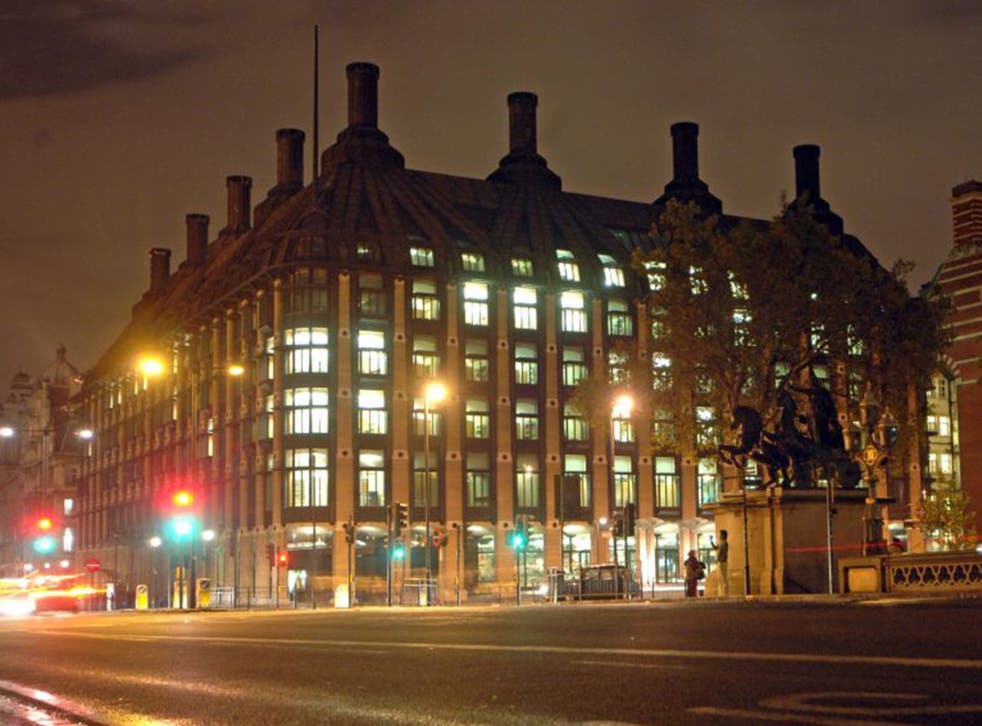 Portcullis House, the lavish modern office block that houses MPs and their staff, could need a new roof costing the taxpayer more than £100m.
Only opened by the Queen in 2001, the building was supposed to provide around a third of MPs' plush offices, overlooking the River Thames. But it has suffered from recurring cracks in its glass roof, as well as the continuous presence of scaffolding and buckets to catch leaks in its airy atrium, where MPs and peers gossip over coffee, and in the dining areas.
In the first year alone, there were 7,500 defects in Portcullis House, including loose door handles as well as cracked glass. The building, which is across the road from Parliament and linked by a tunnel, cost £235m to construct. The budget was criticised for including more than £30m on bronze cladding and £200,000 on plants in a restaurant.
Consultants have been hired to examine the extent of the roof's problems, with cracks believed to appear because glass, wood and other materials expand at different temperatures. The House of Commons Finance Committee, comprising 11 MPs, is split over what the bill could end up being, with some fearing a whole new roof could cost more than £100m.
Others hope the work will be less extensive once the consultants have established the best solution to the ongoing difficulties, but most believe it will at least be in the tens of millions. The consultants are being paid more than £100,000.
A parliamentary source said: "The tolerances between metal, wood, glass and supporting structures are too tight when the weather changes. It's not just one pane of glass that cracks, there is a lot of them. This could involve just altering those tolerances or it could be that we need an entirely new roof."
The expense comes as a cross-bench committee of MPs and peers decides on how to proceed with the extensive refurbishment of the Palace of Westminster, which is considered vital if it is to continue to be the home of British democracy. The palace is a fire risk, and riddled with asbestos, moths and rodents, but bringing it up to scratch could cost the taxpayer more than £7bn.
A spokesperson for the House of Commons said: "The Houses of Parliament have a responsibility to protect buildings on the Parliamentary Estate. A survey of movements within the Portcullis House atrium roof is underway and is due to be completed in spring 2016. Once all of the required data has been collected, recommendations will be made on addressing the cause of previous roof panel fractures. Final costs have yet to be determined. Members of both Houses will be kept informed about the need to carry out this very important work."
Register for free to continue reading
Registration is a free and easy way to support our truly independent journalism
By registering, you will also enjoy limited access to Premium articles, exclusive newsletters, commenting, and virtual events with our leading journalists
Already have an account? sign in
Join our new commenting forum
Join thought-provoking conversations, follow other Independent readers and see their replies