Praise for Baroness Warsi: 'Her action reflects the mood of Dewsbury – and of Britain'
At a hall in West Yorkshire, speakers praise the former Foreign Office minister for her principled resignation over the conflict in Gaza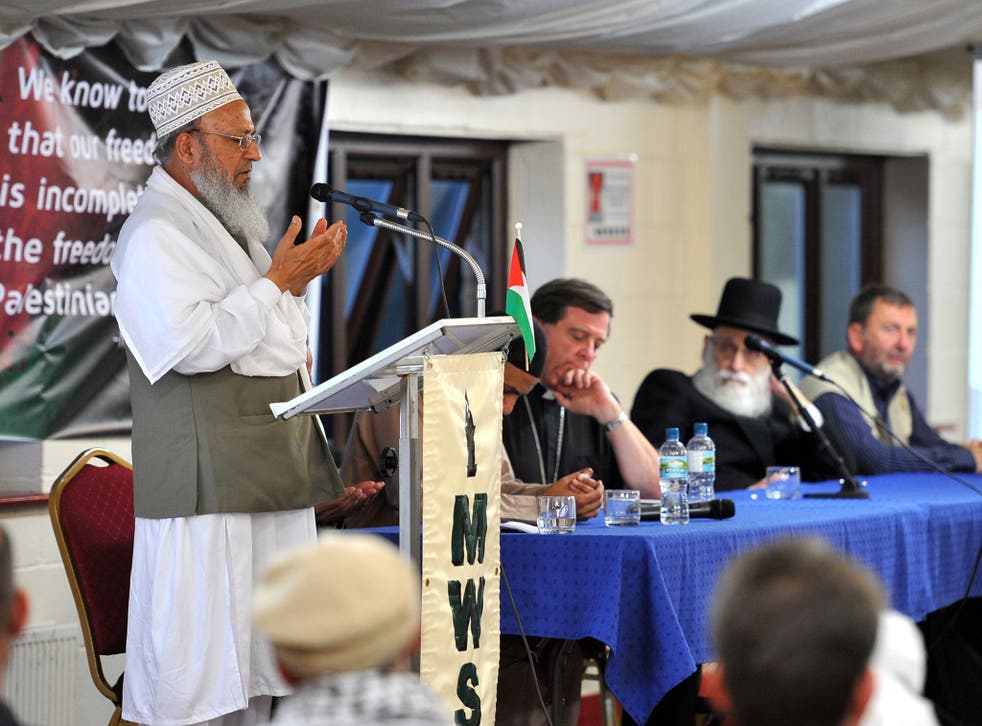 It is standing room only at the Al-Hikmah Centre in Batley, West Yorkshire. Steadily, through the course of the evening, the long lines of chairs have been filling up. Screened behind a line of upturned tables, watching separately, a number of them wearing the full veil, several dozen women have also come. The subject under discussion: the unfolding tragedy in Gaza.
Among those who were asked to address the meeting, organised by the Dewsbury and Batley branch of the Friends of al-Aqsa organisation, was Baroness Warsi. If she had been able to attend, she would have found herself cheered to the rafters.
The decision of the daughter of a local Pakistani mill worker, who attended a comprehensive school just a few hundred yards from here, to reject the trappings of power over her Government's "morally indefensible position" on the Middle East, has turned her into a heroine in her home town.
An impassioned Dr Dawood Abdullah tells the audience that what is happening in Gaza is a "systematic, orchestrated project of genocide", before heaping praise on the outgoing Foreign Office minister.
"People are now reviewing their positions and are disassociating themselves. We give them credit for it. We believe there are many others like Baroness Warsi within the Government who share her views but do not have the courage or the moral strength to stand up to say, 'I disassociate myself from the Government policies in Palestine'," he said.
Sharing a panel with Dr Abdullah are a number of Islamic scholars, a peace activist, an Orthodox Rabbi and a Church of England Bishop – all of whom denounce the actions of the Israelis. Gaza, explains Ismail Patel, chairman of the FOA, is a humanitarian, not an Islamic-only, issue. "The reason Israel is getting away with what it is doing is not because of its superpower status. It is because it has friends. Its greatest friends today are not just in Washington and London – they are in Riyadh or Cairo," he says to applause.
One man, a pharmacist from Dewsbury, says hundreds of people attended demonstrations over Gaza in the town last month. "Baroness Warsi's action has reflected the mood of the people of Dewsbury as well as the whole of Britain," he says. "The number of people who have died is estimated at 1,800 but they haven't done the full count yet. Buildings have been totally destroyed and there could be people still under them. The majority are civilians. There are Christians on the ground there as well as Muslims."
In the audience is Ahmed Lunat, a community leader for 50 years. He used to work with Baroness Warsi at Kirklees Racial Equality Council and compares her resignation to those of Robin Cook and Clare Short over Iraq. "For someone from a minority to achieve that position and then to give it up is very important, and that is why I call her very brave," he says.
The reaction in Batley and Dewsbury, both with large Muslim populations, has been more considered than in 2008, when meetings spilled over into anger. "People are outraged but not radicalised by this," Mr Lunat adds. "They find it difficult to express themselves because they don't have the access to media. Being radical is not helpful to anyone whichever community they belong to. We should have a moderate view and we can solve it."
The far-right English Defence League is holding a rally in Batley today, seeking to exploit recent concern over Muslim education and on-street grooming. Its literature makes no reference to Gaza.
But Simon Reevell, who won the neighbouring Dewsbury seat for the Tories in 2010 (something the then Sayeeda Warsi had been unable to do five years earlier), said the situation in the Middle East had not undermined community relations. "But it does make it much more difficult for the moderate and sensible leaders in the community if a government can be portrayed as not making its position clear enough or that it understands the concerns," he said.
Register for free to continue reading
Registration is a free and easy way to support our truly independent journalism
By registering, you will also enjoy limited access to Premium articles, exclusive newsletters, commenting, and virtual events with our leading journalists
Already have an account? sign in
Register for free to continue reading
Registration is a free and easy way to support our truly independent journalism
By registering, you will also enjoy limited access to Premium articles, exclusive newsletters, commenting, and virtual events with our leading journalists
Already have an account? sign in