Pressure mounts on Chris Grayling to abandon Saudi Arabia prison contract
Amnesty International protested to the Justice Secretary, warning that it risked giving a 'British stamp of approval' to degrading practices in Saudi jails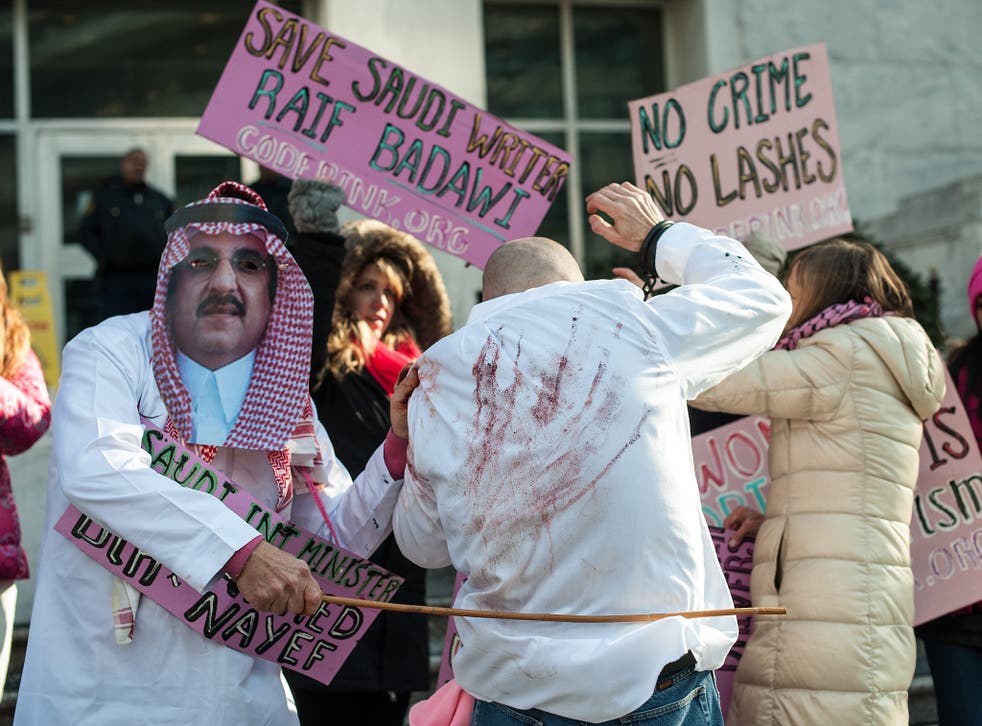 Chris Grayling is under pressure to abandon a Government bid to advise Saudi Arabia on running its jail system amid mounting protests about human rights abuse of prisoners in the kingdom.
Amnesty International protested tonight to the Justice Secretary over the move, warning that it risked giving a "British stamp of approval" to degrading practices in Saudi jails.
The commercial arm of the Ministry of Justice (MoJ) is bidding for a £5.9m contract to advise the Saudi prison service on training staff and running the organisation.
The move has provoked anger in the light of the sentence of 1,000 lashes passed on the liberal blogger Raif Badawi and the public beheading of a woman.
Last year 82 Saudis were executed and there have been regular complaints over the use of torture and inhumane punishments meted out to inmates.
The nation's human rights record – Saudi Arabia has repeatedly been highlighted as a "country of concern" by the Foreign Office– has come under fresh scrutiny following the death of King Abdullah.
The MoJ is bidding through its subsidiary, Just Solutions International, for the contract to advise the Saudi authorities. The bid was submitted in August and came just before Mr Grayling travelled to Riyadh to sign a memorandum of understanding committing Britain and Saudi Arabia to "judicial co-operation".
Sources told the Independent that ministers believed it was better to engage with the Saudi authorities to make the case for reform rather than lecturing them from the sidelines. But they stressed it was far from certain Mr Grayling would give the final go-ahead to any deal.
Kate Allen, Amnesty International's UK director, said: "Chris Grayling has an awful lot of questions to answer about this scheme.
"Even as Raif Badawi was languishing in prison facing 1,000 lashes, Mr Grayling was in Saudi Arabia doing this highly questionable deal over Saudi prisons.
"It's true that it's not entirely inconceivable that British expertise could actually help improve the dire situation many Saudi prisoners find themselves in.
"But can Mr Grayling assure us that Britain's involvement in the Saudi prison system does not risk lending a British stamp of approval to human rights abuse in jails in Riyadh and elsewhere?"
The MoJ said the bid details had not been disclosed because of commercial confidentiality but would be made public if the ministry was successful. It also said a final decision whether to accept the contract would only be taken after consultation with the Foreign Office and the UK embassy in Riyadh.
An MoJ spokesman said: "It has been government policy for many years to work with overseas governments and help them develop their criminal justice systems. When countries approach us for assistance they do so in full knowledge that we will only offer advice and support that complies with our own human rights standards."
Juliet Lyon, the director of the Prison Reform Trust, said: "There is a strong argument that the MoJ needs to get its own house in order and restore the fundamental principles of fairness and justice in our prisons before selling its services overseas.
"As to the company it keeps, government policy seems contradictory on what we can sell to whom, seemingly reflecting commercial rather than ethical guidelines."
Join our new commenting forum
Join thought-provoking conversations, follow other Independent readers and see their replies