Pride in London: Sadiq Khan attacks Boris Johnson for using 'homophobic language'
Favourite to be next prime minister previously referred to gay men as 'tank-topped bumboys'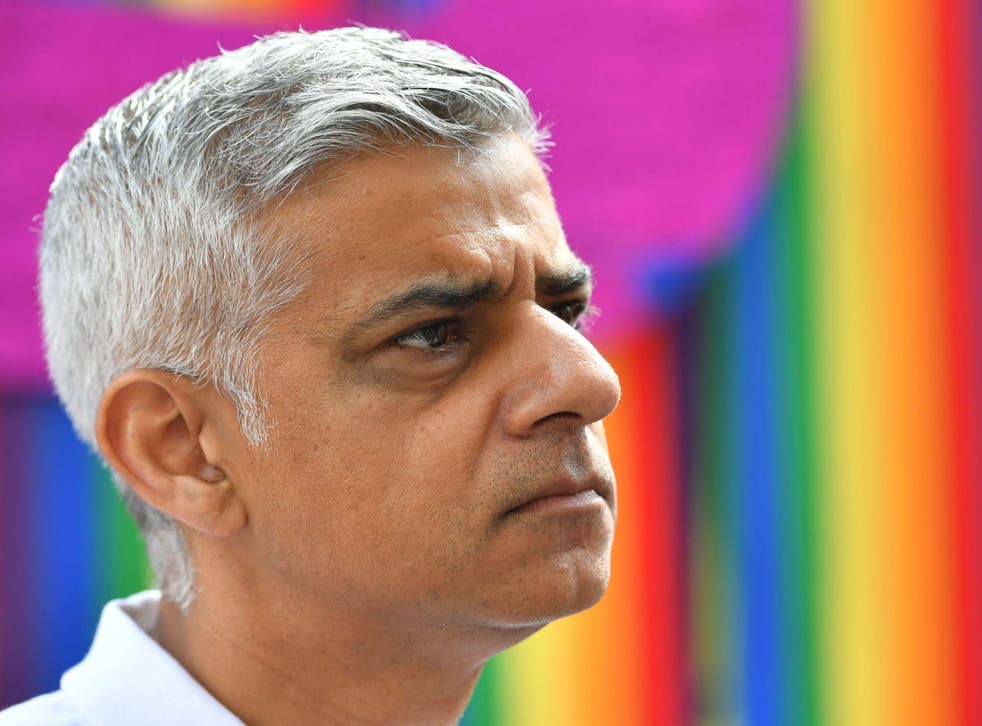 The mayor of London, Sadiq Khan, has attacked Boris Johnson for his past use of "homophobic language" and called on the Conservative leadership candidate to recognise that "language matters" as thousands celebrated Pride in the capital.
The Tory frontrunner has been criticised for historic remarks on homosexuality, including calling gay men "tank-topped bumboys" in a 1998 column in The Daily Telegraph.
"You've got the next prime minister using homophobic language," said Mr Khan as he launched the Pride in London parade on Saturday.
"When you speak to members of the LGBT+ community, they will tell you that some of the homophobia they suffered, the attackers used this language, the same sort of language he's used.
"What I want to see from our prime minister, if it is Boris Johnson, it looks like it will be, is him realising that language matters."
London Pride 2019: The Best Rainbow Outfits

Show all 25
Mr Johnson also previously criticised the Labour Party's "appalling agenda, encouraging the teaching of homosexuality in schools, and all the rest of it" in a column for The Spectator in 2000.
The favourite to become the next prime minister issued a tweet of support for Pride earlier today, saying "Britain leads the world in LGBT+ equality". He also reminded his followers of the time he once wore a pink Stetson.
"Salute all those celebrating #PrideInLondon today," Mr Johnson tweeted. "I have fond memories of my pink Stetson march as Mayor!
"Britain leads the world in LGBT+ equality and I'll continue to champion the cause if I am lucky enough to become our country's prime minister."
The former foreign secretary has been dogged by questions about his long history of offensive remarks, particularly his 2018 Telegraph column comparing veiled Muslim women to "letter boxes".
At a hustings in Nottingham on Saturday, Mr Johnson asked by a Tory member if he would be "a fitting prime minister for everyone, including minority groups" after his "derogatory and arguably racist comments in the past, for example about women wearing the burka".
Mr Johnson claimed the column was "a strong, liberal defence of the right of women to wear the burka". He also pointed out that he had been mayor of London, saying the city was "the most diverse on earth".
This year's Pride events come 50 years since the Stonewall uprising in New York – a moment which changed recognition of gay rights around the world.
Additional reporting by PA
Register for free to continue reading
Registration is a free and easy way to support our truly independent journalism
By registering, you will also enjoy limited access to Premium articles, exclusive newsletters, commenting, and virtual events with our leading journalists
Already have an account? sign in
Register for free to continue reading
Registration is a free and easy way to support our truly independent journalism
By registering, you will also enjoy limited access to Premium articles, exclusive newsletters, commenting, and virtual events with our leading journalists
Already have an account? sign in
Join our new commenting forum
Join thought-provoking conversations, follow other Independent readers and see their replies