Prism scandal: Foreign Secretary William Hague's vagueness on US spying fails to reassure MPs and public over covert GCHQ deal with NSA
Civil liberties groups say Government's approach to secrecy is similar to that of China
Nigel Morris
Monday 10 June 2013 20:13 Comments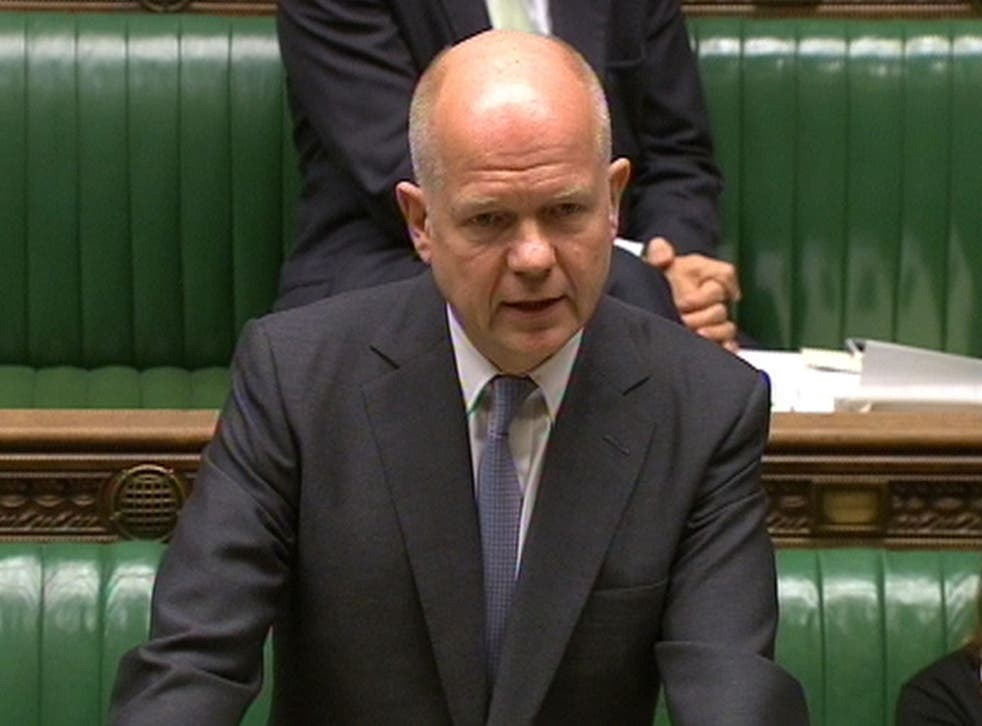 William Hague faced anger from MPs of all parties and civil liberties campaigners as he refused to be drawn on claims that Britons could have been spied on by GCHQ through a covert deal with the American security agencies.
Mr Hague would not even confirm the operation of the Prism programme in a Commons statement on Monday, even though its existence has been corroborated by the American government.
According to Whitehall sources, the use of all such operations has to be authorised by the Foreign Secretary, the Home Secretary – Theresa May – or another secretary of state.
GCHQ is understood to have requested information from the Americans but had no say on which particular tools were used by the National Security Agency (NSA) in the US to gather it.
Mr Hague led efforts – echoed by Prime Minister David Cameron – to reassure Britons that all operations involving GCHQ were carried out within the law.
But Mr Hague refused to answer questions about GCHQ's reported links with the NSA, which has admitted gaining access to details of emails and website visits of nine of the world's biggest internet companies.
Civil liberties groups likened the secrecy on the issue to the approach taken by China.
The Government sought to try to draw a line under claims that GCHQ used information obtained by the American intelligence agencies about UK nationals to circumvent British laws.
Mr Cameron insisted he was personally satisfied "they operate in a way that is proper and that is fitting" and Mr Hague said it was "baseless" to allege GCHQ used its links with the US to avoid UK legislation.
"Our agencies practise and uphold UK law at all times, even when dealing with information from outside the United Kingdom," the Foreign Secretary said.
He disclosed that he received hundreds of requests from the security services to carry out covert operations every year and said they reached a peak in the build-up to last year's London Olympics.
Explaining his reticence, Mr Hague vowed that he would say "nothing that gives any clue or comfort to terrorists, criminals or foreign intelligence services".
He refused even to utter the word "prism" during a lengthy appearance at the despatch box, sidestepping questions over when he knew of the American surveillance programme.
Last night three civil liberties organisations – Index on Censorship, English PEN and the Open Rights Group – attacked Mr Hague's claims that innocent citizens had nothing to fear as "the sort of justification of population-wide monitoring that we might expect from China, not the UK".
They said in a joint statement: "Mass surveillance chills freedom of expression and undermines our fundamental rights to freedom of expression and privacy."
Shami Chakrabarti, director of the campaign group Liberty, said: "The Foreign Secretary's statement to Parliament is most revealing for what he refused to reveal. He evaded specific questions as brazenly as his Agencies have apparently avoided legal scrutiny and their embarrassment is now his."
In the Commons, the former Home Secretary, David Blunkett, suggested the US's National Security Agency could be avoiding British law by offering intelligence rather than responding to requests for it.
He asked Mr Hague: "Can we take a closer look at how other agencies – including the NSA and our friends and colleagues in the US – use material gathered from network and service providers and offer it rather than having it sought from them in a way that makes authorisation extremely difficult?"
The Conservative MP, Dominic Raab, also warned the NSA could be employed to "sidestep" British law.
A fellow Tory, Rory Stewart, said people would not support secret attacks such as drone strikes unless they were given more information about the intelligence behind them.
"We should do more to explain what we are doing. Unless we begin to explain more to the public, security operations will not be sustainable."
Mr Hague delivered a staunch defence of Britain's intelligence links with the United States, and also insisted the Government remained committed to bringing forward new powers to monitor communications over the internet. The so-called "snooper's charter" plans were dropped from the Queen's Speech last month after they were vetoed by Nick Clegg, the Deputy Prime Minister. s – and said it had practical benefits last year.
Register for free to continue reading
Registration is a free and easy way to support our truly independent journalism
By registering, you will also enjoy limited access to Premium articles, exclusive newsletters, commenting, and virtual events with our leading journalists
Already have an account? sign in
Join our new commenting forum
Join thought-provoking conversations, follow other Independent readers and see their replies