Former Tory minister denounces Priti Patel's immigration plans as 'worst kind of dog-whistle politics'
Unions and industry raise fears over access to vital staff under Priti Patel's scheme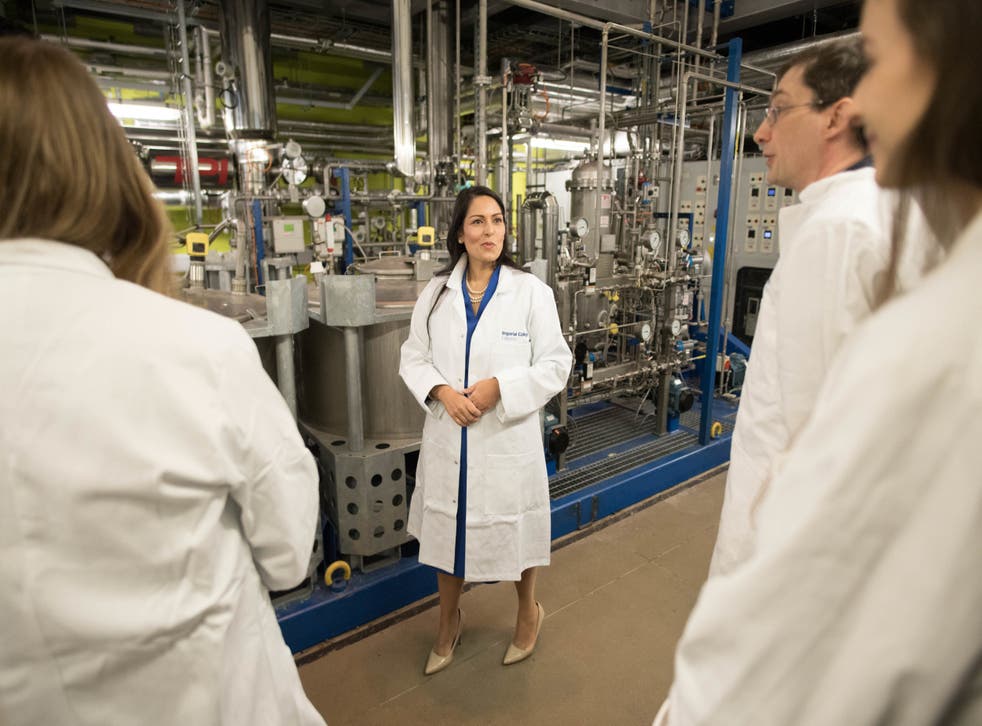 A former Conservative cabinet minister has denounced Priti Patel's immigration plans as "the worst kind of dog-whistle politics" and warned they show the government is bent on building a "deeply unattractive" Britain outside the EU.
Stephen Dorrell's comments came as the construction industry warned that the new system - which aims to limit low-skilled migration - will get in the way of Boris Johnson's plans to build 1 million new homes and invest in infrastructure.
And unions and employers warned that even Ms Patel's reduced £25,600 minimum salary for migrant workers will exclude key workers like lab technicians and catering and hospitality staff.
The Federation of Small Businesses warned that the additional bureaucracy and cost of the new system will hit smaller firms at a time when almost four in 10 are struggling to fill vacancies.
Mr Dorrell, who served in the governments of John Major and Margaret Thatcher and is now chair of the European Movement, said the government's proposals represent "the first evidence of the kind of Britain they want to build outside the EU".
UK news in pictures

Show all 50
"It is deeply unattractive," he said. "No longer open and welcoming, our country will ask of every would-be migrant 'what are you worth?'.
"Britain under Boris Johnson is set to become a country which cowers behind new boundaries and new restrictions; a country which has for centuries promoted the importance of open trade and human exchange is choosing the path of bureaucratic restriction and constraint."
CBI director general Carolyn Fairbairn said that several aspects of the new system would be welcomed by business, including the cut in the salary threshold and the abolition of the cap on skilled visas.
But she added: "Getting a new immigration system right on day one will be critical for economic growth and the UK's global reputation as it forges a new path outside the EU.
"In some sectors, firms will be left wondering how they will recruit the people needed to run their businesses. With already low unemployment, firms in care, construction, hospitality, food and drink could be most affected."
The chief executive of the Federation of Master Builders, Brian Berry, said that the prime minister's promises of new homes, roads and rail lines will require "an immigration system that allows for key construction workers of all skill levels to come to the UK".
"Today's announcement that there will no longer be a route for 'low skill' workers to come to the UK after next year will hamper the construction industry's capacity to deliver on key projects," warned Mr Berry. "We will need general labourers as much as architects or surveyors. They are a core part of the construction industry and it's simply unrealistic to assume the domestic workforce will fill this gap in the next nine months."
Sue Ferns, senior deputy general secretary of the Prospect union, said the government's "dogmatic" approach would exclude "many essential skilled roles like laboratory and pharmaceuticals technicians".
"Unions and business groups are united on this and the government should listen," said Ms Ferns.
"The government talks a good game on 'global Britain', but within a week they have confirmed that both a hard trade border with the EU and now these strict migration rules which will also apply to UK citizens wanting to work in Europe. It is hard to see how this doesn't make Britain a smaller, poorer and less successful country in the future."
Councils called on Ms Patel to amend her scheme to allow for lower salary thresholds outside London and the South-East and in sectors with high demand for overseas workers.
"As a country we face significant skills challenges," said Local Government Association chair James Jamieson. "The social care system faces one of the most serious challenges and any reforms need to ensure the social care workforce can be maintained."
The FSB said that the success of the new system would depend on the Home Office's ability to keep costs and red tape to a minimum. The organisation's recent survey of smaller frims found that half would struggle to afford visa costs if they were set at the current levels.
National chairman Mike Cherry said: "We see the benefits of a points-based model, so long as it's one that's easy to use and affordable for small businesses – almost all of which have no experience of using our current immigration system.
"Against a backdrop of stifling skills shortages, sluggish economic growth and an ageing population, it's critical that we get this right, particularly as the timeframes are so short.
"It's important that we see a focus on simplicity and cost control. As things stand, the cost of sponsoring a Tier 2 visa to a small employer can top £3,000. We should be looking to keep that figure below £1,000, to enable firms to invest in jobs and training."
The FSB survey found that 38 per cent of small companies have struggled to recruit the right staff over the past year, with more than a third (35 per cent) flagging the unwillingness of UK citizens to work in their sector.
The research found that ability to use English tops employers' wish list for foreign workers, ahead of skills.
- The FSB questioned 1,083 small firms in October last year.
Join our new commenting forum
Join thought-provoking conversations, follow other Independent readers and see their replies