Priti Patel faces fresh calls to resign after failing to answer MPs' questions over secret Israeli meetings
'The Secretary of State should have been here today. And if that meant cancelling, or postponing a flight, then so be it'
Rob Merrick
Deputy Political Editor
Tuesday 07 November 2017 15:41 Comments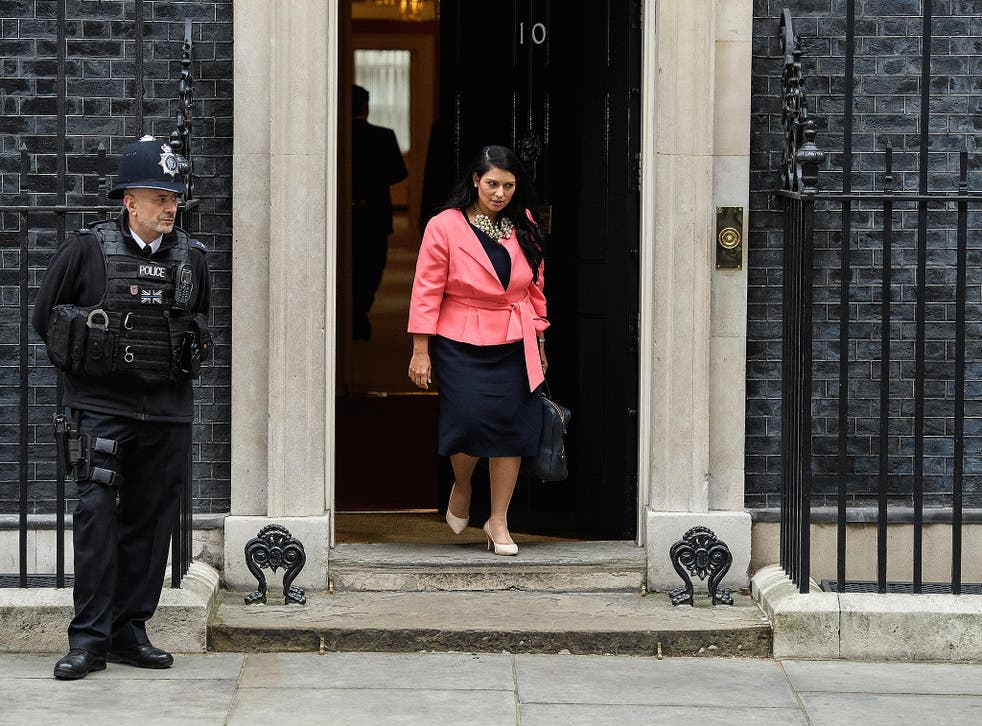 Priti Patel is facing fresh calls to resign after failing to turn up to answer questions from MPs about her secret Israel meetings.
Opposition MPs reacted with anger and astonishment after being told the beleaguered International Development Secretary was "in the air", en route to Africa.
Kate Osamor, her Labour shadow, branded Ms Patel's absence "simply unacceptable", a criticism echoed by the SNP's spokesman for international affairs, Stephen Gethins.
Paula Sherriff, a Labour MP, said: "Frankly, the Secretary of State should have been here today. And if that meant cancelling, or postponing a flight, then so be it."
The trip to Africa is a long planned joint engagement with Liam Fox, the International Trade Secretary – but Mr Fox was still in Britain earlier today, carrying out a series of media interviews.
Amid a striking lack of support from Conservative MPs, Angela Eagle, a former Labour minister, was among those claiming Ms Patel's behaviour was a "resigning matter".
The criticism came as:
* No 10 admitted the International Development Secretary wanted to send aid money to the Israeli army, after meeting Israeli politicians including Benjamin Netanyahu.
* The Foreign Office said it rejected the call, because it involved humanitarian operations in the Golan Heights, illegally occupied since 1967.
* It was confirmed that Ms Patel did not reveal her meetings until after they had taken place. She had implied the Foreign Office knew about them while they were taking place.
* Alistair Burt, a Foreign Office minister, admitted she did not meet "anyone representing Palestinian interests" – despite 12 meetings with Israeli groups.
In the Commons, Ms Osamor said Ms Patel should do "the decent thing" and resign, saying: "It is hard to think of a more black and white case of breaking the code of ministerial conduct.
"Rather than changing the minister, the Prime Minister has decided to change the ministerial code."
In a letter to the Prime Minister, Labour demanded she either authorise an independent investigation or "explain your full reasons for why Priti Patel retains your confidence despite clear breaches of the ministerial code".
Jon Trickett, the shadow Cabinet Office minister, added there were "strong grounds" to believe that Ms Patel had broken the code's requirements for openness, collective responsibility, honesty and performing only those duties allocated to them".
Crispin Blunt, a former Foreign Affairs Select Committee chairman, was among critical Tory MPs, suggesting Ms Patel did not really understand the Middle Eastern conflict.
He told Mr Burt: "He is probably the most equipped of her ministers to take her very gently in hand, and I hope he does."
Another Tory, Hugo Swire, said: "It is time finally to address the issue of access, privileged access and lobbying and funding if we are not to have this repeated time and time again?"
He added that "all organisations involved with active lobbying of Members of Parliament and ministers should open their books, be entirely transparent so we can just see who is lobbying who and who is providing the funding".
In response, the minister insisted Ms Patel "did not suddenly contrive a visit to Africa", telling MPs: "That's not fair."
Mr Burt insisted: "She is doing her job as development secretary which is what she is doing today – and that is what those meetings disclose."
Mr Burt was quizzed about when Ms Patel made the Foreign Office aware of her meetings, replying: "My understanding is Foreign and Commonwealth Office officials became aware of [Ms Patel's] private visit on August 24 during the course of her visit.
"I don't have the dates of all the meetings. I suspect it's after the meetings took place."
In her statement, on Monday, the International Development Secretary had implied she had informed the Foreign Office about the meetings as they took place.
"The FCO [Foreign and Commonwealth Office] were aware of the visit while it was under way, but were not informed about it in advance," she wrote.
Register for free to continue reading
Registration is a free and easy way to support our truly independent journalism
By registering, you will also enjoy limited access to Premium articles, exclusive newsletters, commenting, and virtual events with our leading journalists
Already have an account? sign in
Join our new commenting forum
Join thought-provoking conversations, follow other Independent readers and see their replies