Privatisation agenda drives Tory policy on NHS, says Andy Burnham
Shadow Health Secretary says that Coalition changes to legislation are enabling hospitals to make far more income from private health care, and it will soon be too late to go back
Charlie Cooper
Friday 10 January 2014 20:36 Comments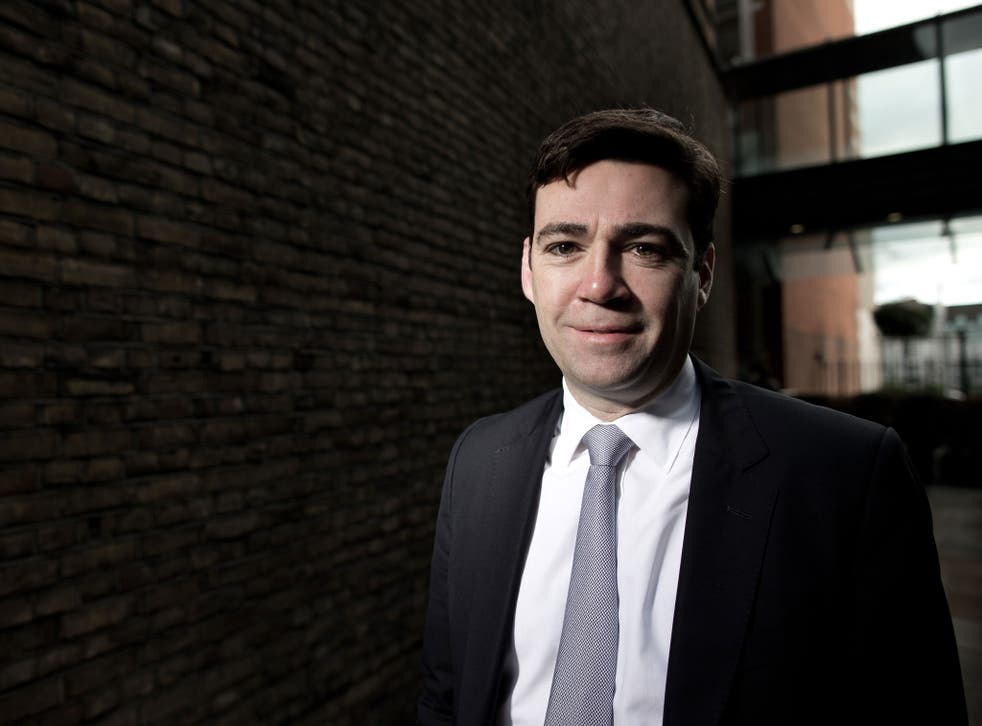 Jeremy Hunt has been on a "mission to run down the National Health Service" to serve "a privatisation agenda" that will lead to the end of free, universal health care in the UK, the shadow Health Secretary has said in an explosive attack on the Coalition's record on the NHS.
In an exclusive interview with The Independent, Andy Burnham accused the Coalition of crippling the NHS with competition law and setting it on a path towards charging patients for their care.
The Labour frontbencher said that he had "huge reservations" about links between the Conservative party and private health-care companies – arguing that the NHS would be prey to giant American corportations picking off key services for profit if a landmark European Union free trade agreement is reached with the US.
Mr Burnham also condemned the Government for destroying the morale of NHS staff with public criticisms and labelled the health reforms, which were not in either of the Coalition party's manifestos, "a democratic crime of monumental proportions".
"We had a year where the Secretary of State [for Health] seemed to be on a mission to run down the NHS," he said. "When A&E was going the wrong way he started talking about 'coasting' hospitals. Hospitals were working absolutely flat-out at that time. When they got into even more pressure he started saying: 'lazy GPs, uncaring nurses'.
"What [the Government] want is to say: 'These services aren't good enough, it's failing the public, we need any qualified provider, we need to open this up, we need other people to come in and replace this failing, uncaring NHS'.
"That is what is going on in my view. There is a political agenda and an ideological agenda underpinning what they are doing," he said.
Mr Burnham alleged the Government's response to NHS medical director Sir Bruce Keogh's report into hospitals with higher than normal mortality rates – carried out after the scandal over poor care at Mid Staffordshire hospital – was a "deliberate attempt to magnify the failings of the NHS".
Press coverage ahead of the report's publication said there had been "13,000 needless deaths" at the hospitals – but Mr Burnham said this figure, later rejected as inaccurate by Sir Bruce, was based on Government briefings.
Speaking as negotiations continue for a free trade deal bridging the Atlantic, Mr Burnham said such an agreement could pose fundamental problems. "US health-care companies will be able to say to an NHS clinical commissioning group: 'We have a legal right to bid for that service.' Dragging the NHS down that path will destroy it, it will devour what's precious about the NHS.
"All the legal advice I am getting says, while we will just about be able to pull it back at the 2015 election, after that, it will be gone. That's the choice voters face."
Responding to Mr Burnham's claims, Health Secretary Jeremy Hunt said that "the real debate on health is not public versus private, but good versus poor care".
He said Labour "must answer to the patients who suffered on their watch in 14 hospitals now in special measures, as well as Mid Staffs – all of which could have been avoided if they had faced up to problems and not ducked them."
Defending his record on patient safety, Mr Burnham said he had "constantly chided the NHS for its tendency to pull down the shutters, to push people [with complaints] away".
"The facts speak for themselves," Mr Burnham said. "We left with the lowest-ever waiting lists, the highest-ever public satisfaction and no amount of Tory spin can alter those facts."
Setting out the Labour Party's strategy on health ahead of the 2015 general election, Mr Burnham pledged to revoke the Health and Social Care Act, which introduced the Government's health reforms, but keep its institutions so as to avoid further disruption.
He said laws that force commissioners to put all NHS services out to tender would go, and pledged to cut the income NHS hospitals can make through charging patients.
He also added detail to his plan to bring social care for the elderly and disabled under the wing of the NHS, warning that integration of the two services would be "impossible" under the current drive towards "fragmentation and privatisation".
However, he admitted he could not yet commit to ring-fenced or higher spending on the NHS, a decision which, he said, lay with Labour leader Ed Miliband and shadow Chancellor Ed Balls.
He also criticised the Government for failing to back a full duty of candour on NHS staff, and the regulation of health-care assistants – two recommendations of the Francis Report into the Mid Staffs scandal that were not included in the Government's response.
Privatisation of the health service, he said, had been the "core purpose" of the Health and Social Care Act. The Act freed up NHS organisations to make 49 per cent of their income from paying patients – a huge increase on the 2 per cent permitted previously.
"That is the beginning," said Mr Burnham. "NHS hospitals are facing unprecedented financial pressure – they are obviously going to use that 49 per cent freedom more and more."
He condemned what he called "close links" between the Conservative Party and private health care, citing £1.5m donated by private health-care investors to the Conservative Party, and £1.5bn worth of NHS contracts granted to private health firms under the current Government.
He also blasted new rules which give the Competition Commission the final say over collaboration between NHS organisations, which was used for the first time in the autumn when two hospital trusts in Dorset proposed to merge.
Both chief executives said the move would be good for patients, but private health providers in the area opposed the merger and the Competition Commission blocked it.
"We were warning [about privatisation] when the Bill was going through," Mr Burnham said. "People might have said we were scaremongering. But here we are: the Competition Commission is intervening, for the first time, in the NHS, to block the sensible collaboration between two NHS hospitals. They can no longer deny it, it's absolutely clear."
A&E concern: Waiting times up
The percentage of people seen within four hours of arriving at A&E is at its lowest level since April, figures show.
Data for England shows 94.3 per cent of patients were seen within four hours in the week ending 5 January – against a national target of 95 per cent. In major A&E departments, the figure was also at its lowest level since April, with 91.5 per cent of patients seen within four hours.
A Department of Health spokesman said: "The NHS has missed its A&E target in the first week of January every year for the past decade... that's why we've taken early action to help the NHS cope investing £400m in alleviating short term pressures."
Register for free to continue reading
Registration is a free and easy way to support our truly independent journalism
By registering, you will also enjoy limited access to Premium articles, exclusive newsletters, commenting, and virtual events with our leading journalists
Already have an account? sign in
Join our new commenting forum
Join thought-provoking conversations, follow other Independent readers and see their replies