Hundreds descend on Parliament to protest Theresa May's DUP deal
Placards reading 'Pray DUP away' and emblazoned with pro-Corbyn slogans waved outside Downing Street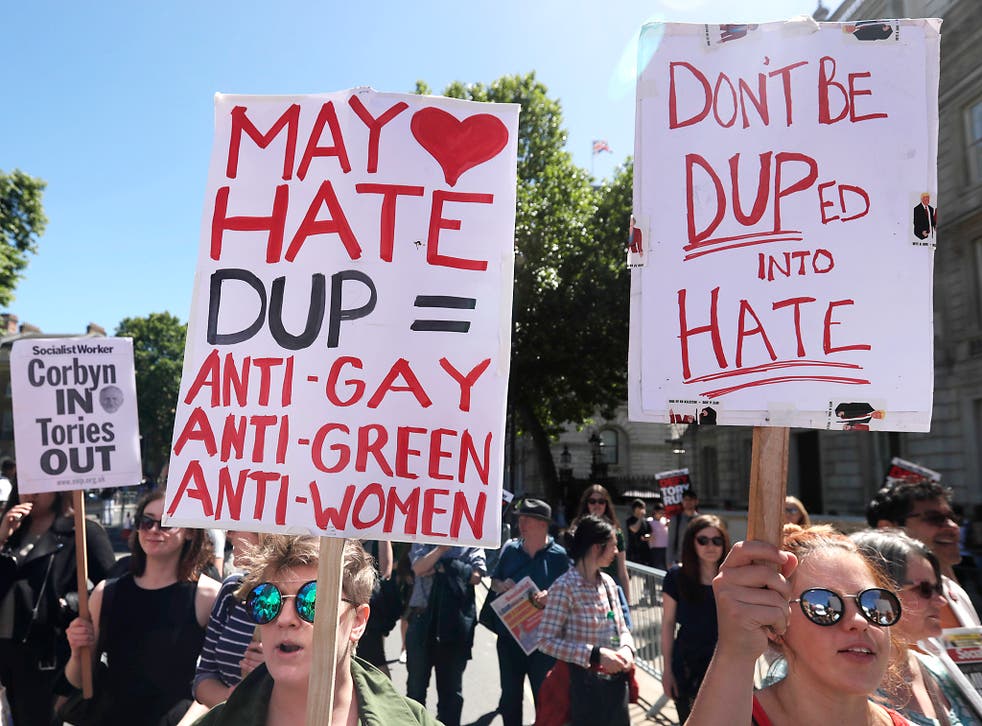 Several hundred protesters gathered in central London to voice their anger at Theresa May's attempt to form a government through an alliance with the Democratic Unionist Party (DUP) of Northern Ireland.
People carrying placards bearing anti-DUP and pro-Jeremy Corbyn slogans basked in the sunshine at Parliament Square the day after a shock general election result returned a hung parliament.
One placard read "Pray DUP away" in reference to the party's orthodox Christian views on issues including abortion and gay marriage.
Organisers from Stand Up To Racism and the Stop The War Coalition addressed the crowd, who cheered every mention of the Labour leader's name.
Protesters moved to just outside the gates of Downing Street, where they were met by a wall of uniformed police officers, as bemused tourists posed for selfies nearby.
Chants of "Tories out, Corbyn in" were led by a vocal core on a loudspeaker.
Luke O'Neill, who voted for Labour in Kensington, said he felt Mr Corbyn had motivated young people.
The 27-year-old said: "May's mandate has gone, that's probably the best news, and Labour is gaining - that is the best news as well.
"Jeremy Corbyn gave us power, that's what he's all about."
The nursery worker said he was "angry" that Ms May had done a deal with the DUP, although he admitted he did not initially know who they were.
"I've never seen people more hateful in my life," he said.
I didn't know who the DUP were, I had to Google them, as many people no doubt in this country would have had to Google them."
The march marks the second day of protests in response to the possibility of Theresa May carrying on as Prime Minister by forming an unofficial coalition with the DUP, known as a "confidence and supply" arrangement, where the ten MPs from the DUP would vote with the Government on a case-by-case by basis.
Many critics have pointed to the fact that the DUP have strong historical links with Loyalist paramilitary groups.
It is thought the DUP are likely to demand a number of concessions from the Government in return for propping it up after the Conservatives fell unexpectedly short of an overall majority.
Although the Tories remain the largest single party in the House of Commons, they are now desperately appealing to their "friends and allies" in the DUP in order to form a working majority.
Ms May has sent her Chief Whip Gavin Williamson to Belfast for talks with his opposite number in the DUP, Jeffrey Donaldson.
More than half a million people have now signed an online petition calling on the Conservatives not to do a deal with the DUP and urging Ms May to resign.
Press Association contributed to this report
Register for free to continue reading
Registration is a free and easy way to support our truly independent journalism
By registering, you will also enjoy limited access to Premium articles, exclusive newsletters, commenting, and virtual events with our leading journalists
Already have an account? sign in
Register for free to continue reading
Registration is a free and easy way to support our truly independent journalism
By registering, you will also enjoy limited access to Premium articles, exclusive newsletters, commenting, and virtual events with our leading journalists
Already have an account? sign in
Join our new commenting forum
Join thought-provoking conversations, follow other Independent readers and see their replies