Protester brands Galloway a "parasite" as he eggs the newly elected MP in Bradford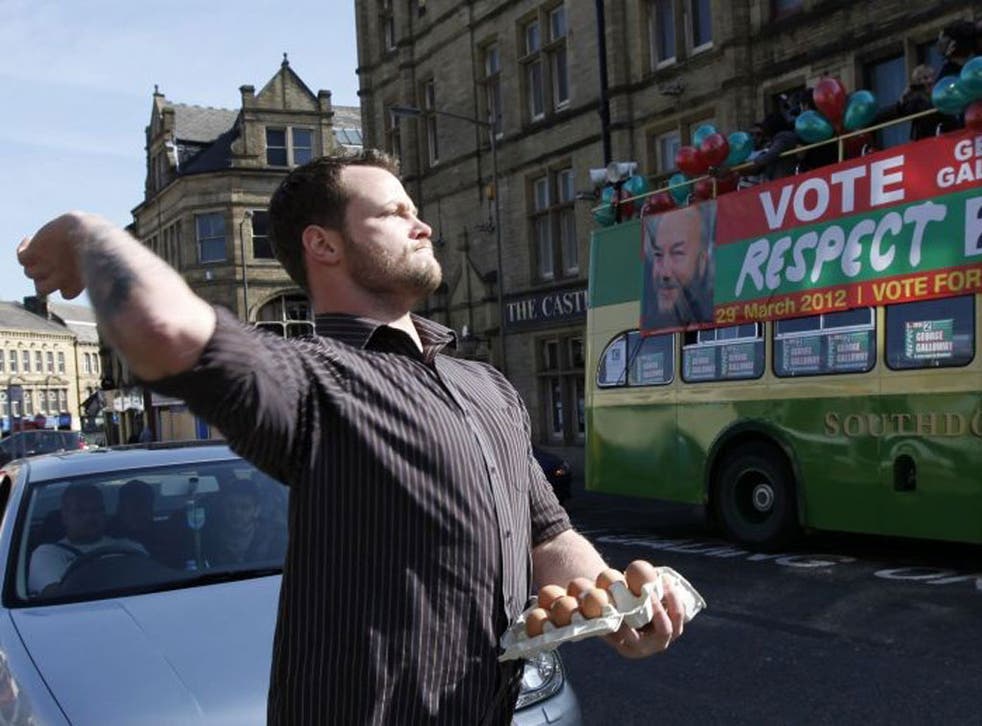 The new MP for Bradford West George Galloway was egged by a protester as he left his office for a victory parade in the city.
Thomas Chippendale, 26, from Bradford, called Mr Galloway "a parasite" as he pelted him eggs, though none hit the newly elected MP.
As eggs exploded on to the windows of the Chambers Solicitors Office, where Mr Galloway's campaign was based, Mr Chippendale shouted "He's a sycophant, he's a greedy leech, he's a parasite on this city".
When asked why he was protesting, Mr Johnson said: "Why would any city want a politician that got kicked out of two constituencies? Who hasn't got the common sense not to act like a submissive cat on television?"
He added: "I wanted to insult him."
The egg attack came as Mr Galloway, who said it was too early for protests, addressed jubilant activists outside his campaign HQ.
"He wasn't very good," he said.
He added: "Was he protesting? Against me? The man who got chosen by 56 per cent of the people yesterday?"
"I've only just been elected. Unless he was protesting against the democratic process of the election."
The Respect Party MP said Bradford had spoken for voters who want "political leaders they can believe in, who say what they mean, do what they say and don't lie to people".
Mr Galloway's victory on a remarkable 36.5 per cent swing was a catastrophic result for Ed Miliband, who had not been expected to face a serious challenge in a safe seat at a time when Labour is riding high in the polls nationally.
The Labour leader promised to learn the lessons from the defeat, and said he would visit Bradford in the weeks to come to find out what went wrong.
"It was an incredibly disappointing result for Labour in Bradford West and I am determined that we learn lessons of what happened," said Mr Miliband.
"I'm going to lead that. I'm going to be going back to the constituency in the coming weeks to talk to people there about why this result happened.
"Clearly, there were local factors, but I also say only four out of 10 people voted for the three mainstream political parties... We need to show to people that our politics, that Labour politics, can make a difference to people's lives."
Mr Miliband is facing tough electoral tests in the polls for local councils and the London mayoralty on May 3, and may also be confronted with a rash of parliamentary by-elections this autumn, with several MPs expected to quit Parliament to stand for police commissioner or elected mayor in cities including Bradford in November.
Mr Galloway said Labour had lost touch with its traditional core voters, telling BBC Radio 4's The World At One: "If Labour doesn't go back to being a Labour Party again, it will never command the support - let alone the enthusiasm - of the kind of people who supported it for at least 100 years."
In a sign that Respect aims to snatch "old Labour" voters away from Miliband's party, he added: "We are Labour, we are real Labour. I want to see Labour win the next election."
All three main parties were facing a backlash from voters angry over austerity and British involvement in wars overseas, he said.
"There is a tidal wave waiting to break all over the country, not just in Bradford," said Mr Galloway.
"There are very large numbers of people disenchanted and alienated from the political process and from all three major parties. If a backside could have three cheeks, then British politics is that three-cheeked backside."
Mr Galloway, an ex-Labour MP who was expelled from the party in 2003 after urging British troops to disobey "illegal" orders to invade Iraq, won 18,341 votes to the 8,201 for Labour candidate Imran Hussain in a contest sparked by the resignation due to ill-health of Marsha Singh.
Turnout in the poll was just over 50 per cent - considered high for such an election, especially in an urban area.
As he did in the 2005 general election, when he dramatically swiped an east London seat from his former party, Mr Galloway targeted the votes of a large Asian community.
Some Labour critics highlighted a letter sent to voters ahead of yesterday's poll, in which Mr Galloway highlighted his record of support for Palestine, his work for "the freedom of Kashmir" and his abstention from alcohol, adding: "God knows who is a Muslim. And He knows who is not. Instinctively so do you."
But the new MP dismissed suggestions today that he owed his victory to mobilising the Asian vote, pointing out that he was the "white blue-eyed" candidate in an election for which Labour nominated a "Pakistani Muslim".
And he told Sky News's Adam Boulton: "There were no Asian voters in the election yesterday. There were British voters who have suntans like you and I aspire to every summer. That's all.
"Every person in Britain who has a right to vote is the equal of the other. We shouldn't get into any divisiveness along these lines."
Mr Galloway said he was trying to create a "new Labour Party".
"The Labour Party is the party I'm interested in. I don't care anything for the Conservatives or Liberal Democrats, I do care about the Labour Party because every country needs a Labour Party," he said.
The Conservatives polled just 2,746 votes, suffering a swing of 22.78% away from their candidate Jackie Whiteley, who finished in third place.
But party chairman Baroness Warsi said the result was a judgment on Mr Miliband's leadership, after a week in which the Government has taken a battering over a potential strike by fuel tanker drivers, the furore over the so-called pasty tax and the "cash for access" row.
Lady Warsi said: "If Labour can't win one of their safe seats in these tough economic times and in a tough week for the Government, how can they win anywhere?
"Not in half a century has an opposition come back from such an appalling result to win a majority at the next general election.
"This tells you everything you need to know about Ed Miliband's weak leadership."
PA
Register for free to continue reading
Registration is a free and easy way to support our truly independent journalism
By registering, you will also enjoy limited access to Premium articles, exclusive newsletters, commenting, and virtual events with our leading journalists
Already have an account? sign in
Register for free to continue reading
Registration is a free and easy way to support our truly independent journalism
By registering, you will also enjoy limited access to Premium articles, exclusive newsletters, commenting, and virtual events with our leading journalists
Already have an account? sign in
Join our new commenting forum
Join thought-provoking conversations, follow other Independent readers and see their replies