Protests set to continue as David Cameron meets Benjamin Netanyahu for talks
Protesters demand UK authority arrest the Israeli PM's handling of Gaza crisis
James Cusick
Wednesday 09 September 2015 18:57 Comments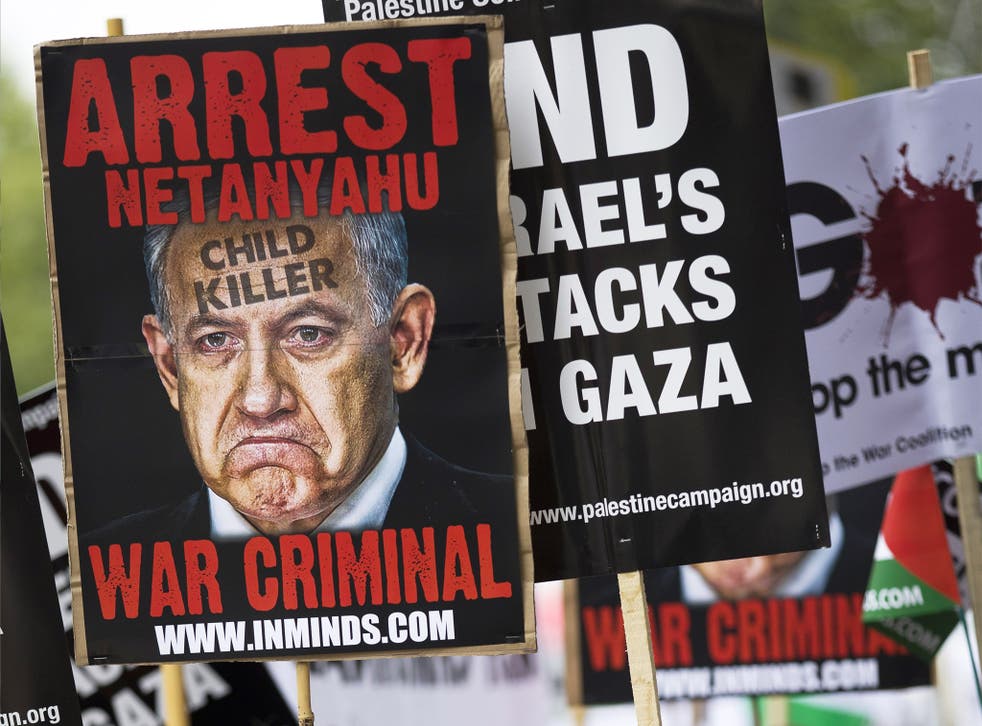 Protests outside the gates of Downing Street are expected to continue for a second day when David Cameron is scheduled to meet Israel's prime minister, Benjamin Netanyahu, for talks.
Police clashed with around 300 angry protesters in Whitehall who demanded the UK authorities arrest Mr Netanyahu over his government's handling of the continuing eight year blockade of Gaza and Israel's overall policy towards the Palestinians.
Ahead of his visit to Number 10 and speaking after talks with the European Council president, Donald Tusk, Mr Netanyahu said Europe should be acting as a supporter rather a critic of his country, claiming "Israel is the only shield that Europe and Middle East have against extremist Islam, which is surging."
In a controversial analysis not expected to be toned down for his meeting with Mr Cameron, Mr Netanyahu said Europe and Israel were being jointly challenged by "violent Islam".
He called for a co-operative effort, also involving Africa, which would take on militant Islam which he branded a "barbaric medievalism" that was "primitive, savage and murderous."
During his talks with Mr Cameron, Mr Netanyahu is expected to defend his handling of the Palestinian and Gaza conflicts. Despite the protests calling for his arrest in London, visiting heads of state are usually given legal immunity which prevents such action.
Till now the UK government has been largely consistent in acknowledging Israel's right to take "proportionate action to defend itself" within the confines of international humanitarian law.
However the human rights campaign group, Amnesty International, yesterday called on Mr Cameron to alter the UK's foreign policy on Israel and tell Mr Netanyahu to stop using "security concerns" as an "excuse to collectively punish, impoverish and humiliate 1.8 million people in Gaza."
Amnesty's head of policy and government affairs, Allan Hogarth, said "David Cameron should be direct with Benjamin Netanyahu, telling him that Gaza's suffering is unacceptable and must now end. Israel has an obligation to end its collective punishment of Gaza's civilian population and completely lifting the blockade is the right thing to do. "
Mr Netanyahu is under pressure to return from his brief foreign trip with something he can sell at home as a policy success.
The failure to block the US-led nuclear deal on Iran which was largely given an international seal of approval, and the continuing threat by the European Union to insist that products from the occupied territories in Israel are clearly labelled, have both affected Mr Netanyahu's ratings.
Netanyahu's schedule
The two day visit of Israel's prime minister to the UK is not at the invitation of the Queen and will therefore not be accorded the pomp of an official state visit. However the objective remains the same – to strengthen the relationship between the two countries.
As well as his morning talks at Number 10, the official visit will also involve meetings with some MPs and leading members of Britain's Jewish community.
The schedule is being kept private for security reasons.
According to Israel's Ministry of Foreign Affairs, the discussions will include "diplomatic, strategic and bilateral issues, as well as security and economic matters. "
On his return home, Mr Netanyahu is scheduled to hold meetings which will summarise what he believes he achieved in London.
Register for free to continue reading
Registration is a free and easy way to support our truly independent journalism
By registering, you will also enjoy limited access to Premium articles, exclusive newsletters, commenting, and virtual events with our leading journalists
Already have an account? sign in
Join our new commenting forum
Join thought-provoking conversations, follow other Independent readers and see their replies