£1.3bn for those living on high-speed rail route is 'attempt to buy off critics'
Opponents of high-speed link between London and Birmingham condemn new compensation deal
Nigel Morris
Thursday 25 October 2012 23:31 Comments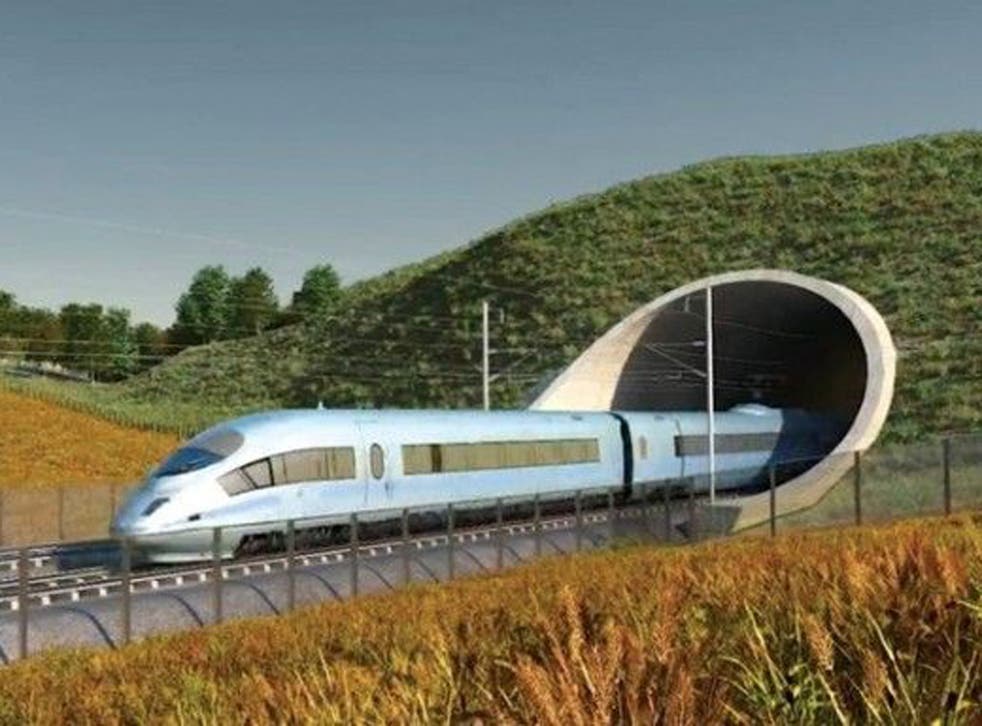 A sum of £1.3bn was set aside today to compensate families living along the route of the planned high-speed rail link between London-Birmingham, as ministers showed their determination to press ahead with the HS2 project.
In an apparent move to appease critics, including Tory MPs, the Department for Transport promised to pay people more than the value of their homes before they were blighted by the proposals. Someone whose house was worth £450,000 before the route emerged could get more than £500,000.
But the offer was denounced by opponents of HS2 as a cynical attempt to buy off resistance to the scheme. Campaigners had drawn heart from the Government's failure in the last Queen's Speech to publish a Bill paving the way to the construction of the £32bn connection.
But the Transport Secretary, Patrick McLoughlin, told The Independent this month he was about to bring forward the legislation necessary to start work on the line, which cuts through several Tory-held constituencies.
Today, the DfT published plans to buy more than 820 homes within 60m (197ft) of the route. It proposed to pay the unblighted value of the properties, as well as additional compensation of 10 per cent up to £47,000 and "reasonable" moving costs.
People who live in the countryside – not in built-up areas such as North London – that are between 60m and 120m away from the track will be entitled to the full worth of their homes. Residents who refuse to accept the offers would have their homes seized under compulsory purchase orders. The unblighted values will be assessed by independent surveyors appointed by the DfT, which envisages that it could pay out £1.3bn. Simon Burns, the Rail Minister, said yesterday: "No major infrastructure project on this scale can be built without some impact on local communities. But I am determined to do everything I can to minimise the effect of HS2 on those closest to the line. We have developed the right compensation package, providing absolutely the right support for those affected, while at the same time protecting the interests of taxpayers."
But Joe Rukin, of the Stop HS2 campaign, said: "We see this as a cynical, uncosted attempt to buy the opposition, and it will not work. The Government has massively increased the overall cost of the HS2 project to even more astronomically unaffordable proportions, while still leaving many homeowners in limbo."
Hilary Wharf, of the HS2 Action Alliance, said: "What's on offer is derisory. It is cynical and dishonest and gives the lie to repeated Government promises that this would be the most generous compensation scheme ever."
The HS2 link, which is due to be completed by 2026, will cut travelling times between London and Birmingham, will pass through Buckinghamshire, Oxfordshire, Warwickshire and Staffordshire.
Register for free to continue reading
Registration is a free and easy way to support our truly independent journalism
By registering, you will also enjoy limited access to Premium articles, exclusive newsletters, commenting, and virtual events with our leading journalists
Already have an account? sign in
Join our new commenting forum
Join thought-provoking conversations, follow other Independent readers and see their replies