£160,000 for a tennis match between David Cameron and Boris Johnson - with Lynton Crosby as ball boy
Oliver Wright
Friday 04 July 2014 21:25 Comments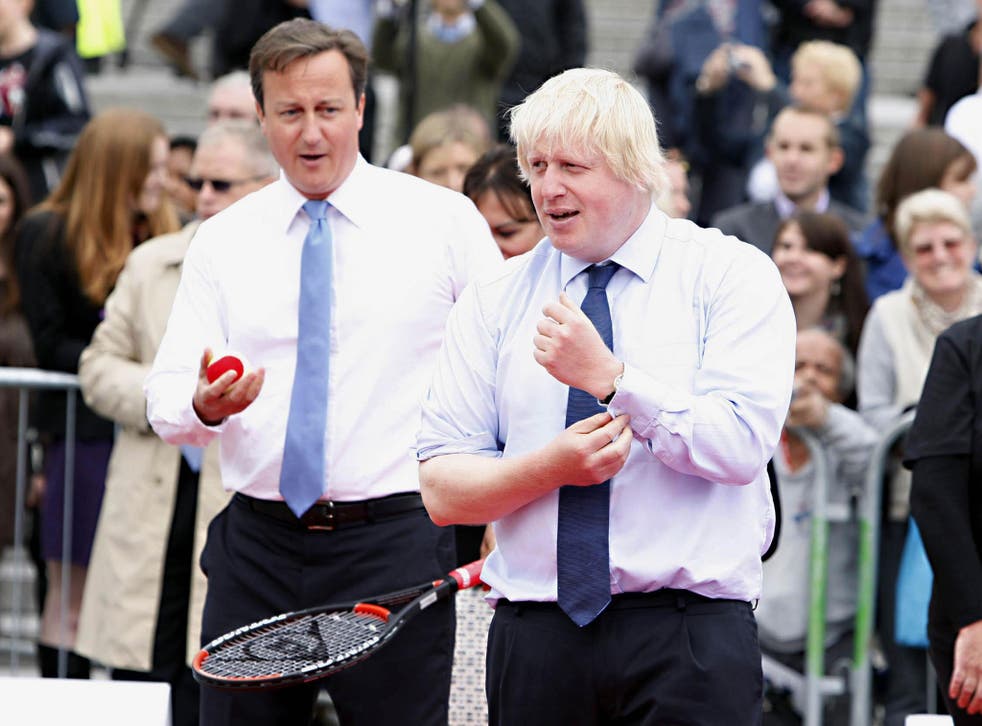 The Conservatives offered up their Australian election chief to act as a "ball boy" for a fund-raising auction tennis match between David Cameron and Boris Johnson which was successfully bid for by the wife of a wealthy Russian oligarch, it has emerged
In an attempt to raise more money to bankroll the party's election campaign, Tories threw in the services of Lynton Crosby and its co-chairman, Lord Feldman, to act as "runners" for the match - fetching stray balls.
The slightly demeaning offer helped push up bids for the auction lot at the Conservatives' controversial summer ball to £160,000. But it led Sir Alistair Graham, former chairman of the independent Committee on Standards in Public Life, to criticise the event for providing paid-for access to senior politicians.
"It's shocking that you can pay for such secret access," he said. "If you have a formal meeting with a government minister you would have to disclose that… The whole lobby is a central issue that the political system has to get to grips with."
A Tory spokesman has previously said that all the party's donations are in accordance with law.
The lot, called "the ultimate tennis match" between David Cameron and Boris Johnson, was eventually "won" by Lubov Chernukhin – the wife of President Putin's former deputy finance minister Vladimir Chernukhin.
Lawyers for Mr Chernukhin told the Bureau of Investigative Journalism, which uncovered details of the event: "Mr Chernukhin attended the Hurlingham Club event with his wife, Lubov Chernukhin. Mrs Chernukin is a Conservative Party member and supporter. Mrs Chernukhin bid on the lot to which you refer. [Her] bid was successful."
Eight years ago, Mr Chernukhin bought the former headquarters of the Midland Bank, which featured in Goldfinger, for £72m, planning to turn it into a hotel.
But in 2009, Credit Suisse called in administrators Grant Thornton on the Sir Edwin Lutyens-designed building after Mr Chernukhin defaulted on a £55m loan.
The auction was conducted by Hugo Swire, a Foreign Office minister and former Sotheby's director, who volunteered the services of Mr Crosby and Lord Feldman for the tennis match.
Mr Swire also put up a jar of honey made by his own bees, saying he wanted it to become the most expensive pot of honey ever sold. It is believed to have gone for around £15,000.
Other auction prizes included a "Fantastic Eight Gun Pheasant Shoot", which according to the event brochure was donated by Rosemary Said, wife of the Syrian-born business man Wafic Said. A bottle of champagne signed by Margaret Thatcher was auctioned off for £45,000.
Almost the entire Cabinet attended the event. James Henderson, the chief executive of the lobbying firm Bell Pottinger, was a member of the organising committee.
Guests dined on smoked duck and chicken rillettes, sea bass and asparagus, followed by chocolate orange truffle cake with Chantilly cream. There was a choice of Spanish and French wines. A source told the Bureau that each guest's place setting included an individual "pledge card".
There is no suggestion of wrongdoing, but the fact that details of the event emerged so quickly will raise fears among the Tories that they have a "spy in the camp".
Register for free to continue reading
Registration is a free and easy way to support our truly independent journalism
By registering, you will also enjoy limited access to Premium articles, exclusive newsletters, commenting, and virtual events with our leading journalists
Already have an account? sign in
Join our new commenting forum
Join thought-provoking conversations, follow other Independent readers and see their replies