Public rejects Theresa May's 'take-it-or-leave-it' threat to leave the EU with no deal
Poll finds most people want the Prime Minister to go back and negotiate a better agreement with the EU if Parliament rejects her Brexit terms, rather than walk away with 'no deal'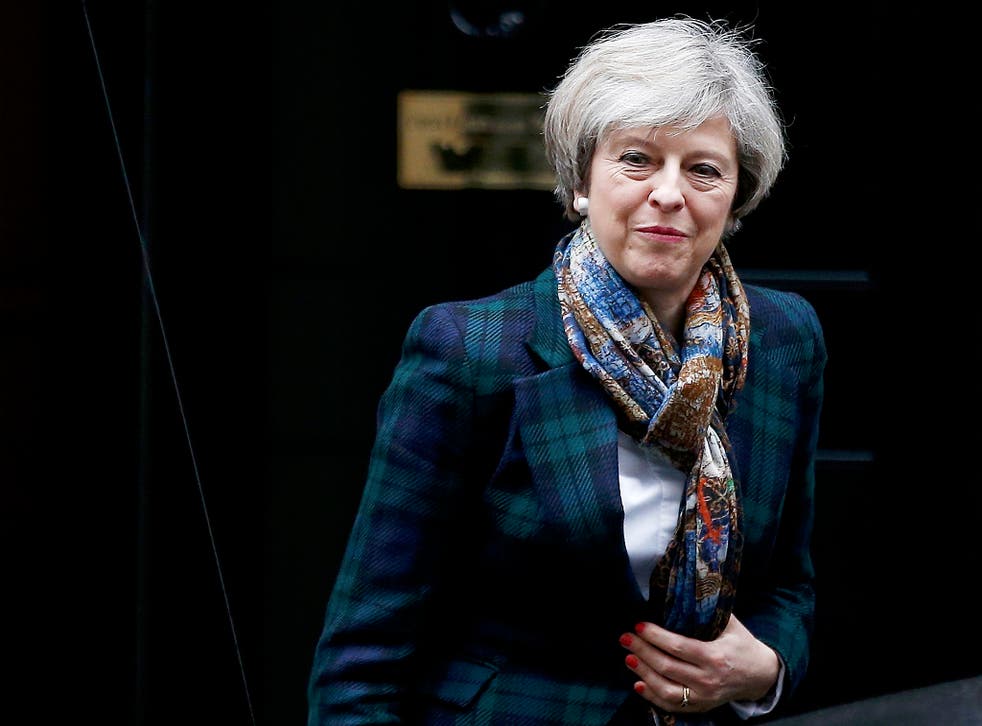 Most British people oppose Theresa May's "take-it-or-leave-it" threat to leave the EU with no deal and risk a damaging economic crash, a new poll has found.
The Prime Minister is urged instead to go back and negotiate a better agreement with EU leaders if Parliament rejects the Brexit terms she strikes in a "final deal" vote expected in 2019.
The verdict comes ahead of a likely debate next week in which the Government will be urged to concede a "meaningful" vote – one staged early enough for her to go back and seek those better terms.
So far, ministers have refused to say exactly when the crucial vote will take place, or to guarantee it will before the proposals go to the EU Parliament.
And Ms May has insisted a rejection by MPs would see Britain crash out of the EU with no trading agreement at all, because Westminster will not be allowed to "block Brexit".
Before the referendum, the Treasury forecast that falling back on World Trade Organisation (WTO) tariffs – the likely consequence of leaving with no deal – would deliver a 7.5 per cent hit to GDP by 2030.
Brexit Concerns

Show all 26
The poll is revealed after some Tory MPs joined Labour in calling for the vote on the final deal to carry proper weight, when debate on the Article 50 Bill got under way in the Commons.
Dominic Grieve, the Conservative former Attorney General, insisted it must take place before the European Parliament votes, as he warned that Britain would pay a heavy price for Brexit.
"I think we have made a grave error and I think it is one that will become more and more apparent with the passage of time," Mr Grieve told ministers.
Neil Carmichael, another pro-EU Conservative, said: "It is essential for Parliament to have some final say on these matters when we get to the endgame.
"You shouldn't jump out of an aeroplane without checking if the parachute is working – and that is what we need to consider when we head towards the final moment in two years."
Labour has tabled the amendment calling for a "meaningful" vote, which is likely to be debated when the Article 50 Bill reaches its committee stage – after being given its second reading this week.
Brexit: Nick Clegg on Government's 'sycophantic' relationship with Trump
The demand wins the backing of 51 per cent of people who responded to the YouGov poll, who said the Prime Minister should seek a better deal, if MPs reject her terms.
Only 34 per cent of people said they wanted too leave the EU with no deal.
Voters in every region of the country and in every social group opposed Ms May's threat to walk away with no deal, as did every age group apart from over-65s.
The findings were seized upon by Pat McFadden, a Labour MP and supporter of the pro-EU Open Britain campaign, who said the public did not want the Prime Minister "putting a gun to Parliament's head".
He said: "Leave campaigners were quick to praise the principle of parliamentary sovereignty, but have been much less keen to see it exercised in practice.
"The Article 50 Bill will be approved but attention will then turn to the nature of the future agreement between the UK and the EU.
"A vote on this deal should not be the Government putting a gun to Parliament's head – it should be a meaningful choice which allows Parliament to send the Government back to the negotiating table if the deal they negotiate is not good enough."
The European Union (Notification of Withdrawal) Bill will allow Ms May to invoke Article 50 of the Lisbon Treaty and start the withdrawal talks between the UK and the EU.
The Liberal Democrats and Scottish National Party will vote against it at 7pm on Wednesday, but Labour has made the "difficult decision" to back it at second reading – guaranteeing it will pass.
Jeremy Corbyn has said his MPs will also be told to vote for its final reading, next week, even if Labour's amendments fall, which is likely to trigger further frontbench resignations.
During the debate, Nick Clegg claimed the Prime Minister turned down an offer from Germany to give Britain some form of "emergency brake" over immigration in return for the country adopting a soft Brexit.
The former Liberal Democrat leader said: "Some people say there is no alternative, we must leave the single market, there is no remote chance we could find an accommodation with our European partners. Nonsense.
"But what did this Government choose to do? It decided to spurn all friendship links with Europe. It decided to placate parts of the Conservative Party rather than serve the long-term strategic interests of this country."
Register for free to continue reading
Registration is a free and easy way to support our truly independent journalism
By registering, you will also enjoy limited access to Premium articles, exclusive newsletters, commenting, and virtual events with our leading journalists
Already have an account? sign in
Register for free to continue reading
Registration is a free and easy way to support our truly independent journalism
By registering, you will also enjoy limited access to Premium articles, exclusive newsletters, commenting, and virtual events with our leading journalists
Already have an account? sign in
Join our new commenting forum
Join thought-provoking conversations, follow other Independent readers and see their replies