Public sector job losses to hit 600,000 by 2016
Andrew Woodcock
,
Joe Churcher
Tuesday 29 November 2011 13:45 Comments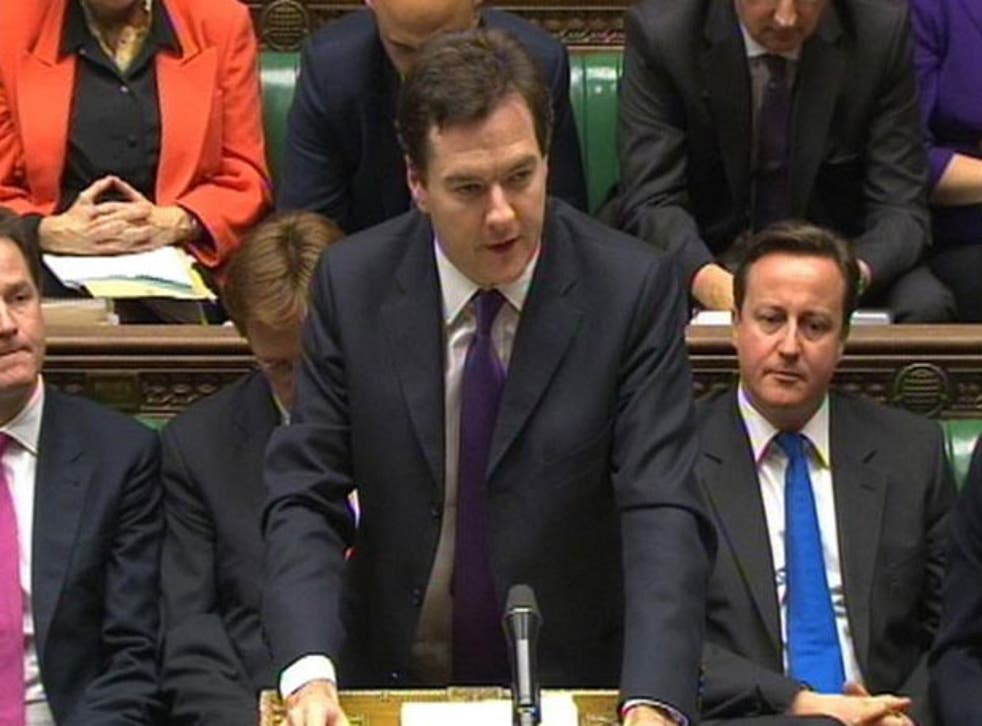 George Osborne was forced today to acknowledge a grim picture of declining growth and rising unemployment for the UK over the coming years.
Unemployment was forecast to increase from 8.1% this year to 8.7% in 2012 before falling back to 6.2% by 2016.
And the OBR warned that as many as 600,000 jobs could be lost in the public sector by 2015/16 - a dramatic 50% increase on its previous estimate of 400,000. By the following year, that number could have reached 710,000.
The Chancellor insisted he was still on course to meet his key targets of eliminating the UK's structural deficit within five years and getting national debt on a downward course as a proportion of GDP by 2015/16.
But his Labour shadow Ed Balls said the economy was flatlining and the country was suffering "all of the pain and none of the gain" at the Government's hands.
The Office for Budget Responsibility forecasts announced in today's Autumn Statement put growth at 0.9% for this year and 0.7% for 2012 - sharply downgraded from 1.7% and 2.5% in the body's last forecasts at the time of the March Budget.
Growth is then expected to pick up to 2.1% in 2013, 2.7% in 2014, and 3% in 2015 and 2016.
Unemployment was forecast to increase from 8.1% this year to 8.7% in 2012 before falling back to 6.2% by 2016.
And the OBR warned that as many as 600,000 jobs could be lost in the public sector by 2015/16 - a dramatic 50% increase on its previous estimate of 400,000. By the following year, that number could have reached 710,000.
The Government is set to borrow £111 billion more over the next five years than previously expected, with borrowing peaking at £127 billion this year before declining to £53 billion by 2015/16.
The structural deficit will not be eliminated until 2016/17, according to the OBR predictions - two years later than it forecast in March.
Mr Osborne announced a package of growth measures intended to boost GDP by encouraging investment in infrastructure, small companies and the regions and getting young people into work.
But he had few high-profile goodies for ordinary voters, simply confirming widely-trailed reports that he would hold rail fare increases down to inflation plus 1% and cancel a planned 3p rise in fuel duty, as well as providing free nursery care for 260,000 two-year-olds.
Pensioners will see a £5.30-a-week boost to £107.45 in their basic state pension and work-related benefits will be uprated in line with the unusually-high CPI inflation rate of 5.2% recorded in September.
But some of the money will be clawed back by holding down increases in elements of the tax credits paid to low-earners in work. And Mr Osborneannounced that the pension age will be raised to 67 from 2026.
Mr Osborne issued a blunt warning to unions to call off strikes over public sector pensions planned for tomorrow.
He set the scene for possible future confrontation with the unions by announcing a review of public sector pay which could lead to widely varying rates for the same job in different parts in the country.
And he told public sector workers that annual pay rises will be limited to 1% for two years after their current pay freeze ends.
The Chancellor told MPs that his statement offered "leadership for tough times", rather than "promises of quick fixes and more spending that this country can't afford at times like this".
But Mr Balls said the OBR figures showed the Government's austerity agenda had been "entirely counter-productive and self-defeating".
"It's backfired," said the shadow chancellor. "We have had all of the pain and none of the gain."
Mr Osborne said that OBR figures showed the current structural deficit of 4.6% of GDP this year transformed into a surplus of 0.5% in five years' time. He said the net debt-to-GDP ratio - 67.5% this year - would increase to 78% in 2014/15 before falling to 77.7% by 2015/16.
The Treasury said the projections of massively bigger cuts to the public sector workforce could have been skewed by town halls "front loading" lay-offs.
And a spokesman pointed to the OBR's expectation that enough new private sector roles will be created to boost the total workforce by a million.
Ministers will also come under fire over child poverty - with official estimates suggesting the latest austerity measures could push another 100,000 youngsters into the category.
The Government has a statutory commitment to eradicate child poverty by 2020, but recent estimates suggest it is far off course.
Treasury officials insist that moves to boost education and other vital services will outweigh the impact of tax and benefit changes.
Delivering his keenly-awaited statement to MPs, Mr Osborne said that the OBR blamed lower-than-expected growth on the sovereign debt crisis in the eurozone.
And the Chancellor told MPs: "Much of Europe now appears to be heading into a recession caused by a chronic lack of confidence in the ability of countries to deal with their debts.
"We will do whatever it takes to protect Britain from this debt storm while doing all we can to build the foundations of future growth."
The Chancellor said the OBR's figures did not forecast recession for the UK - unlike yesterday's analysis from the Organisation for Economic Co-operation and Development, which predicted a period of negative growth in the final quarter of 2011 and the first quarter of 2012.
But the OBR found that the debt challenge was "even greater than we thought because the boom was even bigger, the bust even deeper and the effects will last even longer", said Mr Osborne.
Lower interest rates due to market confidence in the credibility of the Government's fiscal plans meant repayments on state debt would be £22 billion less than predicted over the course of the parliament, he said.
Mr Osborne confirmed a range of heavily-trailed measures to boost growth, including:
:: A £40 billion "credit easing" scheme to help small businesses access loans.
:: 50% income tax relief and a one-year capital gains tax waiver for business "angels" providing finance for start-up companies.
:: An additional £1 billion over the course of this Parliament for the Regional Growth Fund for England, with other support available for devolved administrations.
In a move which will infuriate the green lobby, he announced a £250 million package of support for energy-intensive industries, telling MPs: "We are not going to save the planet by shutting down our steel mills, aluminium smelters and paper manufacturers - all we would be doing is exporting jobs."
An infrastructure programme funded by £10 billion of Government money and £20 billion from the private sector will include £1.2 billion for schools - half of it funding the creation of 100 new free schools.
Mr Osborne told MPs: "All that we are doing today - sticking to our deficit plan to keep interest rates as low as possible; policing the supply of credit to pass those low rates on to families and businesses; rebalancing our economy with an active enterprise policy and renewed infrastructure; help with the cost of fuel duty and rail fares - all this takes Britain in the right direction ...
"People know the promises of quick fixes and more spending this country can't afford at times like this are the policies of a quack doctor selling a miracle cure.
"We do not offer that today. What we offer is a Government with a plan to keep interest rates low, a Government determined to support businesses and jobs, a Government committed to take Britain safely through the storm. Leadership for tough times, that's what we offer."
PA
Register for free to continue reading
Registration is a free and easy way to support our truly independent journalism
By registering, you will also enjoy limited access to Premium articles, exclusive newsletters, commenting, and virtual events with our leading journalists
Already have an account? sign in
Join our new commenting forum
Join thought-provoking conversations, follow other Independent readers and see their replies