Majority of people 'happy to pay more tax to give nurses, police and paramedics a pay rise'
Exclusive: Public tells Theresa May it is time to end the punishing 1 per cent pay cap – even if price is higher taxes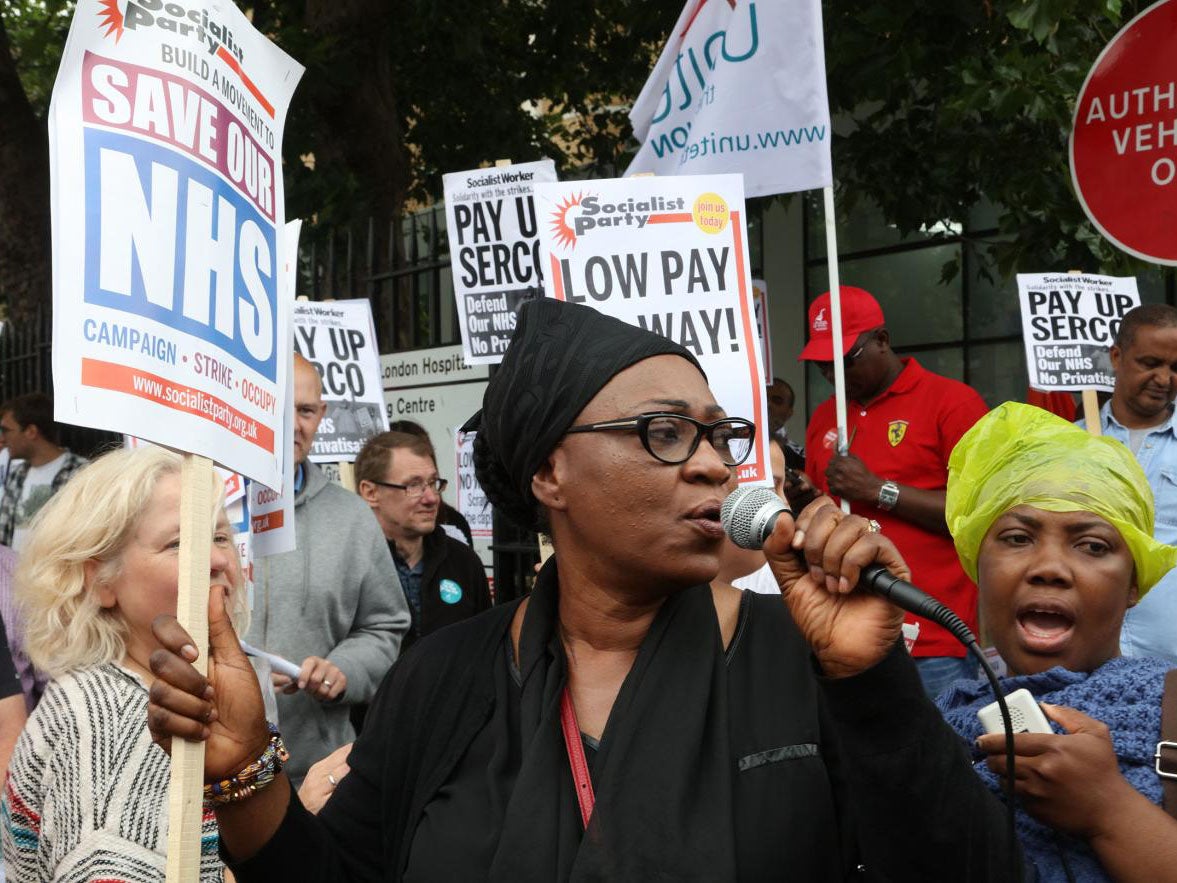 Most people are happy to pay more tax to fund a pay rise for paramedics, firefighters, nurses and the police, exclusive research for The Independent has revealed.
Theresa May is urged to hike taxes in order to end the punishing 1 per cent pay cap, which means a real-terms cut after rising inflation is taken into account.
The Prime Minister has stamped on a growing Cabinet revolt on public sector pay, insisting higher spending would threaten her key priority of driving down the budget deficit.
But the poll, by BMG Research, shows no fewer than 56 per cent of people are willing to pay more in tax to ease the pain in so-called "blue light" occupations.
When asked the question: "Would you be willing to pay more in tax to fund a pay rise, above 1 per cent, only for so-called 'blue light' public sector occupations, such as firefighters, polices officers, paramedics and nurses?", only 28 per cent of respondents said no.
Strikingly, a clear of majority of Conservative voters believe higher tax is a price worth paying for higher pay for emergency workers, by a gap of 57 per cent to 31 per cent.
An overwhelming majority of all voters – 69 per cent to 16 per cent – said the harsh pay restrictions should end for all public sector workers.
A majority were also ready to pay more tax to increase pay for non-emergency occupations, but only by the narrowest margin of 42 per cent to 41 per cent.
Nurses protest at Department of Health over pay cap
The results come after senior Cabinet ministers, including Boris Johnson, Michael Gove and Jeremy Hunt, made it known they believed it was time to lift pay for state workers.
The Prime Minister hit back by echoing George Osborne, pointing to the economic crisis that struck Greece when it failed to keep a tight grip on spending.
Specifically, Downing Street ruled out going back on the 1 per cent cap imposed on nurses, doctors and dentists in 2017-18 – way below the inflation rate of almost 3 per cent.
No 10 was then accused of insulting teachers and exacerbating a recruitment crisis by insisting on a 1 per cent pay rise in schools.
Pressure is building on Ms May and Philip Hammond, the Chancellor, to concede a review into lifting the pay cap in the autumn Budget.
Nurses have threatened to strike for the first time in history over low pay and staff shortages, warning the number of vacant nurse jobs in England is 40,000 and growing.
The poll results were seized on by Jeremy Corbyn, who said: "We cannot run our public services on the cheap.
"It is wrong that our nurses, teachers and police, who care for and protect us all, continue to bear the brunt of this Conservative Government's choice to maintain the privilege of the few at the expense of the many."
The Labour leader said his party would "ask those with the broadest shoulders – corporations and the super-rich – to contribute slightly more, so we can give all our public sector workers the pay rise they deserve."
And Layla Moran, the Liberal Democrat education spokeswoman, said: "It is striking that the public are noticeably more generous than the Conservatives."
She warned that Brexit threatened "even more austerity", adding: "Increasingly, the public are saying they will not and cannot put up with it."
Anger has grown among other public sector workers after firefighters were offered a 2 per cent increase this year and a 3 per cent increase the following year.
Downing Street's insistence that pay for firefighters – unlike in other services – is set by a joint national council, outside its control, cut little ice.
Meanwhile, Tory MPs have reported back that the pay cap played a part in the Conservatives' disastrous general election campaign and that the Prime Minister increasingly looks out of touch on the issue.
Some have pointed to the warm tributes paid by Ms May to emergency staff after the recent terror atrocities and the Grenfell fire tragedy, yet the cap remains.
Earlier this month, the Government quietly released a report proving that doctors, police, teachers and others have seen their wages go backwards in real terms, particularly since the Brexit vote.
The restrictions have lasted seven years – they began with an absolute freeze for two years – and are due to continue until the end of the decade.
Pressure will grow further when emergency workers demonstrate outside Parliament early next week, protesting at how much their wages have fallen since the start of austerity in 2010.
The BMG poll shows a willingness to pay more tax to end the pay cap for blue light staff, across all ages and social classes, but more so among women (60 per cent) than men (53 per cent).
The company, which is a member of the British Polling Council, interviewed a representative sample online of 1,518 adults living in Great Britain, between 11 and 14 July.
Join our commenting forum
Join thought-provoking conversations, follow other Independent readers and see their replies