Public sector pay cap: Trade unions demand 4% rise for NHS workers after freeze lifted for police and prison staff
'Continuing with the pay cap will further damage services, and that affects us all' claims Unison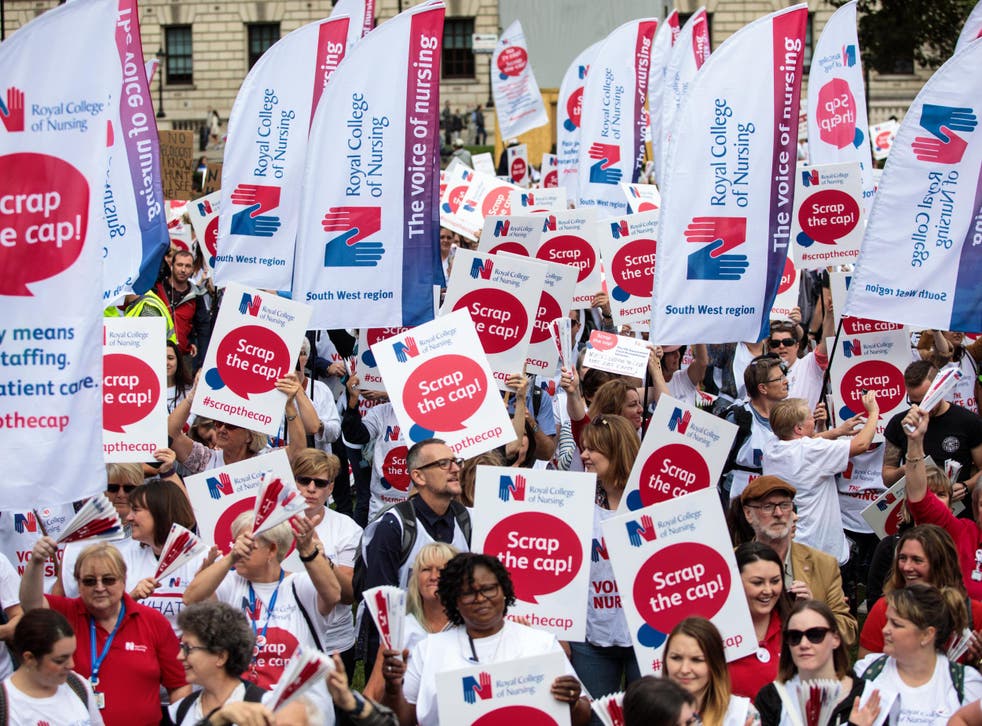 Unions are calling for a pay rise of almost four per cent for around a million NHS workers – plus a one-off payment of £800 to compensate for money they lost out on during the austerity era.
Pressure is growing on Theresa May to lift the contentious one per cent cap on annual pay rises for NHS workers now that the Government has removed the restriction for police officers and prison staff.
The call for the increase was made in a letter co-written by 14 different unions on behalf of over a million workers to Chancellor Philip Hammond ahead of his autumn budget statement.
They are asking him to make funds available in the November budget for a pay rise in line with the retail price index (RPI) level of inflation, currently 3.9 per cent and a percentage point higher than the consumer price index, which has just risen to 2.9 per cent.
They are also requesting an additional £800 to make up for some of the pay lost over the course of the public sector pay cap imposed by former Chancellor George Osborne in 2010.
The unions claim NHS workers including nurses, radiographers, pharmacists, midwives, paramedics, therapists, dental technicians, cleaners, caterers and porters have suffered real terms pay cuts of around 15 per cent in recent years because of the Government's "harsh pay policies".
Unions usually submit evidence to a pay review body, but they said the Government has undermined its role and "severely restricted" its ability to make recommendations.
The Government signalled an easing of the pay cap earlier this week by announcing a 2 per cent rise for the police and 1.7 per cent for prison officers.
But unions representing millions of other public sector employees have since expressed anger and accused the Government of trying to divide public sector workers.
UK news in pictures

Show all 50
Unison's head of health Sara Gorton said: "Health workers have gone without a proper pay rise for far too long. Their wages continue to fall behind inflation as food and fuel bills, housing and transport costs rise.
"NHS staff and their families need a pay award that stops the rot and starts to restore some of the earnings that have been missed out on. A decent pay rise will make it easier for struggling hospital trusts to attract new recruits and hold on to experienced staff.
"Continuing with the pay cap will further damage services, and that affects us all. The Government must give the NHS the cash it needs so its entire workforce gets a decent rise, without the need for more services to be cut."
Royal College of Nursing general secretary Janet Davies said: "If the Government gives nurses the same deal as the police, it would still be a real-terms pay cut. Nursing staff must be given a pay rise that matches inflation, with an additional consolidated lump sum that begins to make up for the years of lost pay.
"When the next pay review body process begins, the Government must allow it to be truly independent and able to recommend a meaningful increase that helps hardworking staff with the cost of living. It must be fully-funded and not force the NHS to cut services or jobs to pay for it."
The pay cap is likely to remain a key battleground in the upcoming political conference season after Labour leader Jeremy Corbyn called for the cap to be listed for the armed forces and branded it "cruel".
MPs backed a call to end the public sector pay cap for NHS workers after the Government chose not to contest a Labour motion on the issue.
With a minority Government, Prime Minister Theresa May would have risked an embarrassing defeat had she resisted the motion after her allies in the DUP indicated they would vote with the opposition on the matter despite their agreement to vote with the Tories on most issues.
Health Secretary Jeremy Hunt said it was "absolute nonsense" that the one per cent cap over the last seven years was "austerity" or an "ideological mission" by the Conservatives to "reduce the size of the state".
Register for free to continue reading
Registration is a free and easy way to support our truly independent journalism
By registering, you will also enjoy limited access to Premium articles, exclusive newsletters, commenting, and virtual events with our leading journalists
Already have an account? sign in
Register for free to continue reading
Registration is a free and easy way to support our truly independent journalism
By registering, you will also enjoy limited access to Premium articles, exclusive newsletters, commenting, and virtual events with our leading journalists
Already have an account? sign in
Join our new commenting forum
Join thought-provoking conversations, follow other Independent readers and see their replies