NHS staff and teachers could receive pay rise as MPs vote on public sector pay cap
Unions say seven-year pay freeze has caused 'real hardship for workers and their families'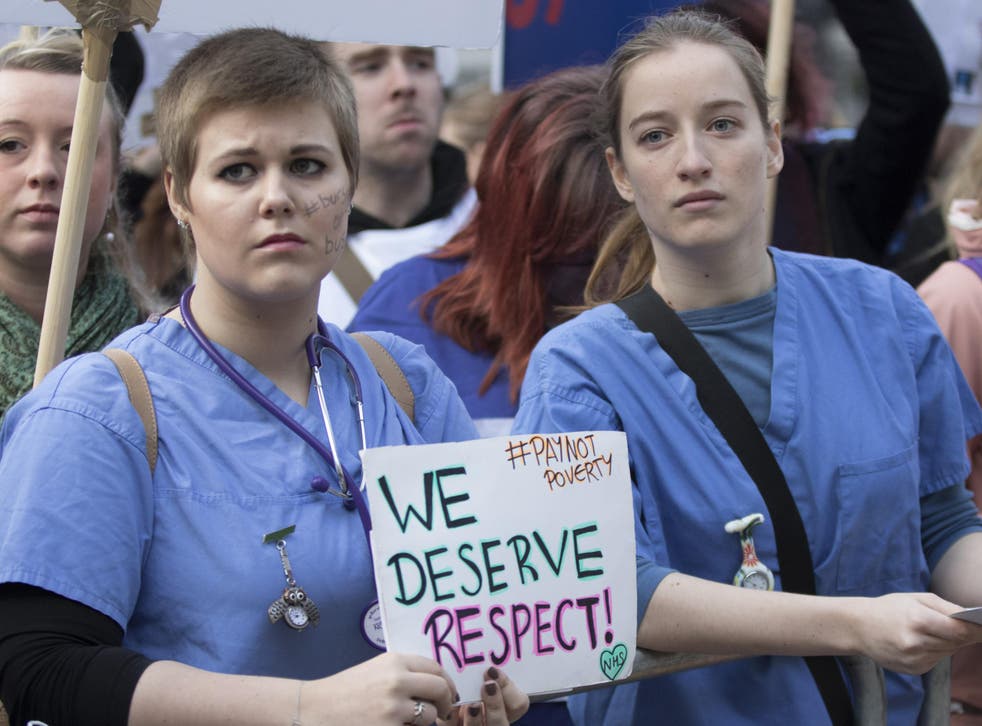 A cap on public sector pay that has frozen salaries below inflation for seven years could be lifted as MPs vote on the policy during the Queen's Speech debate.
Parliament will vote on whether to end the austerity policy, introduced in 2010 by George Osborne, on Wednesday following a debate about health, security and social care.
The amendment to the Queen's Speech, tabled by Labour's front bench, calls for a "fair pay rise" for emergency and public sector workers including teachers, doctors and police officers.
Unions said the pay cap, currently in place until 2020, has caused "real hardship for workers and their families".
Dave Prentis, general secretary of Unison, said the vote gives MPs who have praised the efforts of public sector workers in the wake of recent terror attacks and the Grenfell Tower disaster "a chance to show they really mean what they've said".
Nurses' pay has fallen by 14 per cent in real terms after annual pay rises were capped at 1 per cent, according to the Royal College of Nursing (RCN), who today staged protests demanding the Government remove the pay freeze.
One nurse demonstrating outside the Department of Health, 22-year-old Lauren Gray, told The Independent she felt she was "working so hard for so little" but staff shortages meant she "can't even do my job properly".
Nurses protest at Department of Health over pay cap
RCN chief executive Janet Davies warned chronic low pay was leading to plummeting domestic nursing applications and high stress as NHS institutions struggle to fill nursing places.
The union said its protests, held in 30 locations, were a "final warning" to the Government to take action over low pay or face the first nursing strike in history.
Ms Davies said the crisis in nursing has now become so acute that the NHS is in grave danger of suffering another catastrophe on the scale of Mid Staffs.
After the general election Health Secretary Jeremy Hunt hinted he might lift the pay cap.
He praised the "absolutely brilliant" work of nurses and said he had "a great deal of sympathy" for the case they have made over pay.
Shadow health secretary Jonathan Ashworth said the public sector pay cap "has been hugely damaging for the NHS" and is "causing financial chaos for hospitals and causing misery for patients".
"Nurses are being forced to use foodbanks to make ends meet and NHS Providers say that staff are quitting the NHS to stack shelves instead," he said. "The Health Secretary says he has sympathy for underpaid health staff but sympathy won't put food on the table.
UK news in pictures

Show all 50
"Labour is giving MPs the chance to vote with their conscience and vote in favour of NHS patients, by voting to put an end to this damaging, divisive and self-defeating pay cap."
Before the election, Jeremy Corbyn said Labour would give "overworked and underpaid" NHS staff a pay rise.
During the election campaign, Theresa May's evaded a question about nurses using food banks and insisted "there's no magic money tree" when confronted about the issue by a nurse.
Join our new commenting forum
Join thought-provoking conversations, follow other Independent readers and see their replies