Queen's remark on Scottish independence was 'deliberate intervention' in referendum, book claims
Latest extracts from Lord Ashcroft's controversial biography of David Cameron claims apparently spontaneous comment was intentional
Ian Johnston
Friday 25 September 2015 09:30 Comments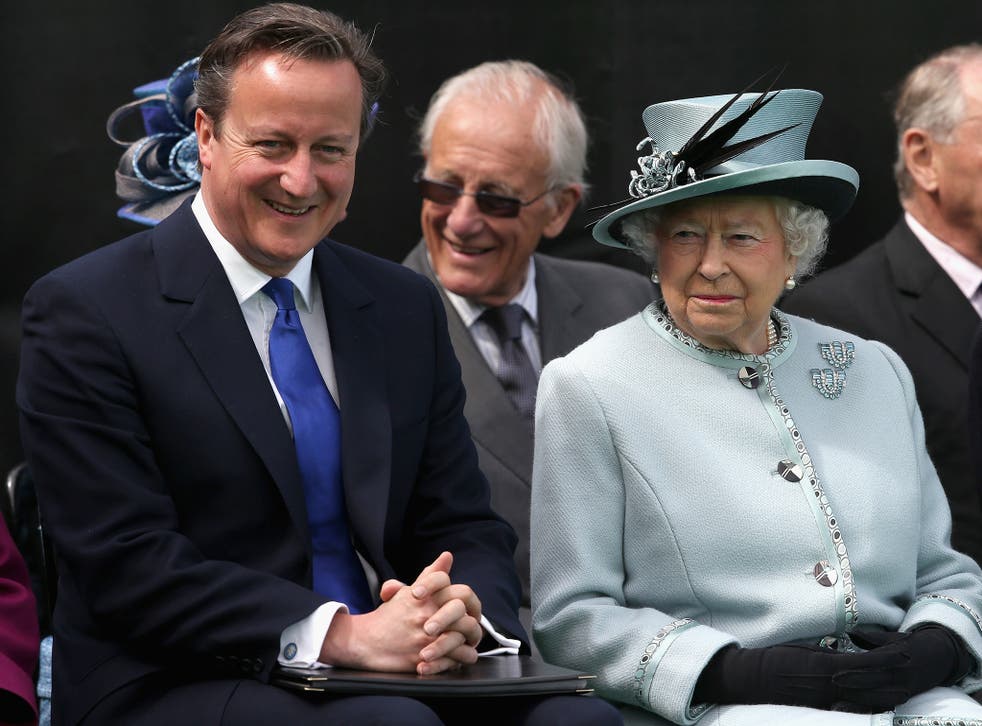 An apparently spontaneous remark by the Queen ahead of the Scottish independence referendum was "a deliberate last-minute intervention" designed to persuade people to vote no, according to the latest extracts from Lord Ashcroft's controversial biography of David Cameron.
The book, Call Me Dave, which was written with journalist Isabel Oakeshott, describes how the Prime Minister suffered sleepless nights and his wife Samantha's hair started falling out as he became increasingly worried that the pro-independence camp might win.
It describes a "strained" breakfast at Balmoral Castle with the Queen, who pointed to a newspaper headline saying: "Yes vote leads in Scots poll."
According to the serialisation in The Daily Mail, a "friend" of Mr Cameron is quoted as saying: "One of his normal characteristics is the ability to stay completely calm when everyone is panicking. This is one of the few times he didn't do that."
Mr Cameron later called his pollster, Andrew Cooper. "He was very worried. It was the first time he was seriously contemplating: s***, we might lose," Mr Cooper said.
Queen Elizabeth II: Life in pictures

Show all 62
The book says that the Queen was "deeply troubled" by the prospect of Scotland leaving the United Kingdom.
"Inside Whitehall, there were discussions on whether she could somehow speak out against Scottish independence while remaining within the constitutional boundaries of neutrality," it says.
"Under a cloak of secrecy, the Cabinet secretary, Sir Jeremy Heywood, and the Queen's private secretary, Sir Christopher Geidt, held talks to work out how she might express her concerns in a suitably coded way. The result was a remark overheard after a Sunday service in Crathie Kirk, the small church that the Royals attend when staying at Balmoral.
"'I hope people will think very carefully about the future,' the Queen was reported to have said — to the delight of the No camp.
"The carefully chosen words were no accident. Her supposedly off-the-cuff remark was a deliberate last-minute intervention — and it left no one in any doubt about which side she was on. Cameron was undoubtedly deeply grateful."
Mr Cameron feared he would have to resign as Prime Minister, but also that he would be remembered for one thing alone.
A confidant is quoted as saying: "­Funnily enough, I think it was less 'we're going to have to move out' [of Downing Street] than the fact that, for the rest of his life, he'd be the Prime Minister who lost the United Kingdom. He was saying: 'I'll be remembered for this till the day I die.'"
The book says Mr Cameron gathered a team to plan a response if Scots voted yes.
"They tried to draft a strategy for what they'd do, what they'd say the morning after the vote, who'd come out and give a statement," a source is quoted as saying. "They got about three paragraphs in, and it was not clear it would work."
Register for free to continue reading
Registration is a free and easy way to support our truly independent journalism
By registering, you will also enjoy limited access to Premium articles, exclusive newsletters, commenting, and virtual events with our leading journalists
Already have an account? sign in
Join our new commenting forum
Join thought-provoking conversations, follow other Independent readers and see their replies