Queen's Speech: Coalition reaches out to women with pensions and new rights for carers – if councils can afford it
Promise of support for relatives helping loved ones puts pressure on local budgets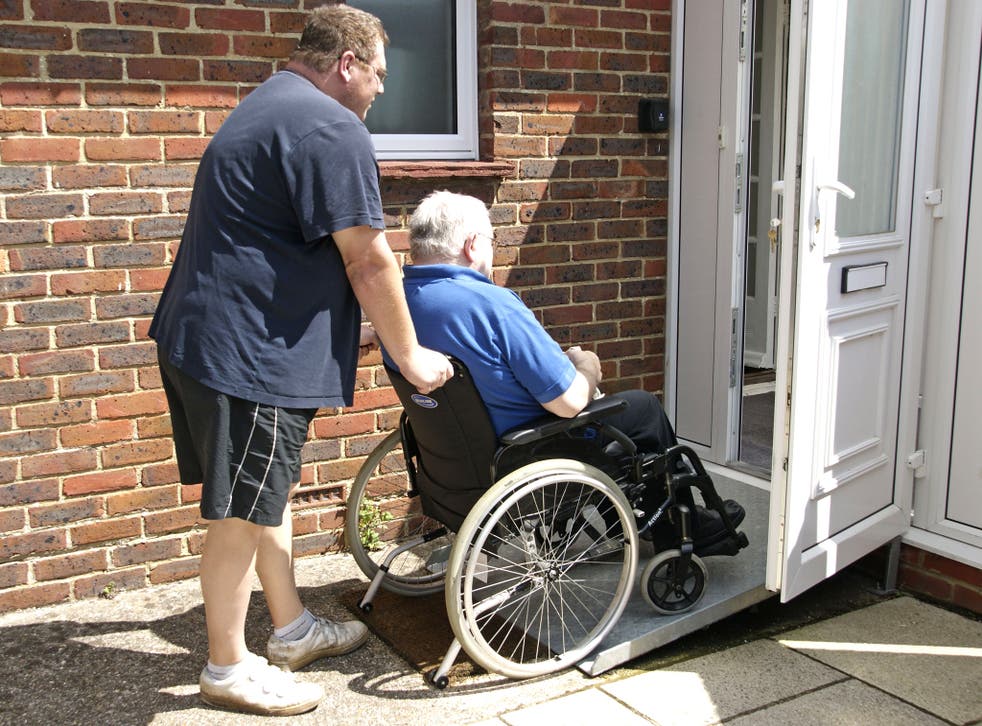 Hundreds of thousands of carers will be promised new rights in the Queen's Speech tomorrow as the number of elderly and vulnerable people being looked after by family members continues to soar.
The move is designed to relieve the pressure on people – mainly women – who have to give up jobs to care for ailing relatives. But it is likely to be greeted sceptically by councils facing cuts to care budgets running into billions of pounds as austerity bites.
With the population rapidly ageing, the number of people caring for an elderly relative with dementia is forecast to grow by more than 150,000 by the year 2021.
There are estimated to be almost seven million people in Britain who spend some time looking after a relative, many of whom suffer depression and exhaustion as a result of the strain.
A Health and Social Care Bill will give them the statutory right to ask for support in the form of financial support, back-up help from professional carers or adaptations to their home to relieve the burden.
If their requests are turned down, councils will have to give a detailed explanation of their decision. About £150m will be allocated by the Government to cover the costs of extra assistance for carers.
The Bill will also promise to simplify the eligibility system under which carers are entitled to support and councils will be instructed to step up efforts to publicise the help available to carers.
"This would be the very first time that carers will be given the same right to support as the person they look after," a Government source said.
"It will be people in their 40s, 50s and 60s already trying to balance their day job with raising their children who will be faced with an additional responsibility for caring."
The Bill will set in place a new system of social care funding from 2017 under which the taxpayer picks up the bills after someone has spent £75,000 of their own money on their care.
Separate legislation is expected to prevent a repeat of the scandal at the Winterbourne View care home, near Bristol, where employees were secretly filmed assaulting residents.
Under the plans, care home managers would face prosecution if they failed to pass on complaints of abuse by staff.
Legislation will also be set out to guarantee continuity of care for people if their care provider goes out of business.
Ministers – conscious that the Coalition government is struggling to reach out to female voters – say the social care plans, as well as a shake-up of pensions, will particularly benefit women.
A Pensions Bill will overhaul the state pension system by creating a flat-rate pension of about £144 to come into effect in three years' time. The Government will argue that the move will benefit 750,000 women who reach pension age between 2016 and 2026 by an average of £9 a week.
The Bill will also prevent people living abroad claiming British pensions even if they have paid nothing into the system or have not even visited this country.
Steve Webb, the Pensions minister, confirmed yesterday it would end the practice of women being able to claim solely on the basis of their husband's contributions or vice versa. The move will coincide with the introduction of the flat-rate pension.
The annual cost to the taxpayer of these foreign pay-outs, which can be worth up to £3,500 a year, is estimated to be £410m.
Mr Webb said: "We're not saying we care who you marry – that's your choice. What we are saying is; don't expect in the future that when you marry somebody they acquire rights in the British system even if they haven't put in."
Last night the think-tank Reform accused political leaders of "running scared" of elderly voters as they are much more likely to vote than younger age groups. It challenged David Cameron to include measures in the Queen's Speech to cut the cost of pensions and benefits for older people.
Reform said the proposed single-tier pension would not save money until the 2040s and described benefits such as the winter fuel allowance, free bus passes and free television licences as poor value for money.
It also said politicians should not be afraid to begin a debate on the future of National Health Service spending.
Queen's speech: highlights
Immigration: Migrants' access to benefits, healthcare and social housing will be restricted in time for Romanians and Bulgarians getting the right to live and work in the UK.
High Speed 2 Rail Link: Ministers risk a backlash from the Tory shires with Bill allowing government money to be spent on designing line between London and Birmingham.
Consumers: Extra protection, including refunds and compensation, for faulty goods bought online.
Energy: Help consumers get the best deal from gas and electricity suppliers.
Anti-Social Behaviour: Police will gain new powers to tackle "nuisance neighbours".
Dangerous Dogs Bill: Makes it an offence for a dog to be dangerously out of control in any place.
Deregulation: Will cut red tape for small businesses, exempting self-employed from health and safety laws if their work poses no risk of harm to others.
Join our new commenting forum
Join thought-provoking conversations, follow other Independent readers and see their replies