Trophy hunting fuels 'colonial race and slave injustice', MPs warned as they consider imports ban
Exclusive: Practice perpetuates apartheid-era inequalities, with black workers exploited in low-paid jobs, economist says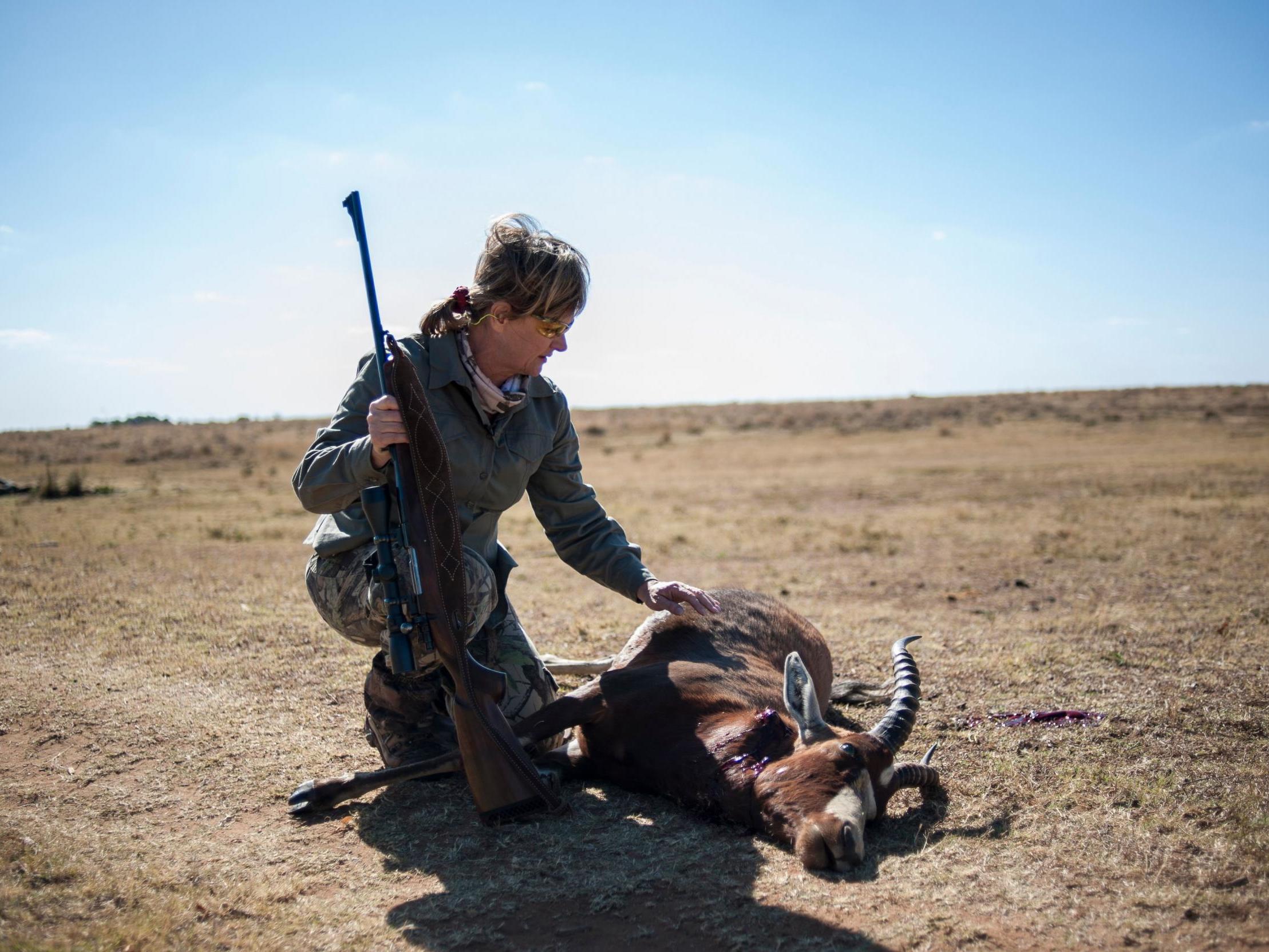 Trophy hunting is reinforcing deep apartheid-era social and racial inequalities in Africa, an economist will tell the UK government this week as it considers a ban on imports.
Organised hunting of endangered wildlife, including elephants and lions, mostly benefits wealthy white landowners while exploiting black workers by paying them "pitiful" wages, according to Ross Harvey, an independent South African environmental economist.
Mr Harvey's report comes in response to a government consultation on whether to ban imports of hunted animal bodies and parts, such as skins, tusks, heads and paws in Britain.
The document is being delivered in Parliament on Wednesday before the consultation ends on Saturday.
Protesters demand a UK ban on imports of 'trophy hunt' animal parts
Show all 15
Switching to other types of tourism would create 11 times as many jobs in South Africa, and they would be more highly skilled roles, Dr Harvey said.
He told The Independent research suggested workers on South Africa's 9,000 or more wildlife ranches were exploited as deeply as during apartheid — and possibly more so.
"Labourers on ranches and hunting concessions, who are mostly black South Africans, earn pitiful wages," he said. "A median income for them is 3,500 rand (£185), so it contributes to exploitation and inequality. Together with Brazil, South Africa is the most unequal society on the planet."
The average monthly salary in the country is about R30,000 (£1,600) and the minimum wage is more than R4,000 (£212) a month.
In 2018, the World Bank identified South Africa as the most unequal country in the world, with black people at the highest risk of poverty.
Dr Harvey's report, seen exclusively by The Independent and which draws on more than 40 expert and academic pieces of research, argues trophy hunting could be phased out over five years, saying it "perpetuates a colonial and apartheid-era master-slave dynamic".
The study concludes: "For South Africa alone, land currently allocated to hunting could provide 193,000 jobs instead of only 17,000.
"Moreover, the quality of hunting jobs is highly questionable, and evidence suggests that South Africa's conversion of agricultural land to game ranching has worsened job security and deepened inequalities.
"This is the very opposite of community empowerment, which non-consumptive tourism is better able to accomplish."
Hunting jobs in particular are mostly related to tracking and cleaning, he said, whereas tourism based on photography requires a lot more labour and the pay is better because the jobs are more highly skilled.
Not every hectare of hunting land lends itself to photography, he acknowledged, but alternatives include high-tech schemes that pay local residents to restore forests and profitable conservation projects.
Hunt supporters say organised shooting on dedicated land protects wildlife elsewhere.
And permit fees, which can run into the tens of thousands of pounds in the case of animals such as elephants, can be put towards conservation or benefit local communities, they claim.
Hunting companies also argue that they remove only older males so do not harm wildlife populations.
But Dr Harvey, a former researcher at the South African Institute of International Affairs, a think tank on sustainable economics, disputed this, saying such bulls remain reproductive for almost their entire lives. Killing them also skewed population dynamics and made younger males "delinquent" and aggressive, he said.
South African safari operators promote holidays to UK tourists who may shoot captive-bred lions in fenced areas from which there is no escape, and trophy imports are rising.
The number of British hunters bringing back the parts from farmed lions more than doubled in the three years after the highly publicised death of Cecil the lion, compared with the three years before, official figures show.
Imports after the 2015 shooting jumped to 59, against 27 before. In 2007 just four lion trophies were brought into Britain, but in 2017 the figure was 15, according to the Convention on the International Trade in Endangered Species of Wild Fauna and Flora (Cites).
The government consultation will also consider other options, including tighter controls and a ban applying only to certain species.
Join our commenting forum
Join thought-provoking conversations, follow other Independent readers and see their replies