RBS chief Stephen Hester forced to step down as Chancellor George Osborne paves way for sell-off
Chief executive of state-owned bank in line for payout worth £5.6m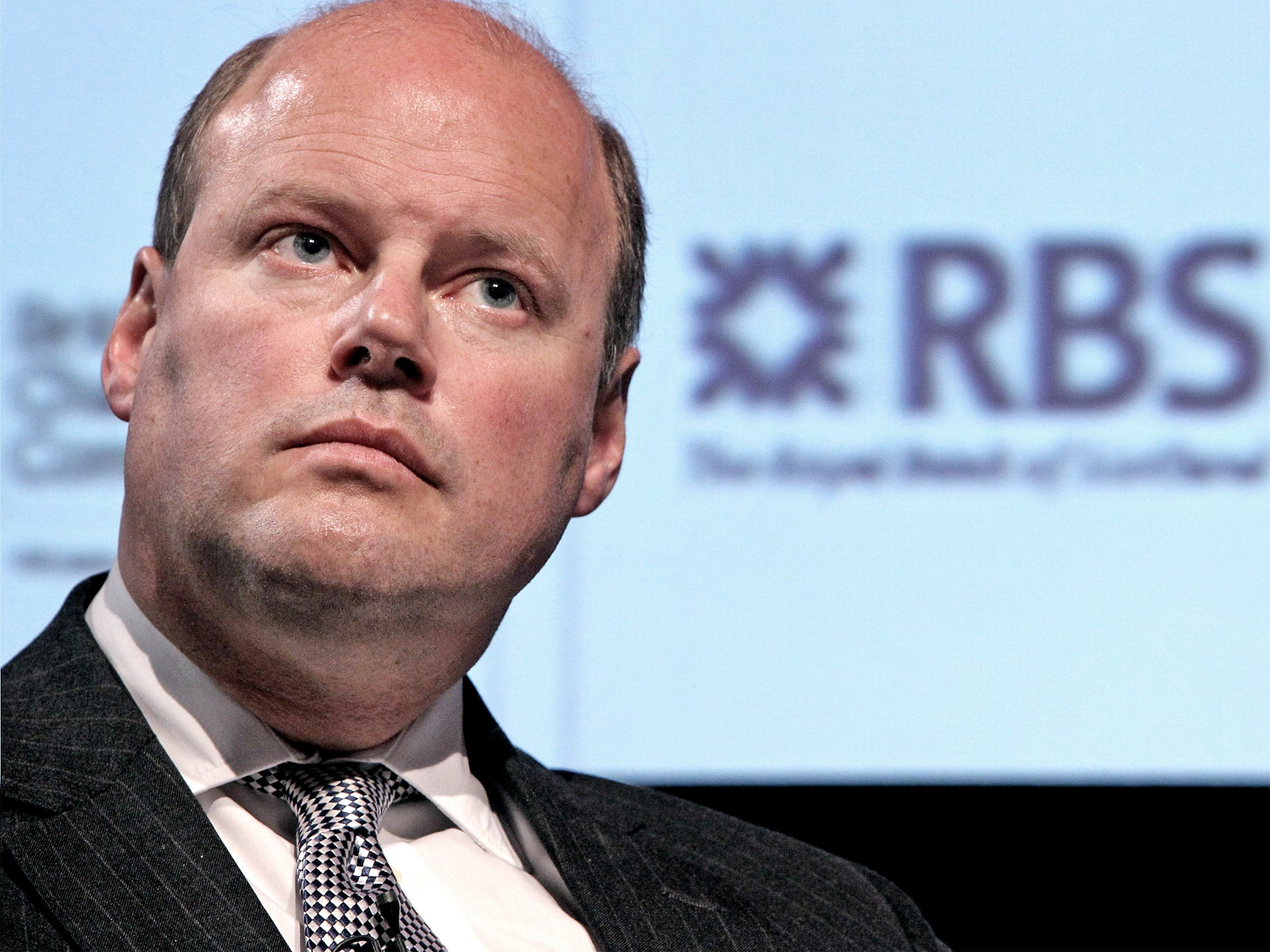 The multibillion privatisation of Royal Bank of Scotland (RBS) will be announced by George Osborne next week, following the forced departure of the bank's chief executive Stephen Hester yesterday evening.
Mr Hester will leave the bank later this year, clearing the way for his successor to oversee a "British Gas style" public sell-off.
The Chancellor is expected to announce further details of the privatisation in a speech next week. Treasury sources suggested he would not announce a timetable for the sale but it is likely to take place before the next general election and will aimed at the general public.
The end of Mr Hester's controversial tenure – described as "a board decision, not mine" by the departing executive – was made at a board meeting yesterday afternoon with the full knowledge of the Treasury. It was announced to the stock exchange after trading had finished.
RBS will today reportedly announce a cut of up to 2,000 jobs in its investment banking arm, reducing its headcount by a fifth as part of a restructure. Some 7,000 jobs have already been cut from the division which was at the centre of the bank's £390m fine for Libor rigging in February. The Independent revealed then that Mr Osborne was drawing up plans to sell off the taxpayers' 82 per cent share in RBS as part of a pre-election give-away. But the exact timetable and mechanism for the sale is still the subject of internal Coalition wrangling. Liberal Democrat ministers are concerned that any sale is not at a loss to the taxpayer.
"George is determined that this happens before the next election and Hester's departure is timely ahead of his Mansion House speech," one source said. "But there is still no agreement on exactly how and when it will happen."
As recently as last month Mr Hester had said in an interview that he wanted to see the bank he has restored to profitability through privatisation and did not regard the role as "time limited". Mr Hester had stepped up public appearances and appeared to be set on finishing a job he was called in to do by a Government that was desperate to see stability restored to a bank that was reeling in the wake of its bailout and the departure of the disgraced Fred Goodwin.
But he was fighting against a tide, and in recent weeks the company's board, led by Sir Philip Hampton, had stepped up succession planning as it became clear that it and the Treasury had wanted a "fresh face" in charge to see the bank returned to the private sector. Mr Hester said: "I feel torn about this, I feel a sense of loyalty to the bank, I want to do what is right. This is a bruising job, it is a difficult job. In that sense I'm comfortable with where we are coming out.
"I'm really proud with what we have done and I'm completely happy to participate willingly and with a smile on my face to an orderly handover."
As a "good leaver" who will continue in post while a successor is sought, Mr Hester will be entitled to a year's salary of £1.6m plus deferred share awards of between £3m and £4m. However, he will not receive any annual bonus.
Sir Philip praised Mr Hester's "immense achievements" and said: "We do need to have a chief executive in place with a period in front of them rather than a very big period behind them which is what shareholders will think in 2014." Sir Philip said this would be part of a process of winning over investors, to participate in the sale of the state's 81 per cent stake.
Despite controversy over Mr Hester's pay and his occasional role serving as a lightning rod for criticism of the banking industry, Mr Hester has a strong following in the City. Last night there were already rumblings of discontent in the City.
David Buik, commentator with the stockbroker Panmure, said Mr Hester had been "scurrilously treated".
Join our commenting forum
Join thought-provoking conversations, follow other Independent readers and see their replies