Refugee crisis: 20 children among 200 Syrians deported by UK since start of war
Exclusive: 27 Syrians have had their asylum claims rejected this year alone
Maeve McClenaghan
,
Oliver Wright
Wednesday 09 September 2015 21:12 Comments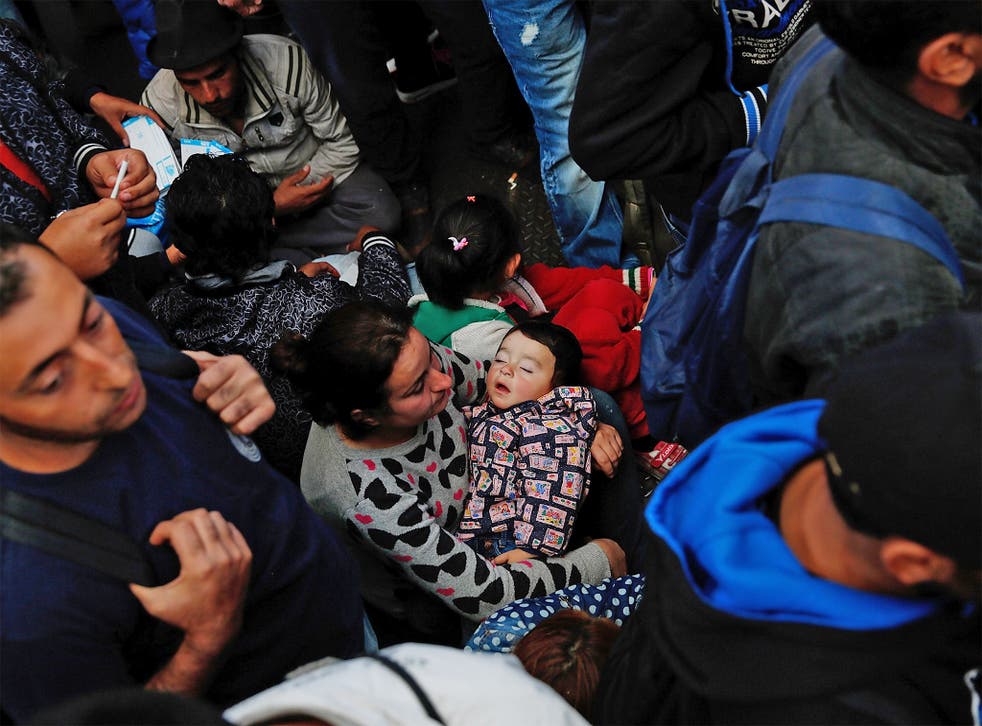 The Government has deported nearly 200 Syrian men, women and children who have arrived in Britain since the start of the conflict in their country.
Figures uncovered by the Bureau of Investigative Journalism found that more than 160 adults and 20 children have been removed from the UK – including 27 who have had their asylum claims rejected this year alone.
Some have been sent to Greece, a country already overwhelmed by the influx of asylum-seekers, under EU rules which state that a refugee must claim asylum in the first country where they arrive.
The figures emerged as David Cameron told the House of Commons that the UK would stick to its "own approach" and not take part in an EU-wide scheme to share the burden of refugees.
But the hard-line British deportation programme will do little to win the Government friends in other European countries which are struggling to cope even without the UK deportees. The shadow Foreign Secretary, Hilary Benn, said the Government is showing the "best of British values" by welcoming Syrian refugees and not using our opt-out to escape responsibility. "The fact we're not in Schengen doesn't mean we should opt out of our responsibility to stand shoulder to shoulder with our European friends and allies in playing a part," he said.
"Why is a child who has made the same perilous journey that claimed little Aylan al-Kurdi's life and is now in Greece any less deserving of our help than a child in a Syrian refugee camp?"
The Bureau's figures were obtained through Freedom of Information requests and an analysis of government data since the start of the conflict in Syria. They reveal that, far from settling all of those Syrians who have managed to make it to Britain, the UK Government has been removing some of those that have arrived claiming asylum.
The refugee crisis - in pictures

Show all 70
Of 31 unaccompanied asylum seeking Syrian children who have arrived in the UK this year, only 12 were granted refugee status, 45 per cent (14) were given temporary leave to remain until just before their 18th birthdays. The rest were deemed to be adults and refused. The rate at which unaccompanied Syrian children are being given asylum has dropped in the past three years, from 75 per cent in the first half of 2013 to just 39 per cent this year. The rate at which adults receive asylum is much higher.
Kamena Dorling of Coram Children's Legal Centre said: "Syrian children should only be returned to another European country under the Dublin regulations if this is for the purposes of family reunification and it has been assessed that return would be in the child's best interests."
But the Home Office said: "There will be circumstances where children do not meet the criteria to be recognised as a refugee under the Refugee Convention, but they may be granted another form of leave to remain, for example humanitarian protection or discretionary leave.
"The UK has a proud history of granting asylum to those who need it and we consider every application on its individual merits. We take cases involving children seriously and their welfare is at the heart of every decision made."
Register for free to continue reading
Registration is a free and easy way to support our truly independent journalism
By registering, you will also enjoy limited access to Premium articles, exclusive newsletters, commenting, and virtual events with our leading journalists
Already have an account? sign in
Join our new commenting forum
Join thought-provoking conversations, follow other Independent readers and see their replies