Refugee crisis: UK foreign aid budget to be spent housing people in Britain, George Osborne says
Chancellor says David Cameron will reveal details of plans to take 'thousands' more people in the Commons on Monday, but announces a 'fundamental rethink' on how the budget for overseas aid is spent in 'the national interest'
Adam Withnall
Sunday 06 September 2015 10:32 Comments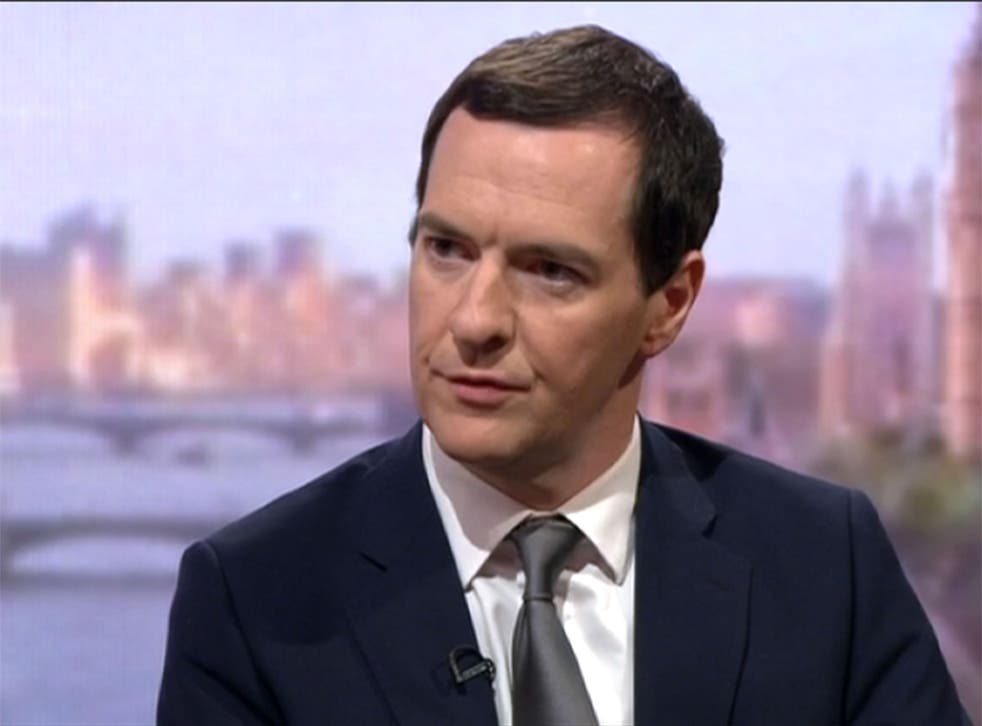 Britain's foreign aid budget will be used to provide homes for refugees in the UK as part of a "fundamental rethink" on how the Government tackles the growing crisis, George Osborne has announced.
The Chancellor said that the aid budget should be used in a way that helps "Britain's national interest", not just "the rest of the world".
David Cameron will address the Commons on Monday to provide details of exactly how Britain will increase its contribution to help refugees, Mr Osborne said. Sources within Downing Street have reportedly said the UK will offer to take "at least 10,000" – a dramatic increase on its previous commitments.
Speaking to the BBC's Andrew Marr Show, Mr Osborne admitted that the picture of Syrian three-year-old Aylan Kurdi washed up on a beach in Turkey had "brought home to everyone the severity of the crisis", likening it to photos of napalm victims from the Vietnam war.
"That picture brought home to the British public, and indeed politicians, the sheer horror of what's going on," he said.
While Mr Osborne insisted that "the policy hasn't changed" on the refugee crisis, he said: "Britain will approach the problem with a head as well as a heart."
"In the shorter term, we are going to take more refugees – but not in a way that encourages them on to boats. In the longer term, I think we need a fundamental rethink of the way we spend our aid budget."
Mr Osborne said money from the overseas aid budget would be given to local councils in Britain to help them prepare for the arrival of larger numbers of refugees.
He said Britain would select people directly from refugee camps on the Syria border so as not to encourage them to make the journey themselves. He suggested preferential treatment would be given to orphans, but otherwise gave no details as to how the selection process would work.
The refugee crisis - in pictures

Show all 70
"We are trying to deter criminal gangs rather than provide a magnet," he said. "We don't want to say to people that you can only have a home in Britain if you have made that dangerous journey across the Mediterranean."
Mr Osborne also said that more of Britain's aid budget would go towards improving conditions on the camps bordering conflict zones "to keep them there and house them there".
"You've got to make sure the aid budget is well spent," he said. "Where is Britain's national interest? It's in reducing this big problem on our doorstep."
Register for free to continue reading
Registration is a free and easy way to support our truly independent journalism
By registering, you will also enjoy limited access to Premium articles, exclusive newsletters, commenting, and virtual events with our leading journalists
Already have an account? sign in
Join our new commenting forum
Join thought-provoking conversations, follow other Independent readers and see their replies