Remember whose side you're on, Clegg warned by allies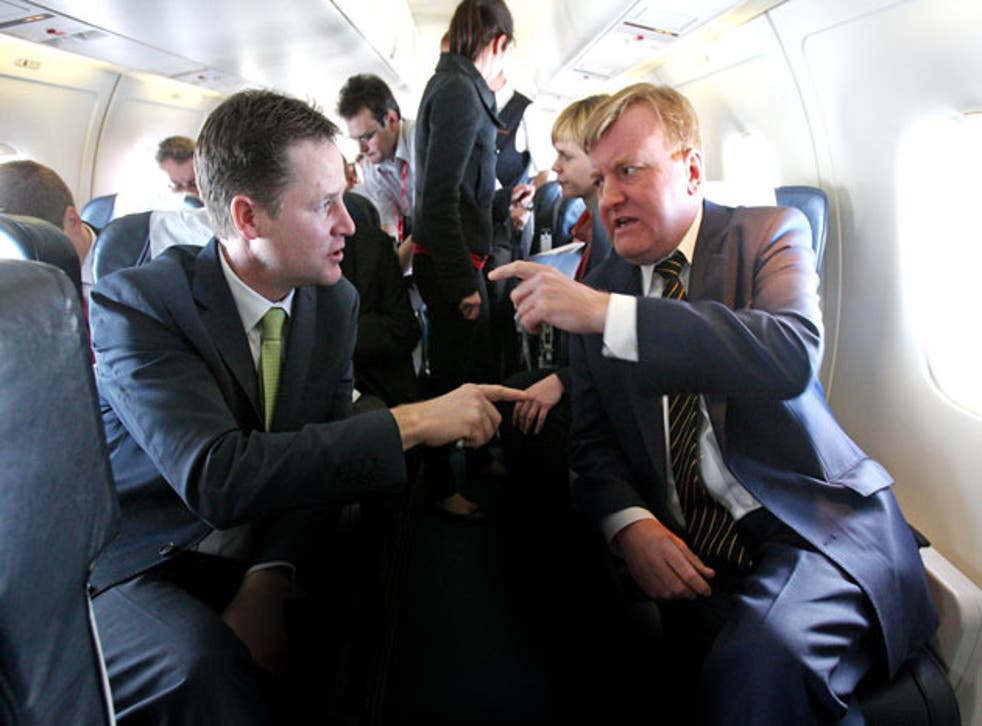 Nick Clegg's leadership was under growing pressure last night as allies urged him to articulate the Liberal Democrat message more frequently, clearly and aggressively.
The jittery atmosphere in his party was underlined by a bout of soul-searching prompted by internet rumours that its former leader, Charles Kennedy, was about to defect to Labour in protest at the coalition Government's programme of spending cuts. He eventually denied the claim categorically, but the episode has soured the Deputy Prime Minister's spell "minding the shop" while David Cameron takes his summer break.
It prompted speculation about further defections and private complaints that Mr Clegg was struggling to counter the impression that the coalition is Tory-dominated. One MP said last night: "Nick just does not look like he's enjoying the job."
The worries have been underlined by plunging Liberal Democrat opinion poll ratings and fears that the country will throw out plans for electoral reform in a referendum next year.
A Clegg ally said last night: "This is new territory for us, but we have got to consistently demonstrate we are having an impact on the coalition and retaining our identity. We have got to focus more on that impact."
He said Mr Clegg needed to promote more initiatives similar to last week's promise to boost social mobility – a commitment that is to become a key feature of the Liberal Democrat leader's personal agenda – that appealed to the party's grassroots.
Another senior source said Mr Clegg needed to achieve more policy "wins", such as over the renewal of the Trident nuclear deterrent, to demonstrate to doubters in his party that he was delivering on Liberal Democrat priorities.
The fear for many Liberal Democrat MPs is that although the party has achieved policy victories, such as raising the income tax personal allowance and introducing the pupil premium, its successes are being obliterated by the all-encompassing preparations for deep spending cuts.
Mr Clegg's team acknowledges that he needs to demonstrate the coalition administration is about far more than cuts – and to give the voters a sense of light at the end at the economic tunnel. An aide conceded: "We will seek all opportunities to go out and get our message across."
He said a move to appoint backbench spokesmen for each policy area would enable the party to communicate more effectively to voters. The party leadership is braced for a backlash from activists at the Liberal Democrat conference next month, when a policy paper discussing its future relationship with Labour could provide a focus for dissent.
Mr Clegg will leave his own conference early to deputise for Mr Cameron, whose wife Samantha is due to give birth next month, at a United Nations meeting in New York.
Reports that Mr Kennedy had discussed his future with Labour whips – confirmed on Friday by Labour sources – were described Mr Clegg as the "silliest of the silly season stories" and in more colourful terms by party spokesmen. But they sparked turmoil in Liberal Democrat high command as they attempted to track down their former leader for a denial.
Twenty-four hours later he told a Scottish newspaper: "I am not joining the Labour Party and have not had any discussions about it with anyone from the Labour Party. I will go out of this world feet-first with my Lib Dem membership card in my pocket."
Friends said Mr Kennedy, the only Liberal Democrat MP not to vote in favour of the coalition agreement, was "feeling isolated" and "in a bad place" following the collapse of his marriage.
Party sources played down the prospect of any defections by MPs to Labour in the near future, but admitted they were a possibility as the effect of the spending squeeze begins to be felt in constituencies. "We don't think anyone is so upset they are going to walk out, but that's not to say it won't happen at some stage," one said.
Labour has targeted Mike Hancock, the Portsmouth South MP, as a possible recruit. He admitted that he had received a serious approach from the veteran left-winger Dennis Skinner and refused to rule out defecting. He said: "It's too early to consider anything."
The Liberal Democrat peer Baroness Tonge said she had had "all sorts of chats with the Labour party" and told The Sunday Times she was prepared to resign the party whip if benefits for the poor and unemployed were cut in the spending review. She said: "In the Lords, a lot of senior figures in the party are unhappy."
Simon Hughes, the deputy Liberal Democrat leader, last week called for the party's MPs to have a veto over contentious coalition policies and dismissed suggestions of an electoral pact with the Tories at the next election.
His pronouncements are in line with the party's official position, but their tone struck a chord with Liberal Democrat MPs worried that the party was becoming too closely associated with its Tory coalition partners.
Labour attempted yesterday to exploit the Liberal Democrats' discomfort, with the leadership candidate, Ed Miliband, saying he was putting out the "welcome mat" for Liberal Democrats as the coalition deal with the Tories was causing "widespread unhappiness".
Mr Clegg will begin his second week in charge of running the Government by meeting a FIFA inspection team in London to examine England's bid to host the 2018 World Cup.
Tomorrow, he will host a meeting on teenage issues and face questions from a teenage audience in a town hall-style event.
Register for free to continue reading
Registration is a free and easy way to support our truly independent journalism
By registering, you will also enjoy limited access to Premium articles, exclusive newsletters, commenting, and virtual events with our leading journalists
Already have an account? sign in
Register for free to continue reading
Registration is a free and easy way to support our truly independent journalism
By registering, you will also enjoy limited access to Premium articles, exclusive newsletters, commenting, and virtual events with our leading journalists
Already have an account? sign in
Join our new commenting forum
Join thought-provoking conversations, follow other Independent readers and see their replies