Resignation of top Tory lord leaves a stain on PM's 'Ronseal' relaunch
Cameron and Clegg insist coalition is 'steadfast and united'
Andrew Grice
Tuesday 08 January 2013 01:05 Comments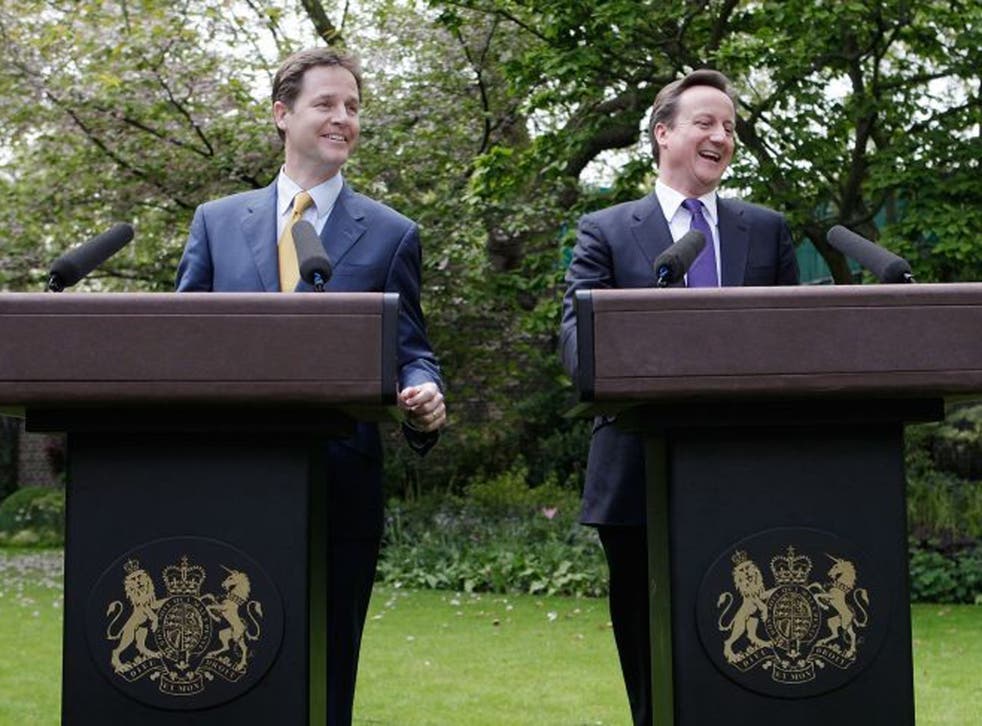 David Cameron and Nick Clegg vowed today that the Coalition would last until polling day 2015, as they emphatically committed themselves to a full five-year deal for the first time.
The Prime Minister and his deputy put on a show of unity as they published a mid-term review of the Coalition's work since 2010 and flagged up imminent policy announcements on care for the elderly and childcare.
Mr Cameron said: "To me it's not a marriage, it's a Ronseal deal, it does what it says on the tin." But the relaunch was marred by the surprise resignation of Lord Strathclyde, the Leader of the Lords.
And the review was criticised for being thin on new detail. Michael Dugher, Labour's vice-chairman, said the "Ronseal" label breached the Trades Description Act. "It's now clear there is nothing in the tin," he said.
Despite the convincing united front shown by Mr Cameron and Mr Clegg at a rare joint press conference, it emerged that there are still differences between the Coalition parties on at least two of the six new policies they signalled yesterday.
On childcare, Mr Clegg is battling for an extension of the current system under which the state provides 15 hours of free childcare for three- and four-year-olds during school terms. He is arguing that it would give more help to low-income families than allowing families to write off childcare bills against tax, which is preferred by the Chancellor, George Osborne. The result is likely to be a package combining both elements.
The Liberal Democrats are also cautious about Tory plans for new motorways and trunk roads and improvements to existing ones to be funded by tolls. Mr Clegg's party fears a backlash from motorists but Mr Osborne is keen to press ahead. Their dispute means a public consultation exercise will be held that is likely to delay any toll roads until after the 2015 election.
The other four areas on which new policies are promised are:
* a cap, possibly £75,000, on what people must pay for long-term care;
* a new minimum basic state pension, likely to be at least £140 a week;
* more help for families who cannot raise the deposit for a mortgage; and
* measures to limit state powers and extend personal freedoms.
However, the cap on care costs and the minimum pension might not take effect until after the next election.
Other differences between the two leaders were evident at yesterday's launch. The review document included a clear hint that Mr Osborne will soon announce transferable tax allowances for married couples, a move opposed by the Liberal Democrats, who will be allowed to abstain.
The report also promised a Commons vote on plans for new electoral boundaries which could give the Tories an extra 20 seats, even though Mr Clegg has vowed to block them.
The Liberal Democrat leader backed plans to cap benefit rises at one per cent but criticised the language of Tory ministers accused of portraying claimants as "scroungers". He said: "I don't think it helps at all to try to portray that decision as one which divides one set of people against another, the deserving and the undeserving poor, people in work and out of work." The two leaders agreed – politely – to disagree on Europe, on which Mr Cameron will soon promise a referendum.
The two leaders were anxious to portray a business-like, professional relationship rather than the "marriage" they were happy to celebrate in the Downing Street Rose Garden when the Coalition was formed in 2010.
Expanding on the Ronseal comparison, Mr Cameron said: "We said we would come together, we said we would form a government, we said we would tackle these problems, we said we would get on with it in a mature and sensible way, and that is exactly what we have done."
Mr Clegg added that the Coalition was doing "what it said on the tin" – providing stable, effective government for five years. He insisted that would not stop the parties setting out their separate stalls for the 2015 election.
Mr Cameron dashed the hopes of Tory MPs who want the Coalition to end well before polling day. "Some people thought our Coalition wouldn't make it through our first Christmas, but this Government is now well into its third year, because this Coalition was not and is not some short-term arrangement," he said. "It is a serious five-year commitment to give our country strong, stable and determined leadership that we need for the long term."
Pressure groups attacked the absence of detail on social care and pensions. Ros Altmann, director of Saga, said: "The principles outlined in the Coalition's mid-term review sound good but where is any of the detail?"
Simon Gillespie, who chairs the Care and Support Alliance, said: "We now urgently need clarity and certainty on what the future holds for the crumbling social care system."
Register for free to continue reading
Registration is a free and easy way to support our truly independent journalism
By registering, you will also enjoy limited access to Premium articles, exclusive newsletters, commenting, and virtual events with our leading journalists
Already have an account? sign in
Join our new commenting forum
Join thought-provoking conversations, follow other Independent readers and see their replies