Revealed: Fracking industry bosses at heart of coalition
Campaigners warn of potential conflicts of interest from energy-sector leaders advising on policy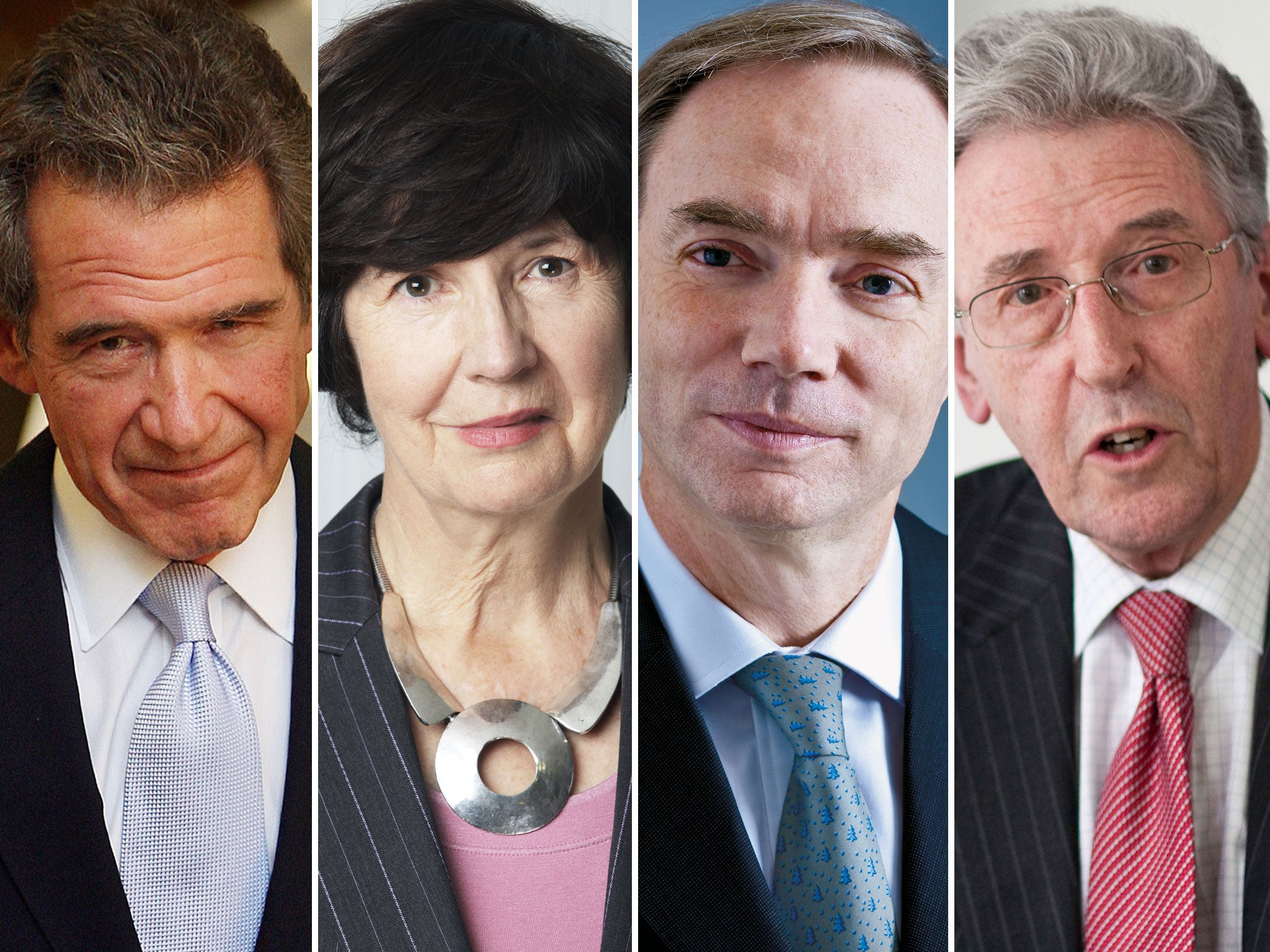 The coalition may be promoting the controversial practice of fracking for gas because senior figures from that industry sit in the heart of Government, campaigners have warned.
The former BP boss Lord Browne, Centrica chief executive Sam Laidlaw and BG Group director Baroness Hogg have all been accused of the potential for conflicts of interest, as they hold senior advisory roles at a time when the Government is heavily promoting fracking. This involves fracturing tightly packed shale rock with a high-pressure water and chemical mixture to release oil and gas.
Cuadrilla, which is chaired by Lord Browne, is searching for shale gas in Lancashire, but suspended operations there in 2011 after its drilling was found to be the likely cause of tremors in Blackpool.
The Government has signed up to the potential of shale gas after it transformed energy policy in the United States, despite severe criticism from environmentalists.
Last month, George Osborne spoke of "tax and planning changes which will put Britain at the forefront of exploiting shale gas". A recent report by the British Geological Survey found that the UK could have trillions of cubic feet of the gas in the North-west alone, but critics argue that it would be difficult to extract from deep beneath the ground even with modern drilling techniques.
Anti-fracking campaigners and industry insiders are concerned that major energy-sector figures have roles that gives them access to ministers in Whitehall. Among those said to be worried is a top executive at EDF, who believes that the Government's new-found commitment to shale has ended up hurting the French group's negotiations over building a nuclear power plant at Hinkley Point in Somerset.
There are more than 60 "non-executives" (Neds) who sit across Whitehall departments, largely drawn from Britain's most impressive corporate talent. Their job is to help ministries be run in a more business-like manner, and Lord Browne is the overall lead for this group.
Lord Browne sits within the Cabinet Office. The Cabinet Office minister Francis Maude's constituency includes Balcombe in West Sussex, another area where Cuadrilla is drilling. On his website, Mr Maude acknowledges that fracking "understandably rang alarm bells" after the tremors in Lancashire, but argues that "shale gas could help significantly by contributing both to improving our security and independence and to keeping prices down".
Mr Laidlaw has been the lead non-executive at the Department for Transport. Centrica, which owns British Gas, recently bought a one-quarter stake in Cuadrilla's most promising licence, which is the one in Lancashire.
Baroness Hogg sits in the Treasury, but she is also a non-executive director at BG Group, which has extensive shale gas interests in the US. There is no suggestion of any wrongdoing by any of these advisers.
Elsie Walker, a campaigner with the anti-fracking group Frack Off, said it is easy to argue that there is a "line blurred between the shale-gas lobby and Government". She added that the Government is "littered" with people who have current or recent ties to the fracking industry.
Ms Walker argued: "It doesn't take a genius or a cynic to realise that those who stand to make a serious amount of money from the success of a particular industry should be nowhere near those who will be making decisions that will influence the future health of that industry."
A Government spokesman said: "All non-executive directors declare their interests to their departments to ensure there is no conflict of interest, and departments will make the necessary arrangements to manage any potential conflicts in the normal way. None of the Neds named sit on the board of the Department of Energy and Climate Change and therefore there is no conflict of interest."
Conflicts of interest?
Lord Browne
The former BP boss is chairman of Cuadrilla, which is exploring for shale gas in Lancashire and West Sussex. He is lead "non-executive" across Government, meaning that he helps recruit other non-executives to Whitehall.
Baroness Hogg
The non-executive for the Treasury sits on the board of BG Group, which has significant shale gas assets in the United States.
Sam Laidlaw
The non-executive to the Transport Department is also chief executive of British Gas owner Centrica, which recently bought a 25 per cent stake in Cuadrilla's most promising shale gas prospect.
Ben Moxham
A former executive at BP when Lord Browne was at the helm, he followed the peer to Riverstone Holdings, which owns 42 per cent of Cuadrilla. Moxham was energy adviser at No 10 but quit in May.
Lord Howell
George Osborne's father-in-law is also president of the British Institute of Economics, whose backers include BP and BG Group.
Join our commenting forum
Join thought-provoking conversations, follow other Independent readers and see their replies