Revealed: how the City bankrolls Tory party
Donations from financiers quadruple in five years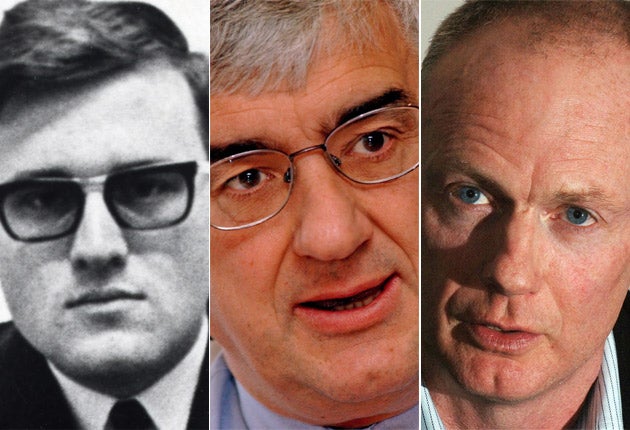 The Conservative Party has become reliant on bankers, hedge fund managers and private equity moguls for more than half its annual income, an independent analysis of Tory finances has revealed. Since David Cameron became Conservative leader in December 2005, the amount of money the City has given to bankroll the Tories has gone up fourfold, to £11.4m a year. Over those five years, the City has donated more than £42m to the party.
The research, conducted by the Bureau of Investigative Journalism, highlights how reliant the party has become on the City at a time when David Cameron and George Osborne are under pressure to reform the financial sector.
Since Mr Cameron assumed the leadership, the Conservative Party has become twice as dependent on City funding: from 25 per cent of its total donations to nearly 51 per cent in 2010.
Yesterday Mr Osborne said that he was hopeful of coming to a deal with the banks over increased lending for small businesses by next Tuesday. But that is unlikely to do much to lessen public outrage as Britain's major banks prepare to unveil their multibillion-pound bonus pools for senior staff.
The new research will fuel concerns that the Government is too close to the City and unwilling to tackle the culture of enormous rewards – from which the Tories themselves are benefiting.
Just 10 City figures are responsible for giving £13.2m to the Tories over the past five years – 13 per cent of total Conservative Campaign Headquarters funding.
In the first nine months of 2010 alone, 57 City individuals paid more than £50,000 to the party. This level of backing entitles them to membership of the "Leader's Group" – and, according to Conservative Party literature, to numerous opportunities to meet "David Cameron and other senior figures from the Conservative Party at dinners, post-PMQ lunches [and] drinks receptions."
The analysis, which used Electoral Commission and Companies House records, shows:
* Square Mile donations to the Tories since 2005 amount to £42,756,398. Total Conservative Party donations since 2005 were £101,253,025.
* Two of the top 10 City donors were granted peerages last year: Stanley Fink and George Magan.
* Six out of 10 donations from individuals to the Tories in 2010 (£9,150,064) came from financiers.
The Bureau's study also found that bankers and financiers deeply linked to the global banking crisis paid £478,500 to the Tories over the past five years. Jeremy Isaacs, the former head of Lehman Brothers in Europe and Asia, gave £190,000 in the past five years, with £100,000 donated last year as Mr Isaacs fully returned to City life, launching a new metal trading business.
Roger Nagioff, formerly head of fixed trading at Lehman, who left the collapsed bank seven months before it was forced into administration, has donated £180,000. The majority was donated in the past year.
The Tories also received £53,620 from R20, an investment vehicle connected to Robert Tchenguiz. Companies linked to Mr Tchenguiz were major borrowers from the failed Icelandic bank Kaupthing, and controversially also held shares in Kaupthing.
Quinlan Private Capital, a company run by the Irish property investor Derek Quinlan, donated £46,500 to the Tories. Mr Quinlan invested in property through money mostly loaned from Irish and Scottish banks, which at the height of the crisis left the banks nursing huge losses on these investments.
There is no evidence to suggest that any individual has used their influence to demand a relaxed approach to bank, hedge fund or private equity remuneration, tax or leverage limits.
Dr Stuart Wilks-Heeg, an authority on political party funding from the University of Liverpool, said: "The findings raise issues about how influenced and impartial the Conservatives are as they set about reforming and regulating the banking industry.
"It is admittedly difficult to prove that because parties access money from specific sources there is a feed-through into the policies they adopt.
"Yet, given that we have just experienced a blow-out in the financial system, and are witnessing an ongoing struggle over its regulation, the scale of Conservative Party funding from the City must be an issue – not least for a party committed to 'taking big money out of politics'. This is a very important piece of work."
A Conservative spokesman said: "This is childish drivel... After [George Osborne] has introduced the toughest rules on bankers' pay anywhere in the developed world, it beggars belief that anyone could claim that Conservative donors are influencing policy.
"It would be more pertinent to ask why Labour continue to allow their policy to be dictated by the unions, who provide 80 per cent of their funds."
The man tasked with raising funds for the Conservative Party between 2006 and 2010 was Michael Spencer, chief executive of the stockbrokers Icap and for that time Tory treasurer. He and Stanley Fink, former chief executive of the hedge fund Man Group, used their City contacts to boost the party's election war chest.
Top 10 City donors
David Rowland, financier: has donated £4,031,016 since 2005
For a man who once persuaded Prince Andrew to unveil a statue of him, David Rowland is notoriously camera-shy. The only publicly available images of the property tycoon are black and white photographs from the 1970s. Last year Mr Rowland agreed to take over from Lord Ashcroft as Treasurer of the Conservative Party, but he resigned within weeks, uncomfortable over the level of scrutiny attached to the job.
Michael Farmer, hedge fund: £2,973,850
Dubbed "Mr Copper", Mr Farmer is responsible for shipping around 15 per cent of China's copper supplies around the world. He founded RK Capital Management, whose main fund, Red Kite, is one of the biggest industrial metals hedge funds in the world. But despite his wealth, few people – outside the metal markets and his local church – would recognise him.
Stanley Fink, hedge fund: £1,945,141
Fink was the man the Tories turned to to take over as the Conservative Party's Treasurer following the resignation of David Rowland. Labelled the "Godfather" of the hedge fund industry after a long stint at Man Group, he now runs hedge fund International Standard Asset Management and is believed to have a personal fortune of over £100m.
Michael Hintze, hedge fund:£1,235,000
As head of the hedge fund CQS, managing over £4bn in assets, he correctly predicted the order in which the banks would fall in the crash of 2008. His company's fund was up by 73 per cent during the year of the crash. His personal wealth has been put at £250m but he lives modestly with his family in Balham, south London, and has donated £20m to good causes such as the National Gallery. His four children were all educated at state schools.
Adrian Beecroft, private equity: £537,076
The former chief investment officer at Apax Partners, listed as Paul Adrian Beecroft in electoral donation records, is one of Britain's most generous philanthropists. He founded the Beecroft Institute of Particle Astrophysics and Cosmology at Oxford University and has extended his largesse to the Tory cause.
James Lyle, hedge fund: £500,000
Co-founded New York-based hedge fund Millgate Capital in 1997. Previously worked at bankers Morgan Stanley and ran the hedge fund Tiger Management.
Jon Wood, hedge fund: £500,000
The second biggest Tory donor during the election period, he said he gave the money because he was "impressed" by Mr Cameron. But his donation raised eyebrows in Westminster because Mr Wood took part in a long legal battle against the British government over the nationalisation of Northern Rock. Mr Wood, who was the biggest shareholder when the lender collapsed, argued that the bank was not bankrupt and that shareholders should have been compensated for the forced nationalisation. The case is with the European Court of Human Rights.
Peter Hall, investment fund: £493,540
Head of the ethical investment fund Hunter Hall, and owner of 26 per cent of the magazine Prospect alongside George Robinson. Every year the fund gives 5 per cent of profits to causes chosen by its shareholders, as well as 25 per cent of his personal income to help save animals facing extinction.
George Magan, banker: £485,000
Lord Magan was a deputy governor of the troubled Bank of Ireland and is a former Conservative Treasurer. The corporate financier made about £20m from his first business, Hambro Magan, and worked on high-profile deals such as Ford's purchase of Jaguar.
Paul Ruddock, hedge fund: £465,000
Co-founder and chief executive of Lansdowne Partners Limited, which took tens of millions of pounds in short positions in Halifax Bank of Scotland (HBOS), Barclays and Northern Rock during the height of the crisis.
Oliver Wright
Join our commenting forum
Join thought-provoking conversations, follow other Independent readers and see their replies