Revealed: How Tory high command has tried to spin Cameron out of trouble
Anxious to appease true-blue Conservatives angry at George Osborne's botched Budget, ministers have been ordered to serve up right-wing policies
Oliver Wright
Thursday 19 April 2012 21:51 Comments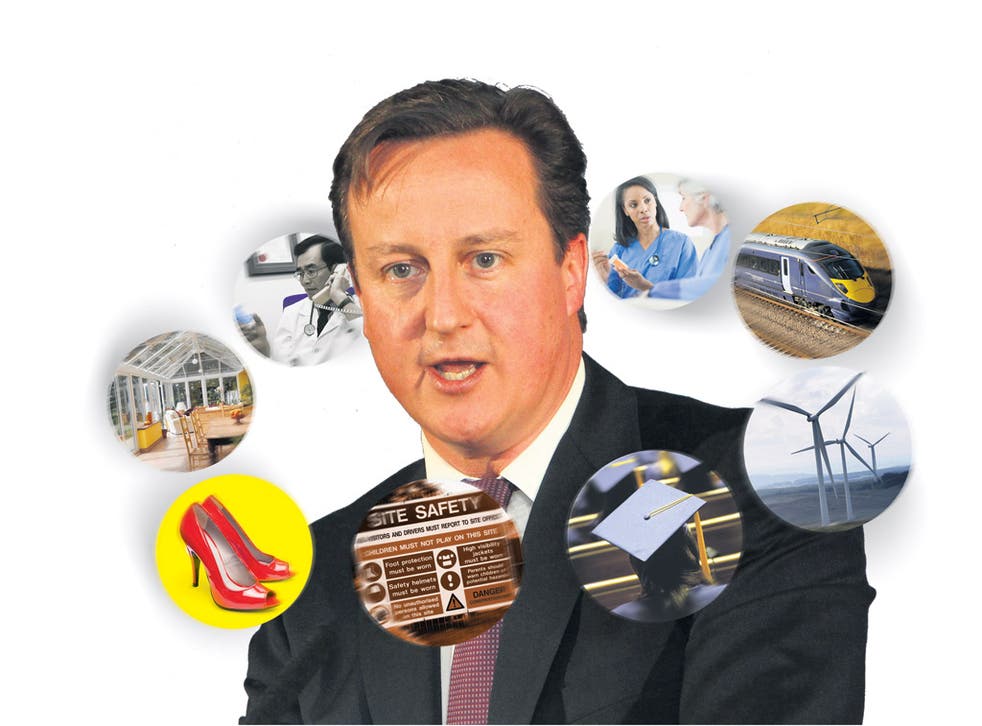 Conservative ministers have been ordered by Downing Street to come up with eye-catching right-wing initiatives to deflect media attention from the Government's Budget woes. Fearful that bad publicity about granny, pasty and charity taxes has alienated their core voters ahead of the local elections next month, ministers have been told to scour their departments for stories to put them on the front foot.
And the fruits of their labours have begun to appear in the pages of newspapers – but sadly for the spin doctors with little effect on four weeks of negative Budget coverage. An analysis of political coverage over the last few weeks reveals a string of initiatives that have been coming out of ministries on sometimes a daily basis. On Monday it was reported that ministers were preparing to veto major new wind farms being built in the countryside – a key complaint of rural Conservative activists. "It's about being balanced and sensible," the Tory climate change minister Greg Barker said. "There have been some installations in insensitive or unsuitable locations – too close to houses, or in an area of outstanding natural beauty."
The next day it was the turn of Number 10 itself to try and make the news with an announcement that the Government was planning a drive to "raise nursing standards".
"Nothing counts more than a friendly face and a calming word," Mr Cameron said as he announced the creation of Nursing Care Quality Forum.
On Wednesday doctors came under the Government's initiative spotlight as Andrew Lansley announced a consultation on plans for, "foreign doctors [to] have to prove they can speak English before they can practise in England". Eagle-eyed politicos – and indeed doctors themselves – might have found something oddly familiar in the Health Secretary's words. Last October, it transpired, Mr Lansley had announced something rather similar.
"After 13 years of inaction from Labour," he said then, "we will amend the legislation to prevent all foreign doctors with a poor grasp of English from working in England."
Other targets of the Tory initiatives have included Pakistani students, Europe and trains that don't run on time.
Last week journalists travelling with the Prime Minister to Asia were assembled for a strange teleconference call with a political adviser to Theresa May thousands of miles away in London. She explained details of a Home Office initiative to force Pakistani students, coming to Britain to study, to face interviews to make sure that they can speak English. "The message to bogus students is clear: you will be found out and you will be stopped from coming," was the quote in next day's papers.
Back in London three days later the Employment minister Chris Grayling was launching a battle across the Channel against an EU "nanny state" health- and-safety directive that would enforce regular breaks for hairdressers and ban them from wearing high-heeled shoes at work. "We should be creating jobs, not killing them," he thundered in the Daily Mail. "This kind of stupidity has to stop."
Meanwhile, at the Department of Transport, ministers are reportedly re-examining long-standing regulations that allow trains to run late but still be classed as "on time". "Punctuality is very much on our radar," they said.
Whitehall sources said despite the Government officially being in "purdah" – the month before elections when it is expected to cease making major announcements – ministers and their aides had been under pressure to set the agenda. "Downing Street has been desperate to move the news agenda on from the Budget and has been scouring Whitehall for things to announce," said one insider. "They want to show we're on the front foot and are looking for issues that are consumer friendly. The trouble is finding them."
"You can tell when they're under pressure because you have them on the phone the whole time," they said. But they admitted it was not really working. "There is a feeling among some of us that we should get the big announcements right rather than trying to deflect attention from mistakes with small ones."
Spin cycle: How the Tories have got the headline-writers on their side
10 April Daily Mail
"Don't wear high heels to work"
11 April Daily Mail
"Panel set up to bust health and safety myths"
13 April Daily Mail
"Pakistani students to be made to have visa interviews to ensure they speak English"
13 April Daily Telegraph
"Less leeway for late trains"
16 April Daily Telegraph
"Onshore windfarms to be stopped"
16 April Daily Mail
"Cameron vetoes conservatory tax"
17 April Daily Mail
"Foreign doctors to undergo language tests
17 April Daily Telegraph
"A friendly face back on the wards"
Register for free to continue reading
Registration is a free and easy way to support our truly independent journalism
By registering, you will also enjoy limited access to Premium articles, exclusive newsletters, commenting, and virtual events with our leading journalists
Already have an account? sign in
Join our new commenting forum
Join thought-provoking conversations, follow other Independent readers and see their replies