Review of UK politics in 2012: It was the Seventies all over again
'At least Cameron wasn't booed, as Osborne was at the Games'
Steve Richards
Saturday 22 December 2012 01:00 Comments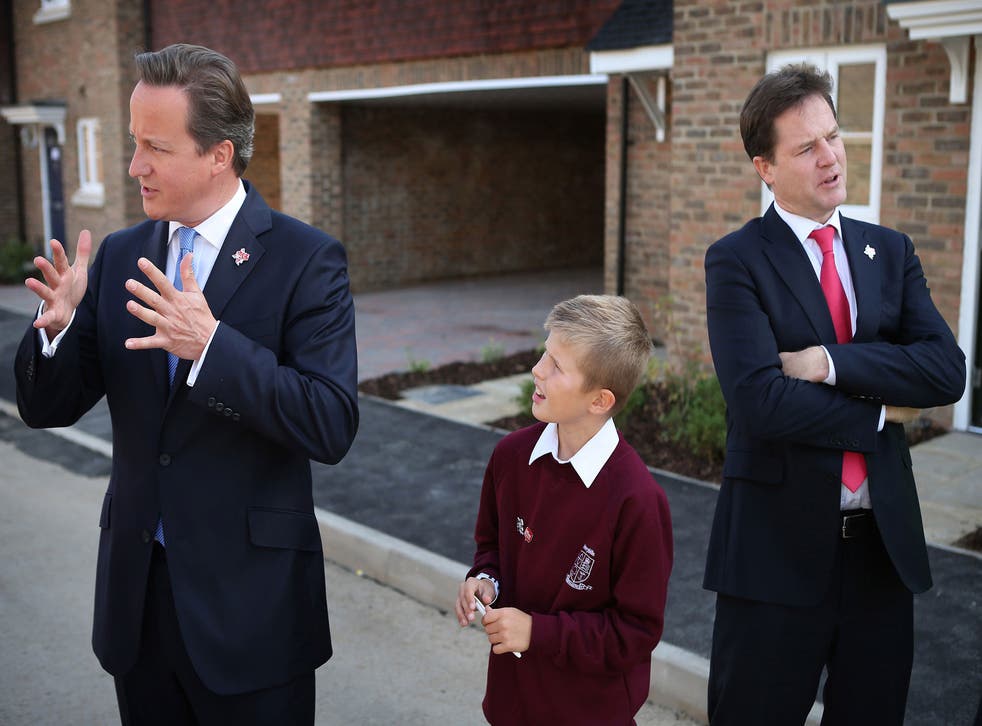 After all the strange, funny and serious political dramas of the past 12 months, we are more or less back to where we started. The coalition is determinedly stable while being precariously fragile. Like last Christmas, David Cameron has cause to be worried and Nick Clegg to be alarmed about future electoral prospects. Yet for much of the year they have appeared calm, as if armed with invisible shields protecting them from the storms.
Behind the shields there was a significant shift within the coalition and in the way it was perceived. The key event was George Osborne's budget, one in which both Prime Minister and Chancellor ended up having to explain when they had last eaten a Cornish pasty, a consumption that suddenly became a symbol of the degree to which they were engaged with the electorate.
In one of the most inept budgets of recent decades, Osborne raised the taxes on pasties. An anguished cry went out across selected parts of the land: "When did those toffs last eat a pasty?". Osborne was not seen in public for weeks so he did not have to answer the question. Cameron declared that he had enjoyed a pasty at Leeds Station only to discover there was no shop selling the contentious item at this particular location. The silly furore was one of several that arose from a budget that caused chaos for months.
It also gave Labour an accessible policy to protest against: the cut in income tax for high earners. Liberal Democrats had briefed energetically in advance of the budget in the hope that they would get credit for some of the progressive measures. In the event they got no political dividend, while so much of the budget was leaked that Osborne might as well have said: "You've read it all in the newspapers. Thank you and goodnight".
The ceremonial dimension of the Olympics captured the changing political mood brought about partly by the budget. In the same way Hamlet trapped Claudius into watching a re-enactment of the latter's royal fratricide, Cameron was forced to applaud as the Olympics opened partly with a celebration of the NHS, an institution being subjected to unprecedented reform. At least he was not booed, as Osborne was when making a public appearance at the Games.
Still, Cameron and Osborne can cling to the hope that they may still win the election. Nick Clegg instead keeps his fingers crossed for credible survival at the next election. In policy terms, his failure to make progress with House of Lords' reform was a substantial setback raising further questions about how much the Liberal Democrats are getting from the coalition.
After the summer break, Clegg returned apparently fresh and ready to say "sorry" for what had happened in relation to tuition fees. It was a cleverly thought-through apology, in which he said "sorry" for the pledge not to raise fees and not for the increase that followed the election. But Clegg struggled to be heard in 2012. Within a day, a musical video mocked his apology and was soaring up the YouTube charts. It is a reflection of his fragile position that he was almost relieved to be greeted by mockery rather than the fury of the early months in power. None the less, Clegg can take comfort from the discipline of his party, some policy gains on tax and welfare and the way in which the coalition survived the storms.
There is one small difference from 12 months ago. Last January there was much speculation, in parts of the Labour Party as well as in the media, that Ed Miliband would not survive as leader. A series of solid performances since, not least his party conference speech, makes him at least as secure as the other two main party leaders. Miliband has passed some early tests of opposition, performing fairly well at Prime Minister's Questions, winning by-elections and, more importantly, framing a partially compelling story around tumultuous external events, a narrative about fairness, markets and living standards. So far he has only sketched out early chapters, some of it is incomprehensible and the bigger tests are still to come, but he can afford a degree of satisfaction.
He has made a small mark during a year that felt like the mid-1970s, a hung parliament, economic crisis, Europe a dominant issue, a fragile government plodding on and no leader sure of their fate at the next general election. Expect more of the same in 2013.
@Ianvisits If there is a petrol shortage, how will I drive to Greggs to stock up on pasties before the tax hike makes them a luxury food?
Ian Mansfield, blogger
@mrmarksteel I missed the budget. I expect he confiscated the unearned wealth of rapacious bankers to distribute among the people. I'll check later
Mark Steel, comedian and columnist for The Independent
@kevmcveigh Why did 80,000 people boo George Osborne? Because that's the maximum capacity of the Olympic Stadium
Kevin McVeigh, blogger
ChrisBryantMP Are there 249,999 others out there who will chip in a £ to persuade Cameron/Osborne to reverse #grannytax?
Chris Bryant, Labour MP for Rhondda
@frasernels Ed Miliband is certainly right on one thing: the NHS Bill "is a disaster". Must rank amongst top-10 parliamentary screwups of all time
Fraser Nelson, editor of The Spectator
@gavinshuker Gideon apologises for communication of the budget. The Titanic didn't have a communication problem. It had an iceberg problem. #osbornomics
Gavin Shuker, Labour MP
@paulwaugh Witney resident: "I looked up + realised the sky was moving in 2 different directions". Eyewitness re tornado. Not the PM on the Coalition
Paul Waugh, editor of politicshome.com
@johnprescott Would you like a cup of tea? Cameron: "Yes. No. I'll put it to a referendum. Possibly." He's not the Heir to Blair. He's Major Minor!
John Prescott, former Deputy Leader of the Labour party)
@sunny_hundal Speech finished. Ed Mili has pulled off the near impossible: impressed most people and united the party with his delivery #lab12
Sunny Hundal, blogger
Register for free to continue reading
Registration is a free and easy way to support our truly independent journalism
By registering, you will also enjoy limited access to Premium articles, exclusive newsletters, commenting, and virtual events with our leading journalists
Already have an account? sign in
Join our new commenting forum
Join thought-provoking conversations, follow other Independent readers and see their replies