The US will be Britain's 'steadfast ally' during Brexit, Rex Tillerson promises
The United States Secretary of State said the UK faced "unique challenges" as it withdrew from the European Union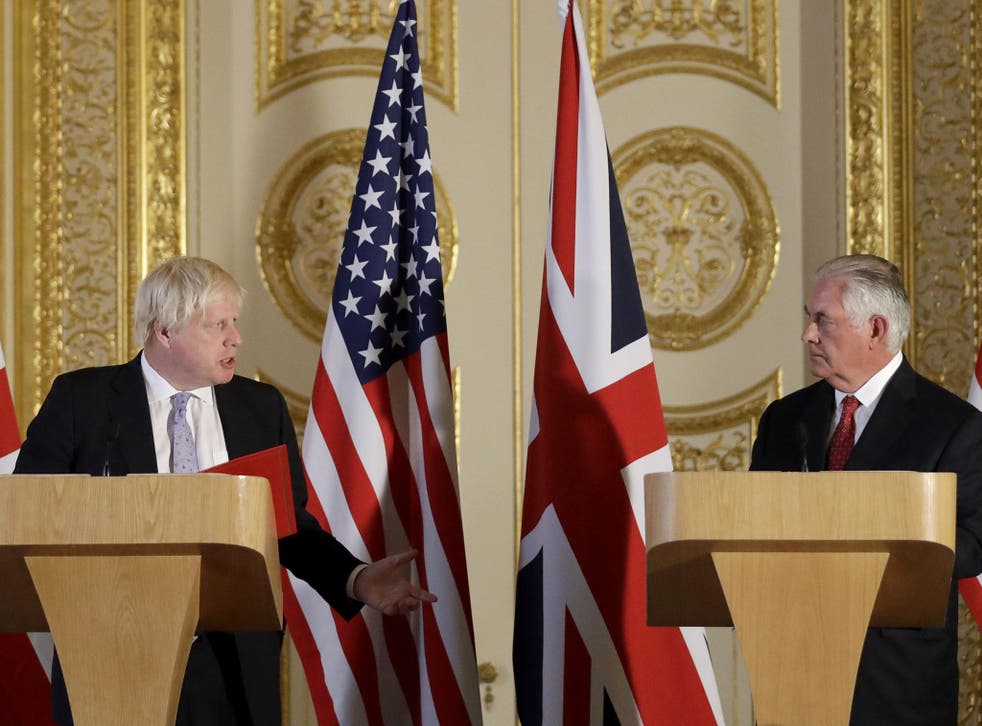 US Secretary of State Rex Tillerson said the United States is a "reliable friend" to the United Kingdom and would be its "steadfast ally" as the country leaves the European Union.
Speaking in London after talks with Foreign Secretary Boris Johnson and Theresa May, Mr Tillerson said the United States would stand by Britain during the "unique challenges" of Brexit.
At a joint press conference, the former oil executive said: "Whilst Brexit does present unique challenges to the British people, please know that you have a steadfast ally in the United States.
"We will stand by our ally as Brexit continues to take shape."
Mr Johnson has just returned from the Caribbean where he witnessed the joint relief efforts between the UK and the US in the aftermath of Hurricane Irma.
Mr Tillerson said: "The co-operation through that event has been extraordinary. All of us set down our own concerns and said 'What can we do to help each others' citizens?' and we're very thankful for that.
"We're also committed to take that same spirit into the aftermath and how can we work together and co-ordinate now to complete the recovery and begin the long, long process of reconstruction in a way that is beneficial to everyone."
The Foreign Secretary, who had just returned from a trip to see the devastation in the Caribbean, set out the UK's efforts to support its overseas territories.
He said he would chair a meeting of the Cobra emergency committee to check the progress of the response as Commonwealth Minister Lord Ahmad was due to arrive in the Turks and Caicos.
Underlining the international co-operation, Mr Johnson said RFA Mounts Bay would pick up fresh aid supplies from the US Virgin Islands and thanked both America and France for help in evacuating Britons.
Mr Johnson and Mr Tillerson were joined by colleagues from Italy, Egypt, the United Arab Emirates and France for a meeting on Libya – a "front line in our common struggle against terrorism and illegal migration".
The Foreign Secretary said the countries had a shared goal to "break the political deadlock" and rally behind the United Nations' efforts to bring all sides together.
On North Korea, Mr Johnson said Pyongyang had "defied the world" adding that sanctions would be imposed in a way that maximised the pressure on the regime.
"We resolved to continue to work together and with important partners who can influence North Korea – including China – with the aim of securing the complete and irreversible denuclearisation of the Korean peninsula," he said.
Register for free to continue reading
Registration is a free and easy way to support our truly independent journalism
By registering, you will also enjoy limited access to Premium articles, exclusive newsletters, commenting, and virtual events with our leading journalists
Already have an account? sign in
Register for free to continue reading
Registration is a free and easy way to support our truly independent journalism
By registering, you will also enjoy limited access to Premium articles, exclusive newsletters, commenting, and virtual events with our leading journalists
Already have an account? sign in
Join our new commenting forum
Join thought-provoking conversations, follow other Independent readers and see their replies