Rishi Sunak slammed for 'helicopter lifestyle' as he claims to be 'on the side' of drivers
Shadow attorney general Emily ­Thornberry condemned Mr Sunak's 'helicopter lifestyle'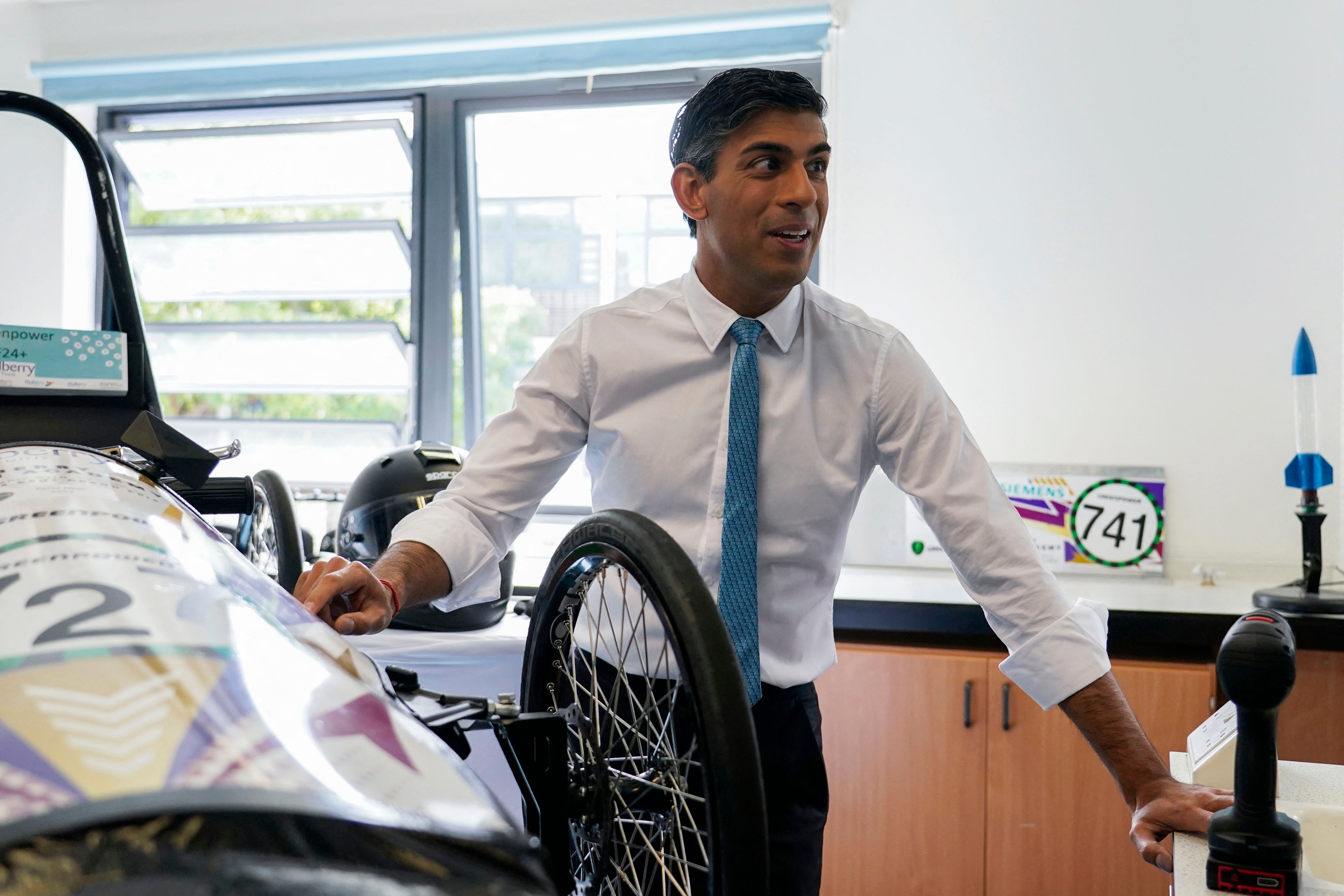 Rishi Sunak has been criticised for living a "helicopter lifestyle" despite claiming to be "on the side" of motorists.
The prime minister has come under fire for taking a 200-mile helicopter trip to attend a campaign event in Wrexham, North Wales, despite the fact that the journey by train would have taken just 10 minutes longer.
It came as Mr Sunak claimed he was "on the side" of drivers amid rising concerns about the cost of policies aimed at curbing the use of cars.
The PM has repeatedly come under fire for using a helicopter to travel to campaign events and official visits. In May he was branded "out of touch" for paying more than £10,000 to fly by private helicopter to a Tory party dinner in Wales.
And attacks on Mr Sunak stepped up after he flew in a luxury Bell 429 GlobalRanger on Friday to visit the premises of online retailer Net World Sports. The journey from London to Chester would have emitted more than a tonne of CO2 into the atmosphere during the hottest month yet recorded.
Shadow attorney general Emily ­Thornberry condemned Mr Sunak's "helicopter lifestyle", adding: "On one issue after another, he is being found out."
And a Labour source told the Sunday Mirror: "It's ironic that the prime minister insists on this form of travel when mortgages are sky-high thanks to choices the Tories made.
"Working people are being walloped by his failure every single day, but Rishi Sunak continues to have his head in the clouds."
It came as Mr Sunak used an interview to tell drivers he is "on their side", ordering a review of anti-car schemes that have been criticised for piling pressure on motorists during the cost of living crisis.
The prime minister said that most people rely on their cars, and that "anti-motorist" policies fail to take account of how "families live their lives".
He told The Daily Telegraph: "The vast majority of people in the country use their cars to get around and are dependent on their cars. When I'm lucky enough to get home to North Yorkshire, it's more representative of how most of the country is living, where cars are important.
"I just want to make sure people know that I'm on their side in supporting them to use their cars to do all the things that matter to them."
He shared a picture of himself in Margaret Thatcher's 1973 Rover P6 as he claimed that the importance of cars is something "anti-motorist Labour just don't seem to get".
"And it's why I'm reviewing anti-car schemes across the country," he said.
But Ms Thornberry said Mr Sunak is only "on the side of the motorists from 3,000 feet above".
"If the PM thinks the only way he can travel round Britain is by helicopter, let him say so, but stop taking us for fools by constantly trying to hide it," she said.
Labour MP Darren Jones branded him "Chopper Rishi", accusing him of making pronouncements "from the sky above us all".
The PM ordered a review of the rollout of low-traffic zones amid Tory backlash over the scheme, which some have dubbed an "attack on motorists". He has told the Department for Transport to review its policies on low-traffic neighbourhoods (LTNs).
The pitch to motorists and car owners comes after the Conservatives' narrow victory in the Uxbridge and Ruislip by-election earlier this month, which saw the Tory candidate tap into local concerns about the expansion of London's ultra-low-emission zone (Ulez).
That success has seen some Tory MPs on the right of the party urge Mr Sunak to engage in a rethink on net zero, in the hope of attacking Labour's green ambitions.
The spread of LTNs in recent months has emerged as a concern among some on the right of the Conservative Party. But Mr Sunak knocked back calls to change the deadline for the 2030 ban on the sale of new petrol and diesel cars.
He said: "The 2030 target has been our policy for a long time and continues to be. We are not considering a delay to that date."
Join our commenting forum
Join thought-provoking conversations, follow other Independent readers and see their replies