Rishi Sunak urged to disclose how his wealth is being invested after setting up a blind trust
'Without independent oversight, we are entirely in the dark as to how effective these measures really are'
Rob Merrick
Deputy Political Editor
Monday 26 October 2020 15:01 Comments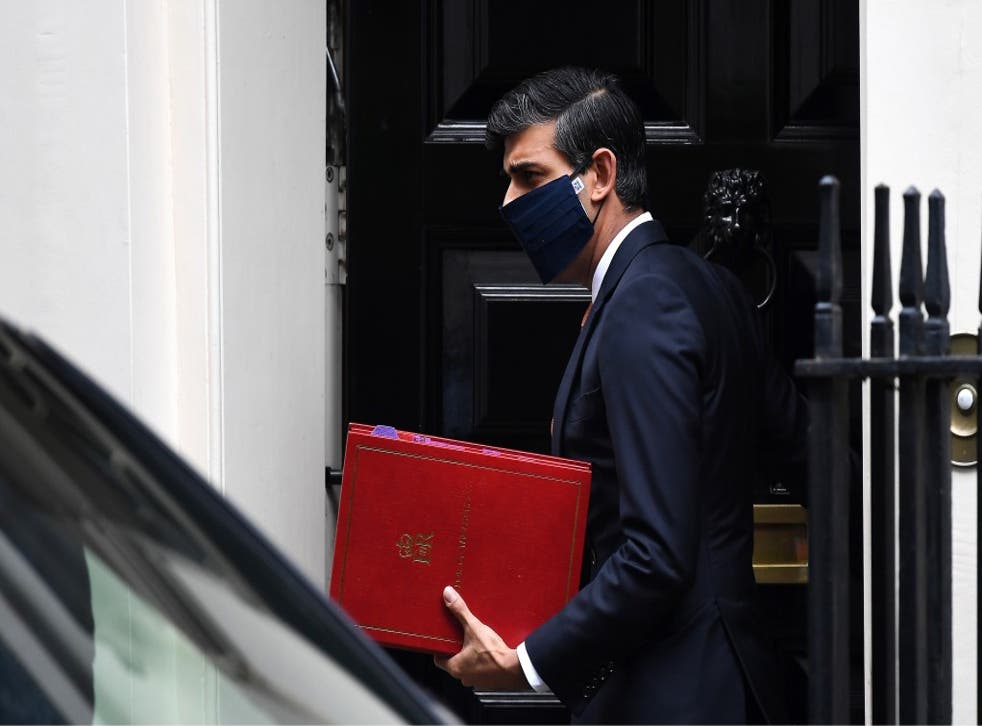 Rishi Sunak is being urged to disclose how his vast personal wealth is being invested, after setting up a blind trust while he is a Cabinet minister.
The Chancellor must clear up any potential conflicts of interest – including whether any funds are held offshore – so the public is not "entirely in the dark", campaigners and Opposition parties say.
The blind trust was set up last year, after Mr Sunak was appointed Chief Secretary to the Treasury, and he is the first Chancellor to use one since such information was first published in 2009.
The use of trusts has declined in recent years, after criticism. Only one other cabinet minister, the justice secretary Robert Buckland, and seven ministers in total have one – down from 13 in 2015.
Critics have highlighted how there are no requirements set down for the design or operation of these trusts, and ministers do not have to reveal who is overseeing them.
Duncan Hames, policy director at Transparency International UK, said blind trusts "have the potential to resolve the conflict of interests ministers' existing investments can present".
But he added: "Without required standards for their design and operation – and independent oversight – we are entirely in the dark as to how effective these measures really are."
And Susan Hawley, executive director of Spotlight on Corruption, said: "Blind trusts were meant to help manage conflicts of interest but there is always a danger they will be used to hide financial interests from public view. It is essential that the contents of any such trust are made public."
But a Treasury source said Mr Sunak had followed the process set out in the ministerial code and that Alex Allan, the independent adviser, was satisfied with the arrangements.
Blind trusts are meant to help ministers to avoid conflicts of interest, because they are controlled by a third party which means Mr Sunak will not know whether shares are traded.
However, although immediate control over investments is relinquished, a minister still knows what was put into the trust when it was created.
Abena Oppong-Asare, a Labour Treasury spokeswoman, said: "Rishi Sunak needs to be completely transparent with the public about whether any of the funds he invested in a blind trust are held in offshore tax havens."
And Ed Davey, the Liberal Democrat leader, said: "Sunak must own up to how blind this trust actually is. With public trust in this government plummeting, greater transparency in all their dealings is essential."
The controversy is not new, as Theresa May came under pressure to reveal what was in hers when she became prime minister.
David Cameron sold all his shares in June 2010, to avoid having a blind trust while in No 10, and Boris Johnson does not have one.
Mr Sunak is the UK's richest MP, after starting his career with the investment bank Goldman Sachs before setting up his up his own hedge fund, Theleme Partners, in 2010 with an initial fund of $700m.
He is married to Akshata Murthy, the daughter of the Indian billionaire NR Narayana Murthy who co-founded the global IT company Infosys.
The Treasury source said: "Blind trusts are longstanding mechanisms for protecting ministers in the handling of their interests. "
They ensure ministers are not involved in any decisions on the management, acquisition or disposal of items in the arrangement."The Treasury has been asked to respond to the criticisms of a lack of transparency
Register for free to continue reading
Registration is a free and easy way to support our truly independent journalism
By registering, you will also enjoy limited access to Premium articles, exclusive newsletters, commenting, and virtual events with our leading journalists
Already have an account? sign in
Join our new commenting forum
Join thought-provoking conversations, follow other Independent readers and see their replies