Rochester by-election: Boris nowhere to be seen as Tories appear briefly to fight Ukip
London Mayor told to stay away as constituency was to be home to his airport, but many Tories make a flying visit
Oliver Wright
Tuesday 18 November 2014 20:26 Comments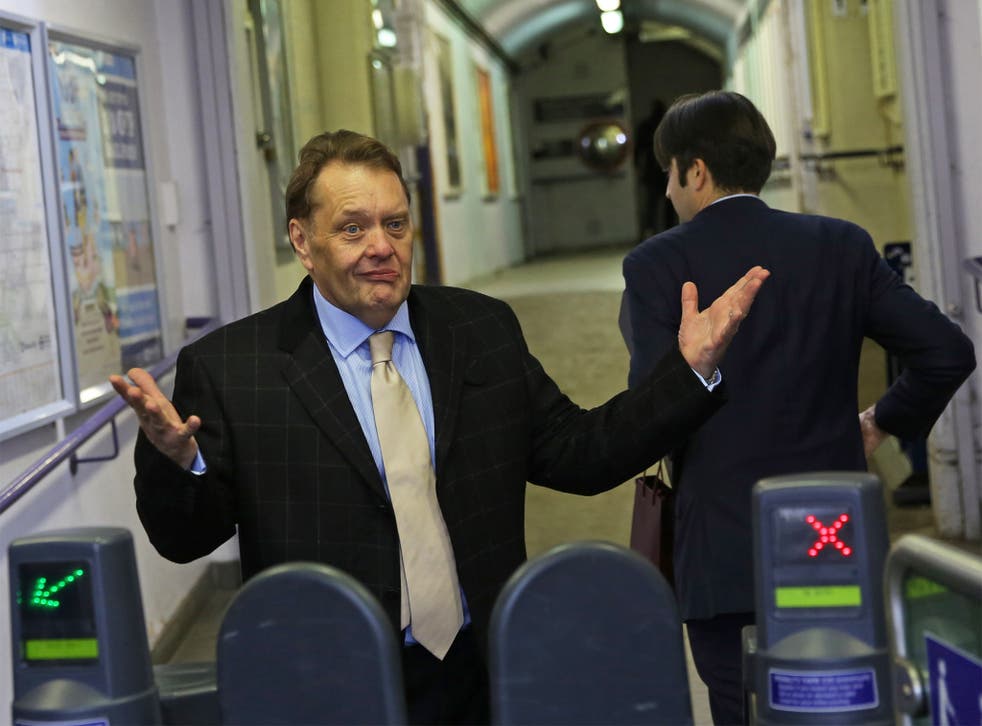 When David Cameron launched the Conservatives' battle to defend Rochester from a Ukip insurgency ahead of this week's by-election, he instructed each of his party's 303 MPs to make at least three trips to campaign in the constituency. The Tories, he said, are "throwing the kitchen sink" at the fight.
But now it appears that Conservative MPs have been sticking to the letter rather than the spirit of the Prime Minister's edict – and have a rather loose interpretation of how much time "campaigning" involves.
For the last two days The Independent has set up shop outside Rochester train station to catch the comings and goings of Conservative MPs arriving to canvass for their candidate Kelly Tolhurst.
And of the 15 or so Tory MPs and ministers who have trooped through the station over the last two days, less than a third managed to stay longer than two hours, including some senior Tories who might be expected to be setting an example to their colleagues. Take, for example, William Hague, the Leader of the House, who went canvassing in Cliffe Woods on Monday. He arrived in the constituency shortly after 11am and spent just 23 minutes wooing voters with Ms Tolhurst.
By 12.20 Mr Hague was back at Rochester station buying a sausage butty (and a sausage roll) for the journey back to Westminster.
Then there was Jake Berry, who works as Parliamentary Private Secretary to the Tory Party Chairman, Grant Shapps, who is running the Tory campaign.
He arrived at Rochester station just before 11.20am on Monday with Rob Wilson, the recently-promoted Minister for Civil Society. Looking purposeful, they strolled towards the town centre. But within the hour they were back. "I've done my stint and a little bit more," claimed Mr Wilson. "I've been three times in the last week and would have stayed longer if my train hadn't been cancelled and I'd not had to get back for a meeting in the department."
Next up was the Cabinet minister and Cameron confidant Oliver Letwin, who arrived at Rochester at 13.15. He managed a little longer than the others but was still back in time to catch the 14.52 train to London Victoria.
John Hayes, the Transport Minister and senior Parliamentary advisor to Mr Cameron, said he had managed to speak to "30 or 40 people" during his 80-minute visit.
"I love campaigning," he said. "I'm going to be back every day this week until polling day."
The former Environment minister Greg Barker and Tory backbenchers David Ruffley and Charles Walker spent two hours campaigning over lunchtime.
"We had a jolly and delightful two hours," said Mr Walker. "But it is difficult when the House is sitting to juggle your commitments."
David Jones, the former Welsh Secretary, was on his way back to London at 12.23 having spent the morning in Rochester.
"I've done half a day. I don't think that's too bad," he joked.
Some Conservative MPs have privately admitted frustration at being told to spend time campaigning in an election which senior Tories expect to lose.
"It doesn't help that we're being told to go out there when CCHQ have already admitted we're going to lose. It goes from being a campaign to being a box-ticking exercise."
Another added: "Having eviscerated the voluntary party the leadership are calling on MPs to go and be post boys and girls for three days at a time when they have got other serious jobs to do.
"If you were being unkind you would say it's like being run by public school prefects rather than people running the country."
Others were more emollient. Jason McCartney, MP for Colne Valley, who spent an hour and half campaigning on Tuesday said he had only stayed for a short time because he was summoned back to the Commons by whips to take part in a vote.
He said it was deeply unfair to criticise MPs for not staying longer.
"This was my second visit. I'm a Yorkshire MP. I work every day of the week in my constituency. It was half term last week and I worked every single day. I live in my constituency and unfortunately it's a long way to go.
"There are probably people who haven't even been once."
The MP who has been mysteriously absent from the Conservative effort altogether has been its star campaigner Boris Johnson. But for once that's not been Boris disloyalty – he has been obeying orders.
"Given Boris wants to build a massive airport in the constituency, he's not the most popular person in the party – around here at least," said a Conservative source.
"It was decided our chances were better if he stayed away."
Register for free to continue reading
Registration is a free and easy way to support our truly independent journalism
By registering, you will also enjoy limited access to Premium articles, exclusive newsletters, commenting, and virtual events with our leading journalists
Already have an account? sign in
Join our new commenting forum
Join thought-provoking conversations, follow other Independent readers and see their replies